Kudos & Congratulations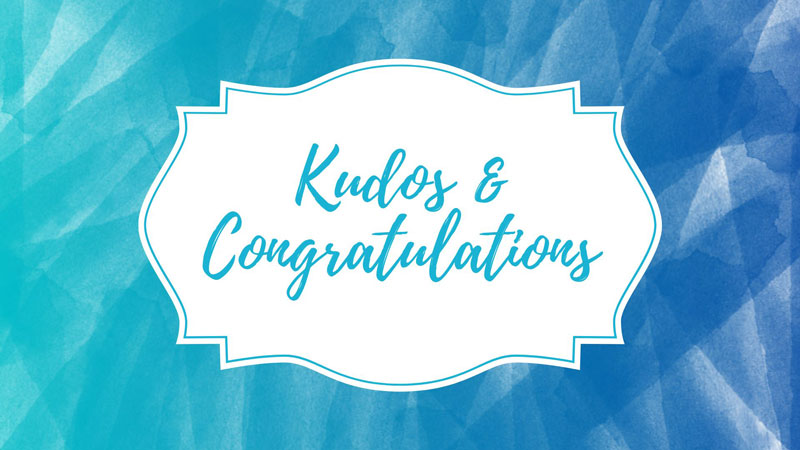 UIT staff recognized for their excellent work
Congratulations to Owen LaReaux and Claire Ashdown (both from the Chief Technology Officer organization) for winning the last prize drawing!
---
Vijay Kammili finds a way to get things done. Even if it seems impossible.
~ Aaron Bailey, Workforce Management
---
A big thank you to Mohammed Fateh, Matt Leatham, Rhay Natividad, Patrick Tobin, Thanh Nguyen, Stephan Stankovic, Chris Moore, Rob Birkinshaw, Robert Jans, Arnie Carter, Zach Zitterkopf, Josh Grey, and University Support Services for all their hard work and support on a successful PeopleTools upgrade. They demonstrated excellent teamwork. In addition, it was efficiently executed and performed remotely without hiccups.
~ Kim Tanner, CTO organization
---
Kudos to Vaibhav Narula for his assistance with the planned migration of the Sympa list service to the modern MySQL platform.
Vaibhav went above and beyond by jumping in late at night to assist with troubleshooting issues encountered during the migration attempt and stayed actively involved throughout the process.
~ Chris Moore, CTO organization
---
Vijay Kammili is always willing to help our team process requests in a timely manner. Thank you.
~ Helga Rivetti, Guest Relations Call Center
---
Vijay Kammili is a true asset to the university and our team.
~ James Rice, CTO organization
---
I want to give a HUGE THANK YOU to Bryan Morris for all the work he did getting me reconnected to the internet. He went above and beyond to get this done.
~ Marcene Younker, Landscape Maintenance
---
Thank you Keith Hughes and Mike Martinez for your work on the major C•Cure upgrade.
An additional shout-out and thank you to Ben Poster, Brad Zumbrunnen, Zak Thompson, Thanh Nguyen, Craig Bennion, Ray Carsey, and Abraham Kololli for their support on this effort. They demonstrated excellent customer service too!!!!
~ Kim Tanner, CTO organization
---
Cory Hale was exceptionally helpful this week when I needed to get a staff member set up with Avaya one-X access in a timely manner. He was so efficient, knew exactly what I needed, and gave me complete confidence that he was going to get it taken care of. Every time I talk to Cory he is so kind and helpful, and explains things to me in a way that my nonphone tech-savvy self can understand. We are lucky to have him working for the organization!
~ Jessica Campos, University of Utah Health Telecommunications Department
---
This goes out to Dylan Tomac. Dylan has been very generous and patient with me as I get comfortable working with Qualys. He made sure to take the time to meet and offer training on how to use the utility in order to help manage vulnerabilities on our machines. He is very approachable and always willing to help by answering questions and completing requested tasks from our team as fast as possible. In addition, when I ask anything after hours, he always replies and assures me that he is on it the next morning. Again, thank you, Dylan.
~ Mohammed Fateh, CTO organization
---
Recently, a failed patch left our mission-critical database systems in a degraded state for more than 48 hours. With our staff exhausted and four vendor teams unable to help, Zach Zitterkopf joined the vendor's Zoom call. After taking control of the wheel, Zach, with an impressive knowledge of systems, started asking all the right questions. In just over two hours he steered this complicated problem down a narrow path to resolution. It was an amazing thing to witness! Thank you, Zach!
~ Rob Birkinshaw, CTO organization
---
I would like to take a moment to appreciate the effort Chris Price has put in to onboard me and the team into Ansible Tower. Chris showed tremendous effort in making sure we are comfortable with the transition and having the right access from the start. In addition, he was always available to answer my questions and concerns as I was setting up our team machines in Ansible Tower. I thank you for the professional skills and attitude, most importantly being approachable and always up to answer my questions (even after hours).
~ Mohammed Fateh, CTO organization
---
I want to send a note about Josue Smith. Over the past few months, Josue has worked on the infamous Film and Media Arts Building. This building is known for being a handful, as am I.
Our building looked like, as some students I'm sure affectionally have called it, "an abandoned warehouse." The process of creating a better space for our students required a lot of work pulling cables, installing split conduit, installing cable concealer, and dealing with me.
Josue did not just do his job, he went above and beyond. He was kind and understanding when we changed things, and when we asked for something to be redone, or differently than first discussed. He always let me know when he left the building, which doesn't seem like much; however, it was! His communication with me about leaving the building was imperative to keeping the comm room and our college's IT offices secure.
The split conduit job looks amazing and has improved the look of our building immensely. No more hanging cables! Everything was pulled and nicely put into the split conduit ... and ... even before we decided to do the split conduit, Josue did a beautiful job securing and organizing the cabling by Velcroing sections of cables. I can only imagine how time-consuming that job must have been. I mean, the man is a genius with the Velcro!
I am beyond impressed with Josue and his work. It was my pleasure to work with him on the majority of the tasks given to him for our building. The improved aesthetics of our building would not be what it is without Josue and his team!
I appreciate everything he and his team did! I look forward to working with him again, as his work and professionalism is an asset for your department and the university as a whole.
Please thank Josue and his team for me!
~ Jen Humphreys, Film & Media Arts Department
Anyone at the U can submit an item for Kudos & Congrats!
Submit your kudos and the UIT employees you commend will be entered into a monthly prize drawing. UIT employees who submit entries will also be entered in a separate prize drawing.
UITL members, directors, and associate directors are not eligible for prizes.
Node 4
Our monthly newsletter includes news from UIT and other campus/ University of Utah Health IT organizations, features about UIT employees, IT governance news, and various announcements and updates.
Categories