UIT All-Hands Meeting and Kevin Taylor Award recap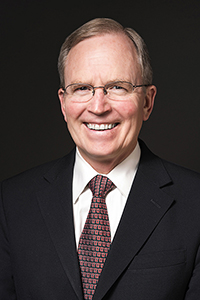 University of Utah Chief Information Officer Steve Hess hosted an online UIT All-Hands Meeting on October 4, which included a strategic plan update, question-and-answer session, and the Kevin Taylor Memorial Service Award ceremony.
Hess offered a hearty "thank you for all you've done to help us get through the last 18 months."
"I've never had a time in my experience where we've faced these kinds of issues … with all of you working tirelessly to keep [the university's IT systems] online," Hess said. "… Now more than ever, IT is the forefront for navigating the new normal."
Hess gave an update on UIT's strategic plan — achievements and initiatives that align with the U's four strategic goals. He discussed some analytics achievements, gave a brief overview of Student Pathway Analytics governance committees; presented an organizational budget update, and talked about how UIT is expanding its statewide role, touching on how the U and the Utah System of Higher Education (USHE) became more intertwined after UIT absorbed the Northstar student management system for the state's technical colleges and started to provide IT support to the Office of the Commissioner.
Big wins for the U
During his remarks to UIT employees, CIO Steve Hess reiterated some notable accomplishments made by the U in recent years from a presentation recently given by President Taylor Randall:
Most of the questions in the Q&A portion of the meeting addressed uncertainties over what the workplace will look like going forward, and UIT leadership strategies on remote, on-site, and hybrid arrangements.
"We really care about the safety and well-being of you and your families. We don't want to jeopardize that," Hess said.
Hess said UIT Leadership continues to monitor COVID-19 transmission rates, heeds the requirements and precautions coming from university leadership, and adheres to telecommuting guidance from the Division of Human Resources.
"We'll be as fair as we can. We will involve you and we will communicate, so you'll have a good idea about what's going to occur in the future," Hess said.
The meeting concluded with the much-anticipated presentation of the 2021-22 Kevin Taylor Memorial Service Award.
UIT leadership is delighted to congratulate this year's winner: Corey Hayes on the Voice Services team in Communications Infrastructure. During a "live from 102 Tower" video presentation, Hayes received balloons, a plaque, and a large check denoting a $500 honorarium.
The award was established in 2014 to recognize superior service and ongoing contributions by UIT employees. It's given annually to the UIT staff member who best demonstrates the collaborative spirit and intrinsic service orientation of the late Kevin Taylor (b. 1950, d. 2014), former director of UIT Policy and Planning.
"His leadership style combined kindness, clever yet gentle humor, high standards, and a very special talent for listening," said Dustin Udy from UIT's Information Security Office and a member of the award committee.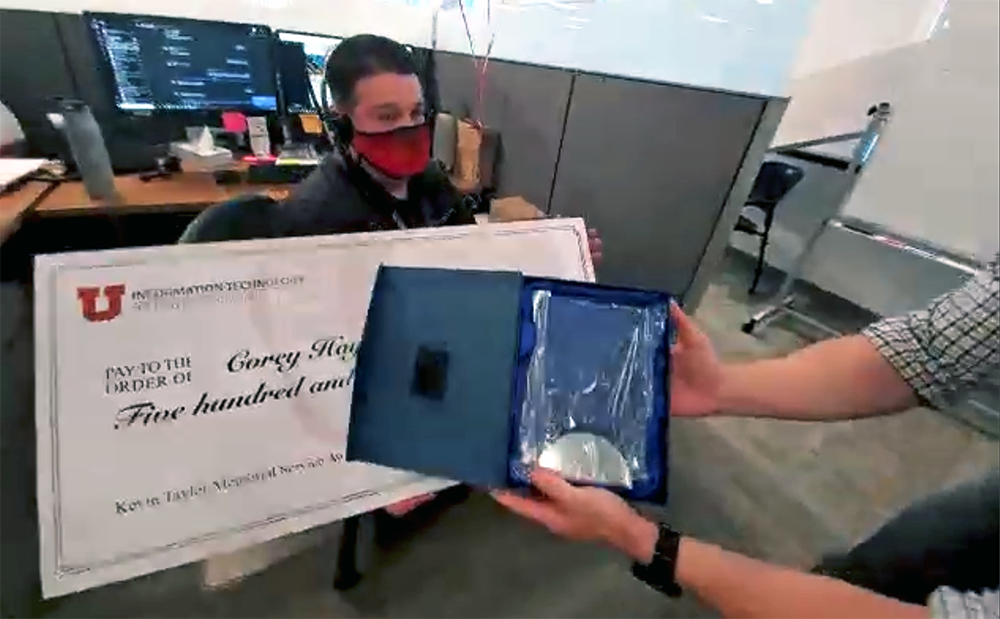 "He had a disarming way of working with others, and that skill really came in handy for helping different IT groups at the U come together for the common good. ..."
"One of his favorite bits of workplace advice says a lot about Kevin. He would often remind us all, especially in the toughest situations: 'Be nice. Be nice. Be nice.'"
In his nomination letter for Hayes, fellow UIT Telephone Installer Lance Davis wrote: "One of Corey's greatest qualities is his humble and unassuming nature. Corey is happy to stay out of the spotlight."
He often states that if the phone techs are doing their job correctly, no one notices them. This kind of behind the scenes work suits Corey well, as he shies away from being noticed, often not taking credit for his work that goes unseen.

Think of UIT as a finely-tuned sports car. There are many flashy parts that can be seen from the outside. There are, however, many parts on the inside that go unnoticed but are equally if not more important. Corey is one of those parts of that goes unnoticed but without him, the car won't run."
UIT leadership likewise congratulates nominees Matt Edgren, Matt Munro, Lisa Osborne, Paul Richardson, and Mike Tyler, who were also recognized. Please visit this website to read excerpts from the nomination letters of all of this year's honorees.
Node 4
Our monthly newsletter includes news from UIT and other campus/ University of Utah Health IT organizations, features about UIT employees, IT governance news, and various announcements and updates.
Categories