Service Management Platform Services Team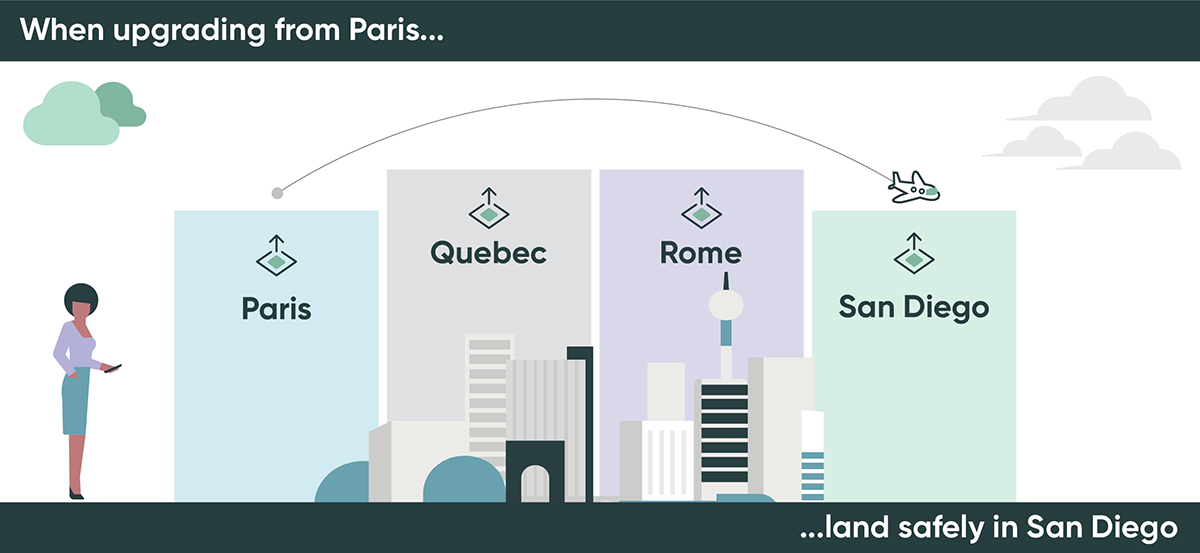 Love it, hate it, or do your best to decipher it, technical jargon means you're part of a larger IT community.
"Wow, I started way back in Fiji," said Software Engineer Kaylee Richardson.
Here's the decoder ring: ServiceNow software releases are named alphabetically after popular travel destinations, starting with Aspen in 2011 (prior to that, the cloud-based IT management tool rolled out seasonal updates from "Summer 2007" to "October 2011"). Starting in Fiji means Richardson trained on the version of ServiceNow released in March 2015.
Each release delivers new features, improvements, and bug fixes that set it apart from previous iterations.
"ServiceNow has always evolved to meet the institution's needs, and as new functionalities come out, we continue to leverage them in a pick-and-choose manner," said Business Systems Analyst Guillermo Ramos, one of seven full-time staff members and three student employees who make up the Service Management Platform Services Team in UIT's Chief Technology Officer organization, less formally known as the ServiceNow Team.
Company snapshot
Source: ServiceNow
The University of Utah's instance of ServiceNow (login required) currently runs on the Rome version. San Diego is next, and the platform will pivot to U.S. states in 2023 when it gets to "U" – Utah.
UIT began to use ServiceNow in 2013, but University of Utah Health's Information Technology Services (ITS) used a different system — ServiceDesk — until a broader implementation of ServiceNow went live in 2016. It's now the common IT service management platform used by both organizations.
"It's a very powerful tool," said Dax Christensen, the team's manager. "We've barely scratched the surface of the capabilities of ServiceNow."
At its core, ServiceNow automates workflows. Since its introduction, the platform has undergone multiple module rollouts that include incident, problem, change, release, and knowledge management. ServiceNow provides a number of critical services for the U campus and hospital, including the IT Knowledge Base, IT Service Catalog, IT trouble tickets, work order requests, and ticket status dashboards. It's also occasionally been used in unexpected ways. For example, at the beginning of the COVID-19 pandemic in 2020, the university needed a fast and secure solution for pandemic case reporting and tracking, receiving and tracking COVID-19 help and information requests, and other related processes.
"If a service goes down, ServiceNow helps ensure there won't be a single point of failure as we investigate and fix the problem. A ticket or task will be created, so we have an automated way to react to it," Christensen said. "Because UIT and ITS heavily use the platform, there's always an array of people and groups available to respond."
The ServiceNow Team works in agile- and scrum-based "sprints." Tasks are broken down, divvied up, and reviewed every two weeks so developers don't get off track and build something they don't really want or intend. ServiceNow Team members rotate on-call shifts during which they handle incidents and "easy maintenance-type things," Richardson said, "while everyone else focuses on time-intensive development work."
Their biggest focus right now, Christensen said, is building project portfolio management (PPM) modules; its application portfolio management (APM) environment, which involves creating a comprehensive inventory of software applications at the U; and a configuration management database (CMDB). Ramos described the CMDB as a "big, centralized database of IT assets, like computers, servers, and networks, where the main goal is seamless incident response and change management."
Although the group has experienced some personnel changes over the past few years, Christensen said they're "one of the most cohesive teams I've ever been part of" and they "do an excellent job collaborating virtually."
Kellen Whetstone, a service management systems administrator, enjoys being on a team of newcomers.
"

It's a very powerful tool. We've barely scratched the surface of the capabilities of ServiceNow

."


– Dax Christensen, manager, Service Management Platform Services
"Though we're all relatively new here, we've all been doing ServiceNow for a while," he said. "I think it's fun to build a team from the ground up. It allows us to grow, stretch, and fill in roles we haven't necessarily done in past."
Ramos said they "never silo knowledge from one another," and Business Systems Analyst Gustavo Baeza described the team as having a "good dynamic."
Richardson calls herself "the instigator" of team-building activities — one way the team maintains their camaraderie. These include online Jackbox and GeoGuessr games, in which players use clues to guess where they are in the world.
"I didn't really intend it to reflect the global nature of ServiceNow releases, but you know, it's sort of fitting that it does," Richardson said.
Node 4
Our monthly newsletter includes news from UIT and other campus/ University of Utah Health IT organizations, features about UIT employees, IT governance news, and various announcements and updates.
Categories