Zimmerman named associate director for UIT & UETN Accounting & Finance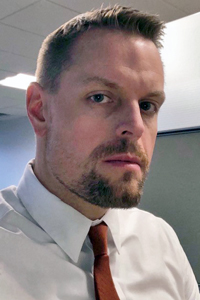 UIT is pleased to announce that Brandon Zimmerman has been promoted to associate director for UIT & UETN Accounting & Finance, effective April 16, 2022. He previously served for three years as accounting and finance manager for the team.
Zimmerman brings nearly 20 years of business administration experience to the position, including managing accounts, reviewing requests for purchase, preparing financial reports, monitoring financial transactions, developing budgets, submitting budget requests, overseeing report reconciliation, and managing staff.
During his tenure as the accounting and finance manager, Zimmerman developed and oversaw a new financial system for tracking $125 million in CARES Act funding. Prior to that, he served as a senior accountant and accountant, starting his career with UIT in February 2013.
Before joining the U, Zimmerman served as a demand planner analyst for Signature Products Group, an accountant for Boise State University, a staff accountant for Western Transport Inc., a tax preparer for Liberty Tax Service, and a sales, marketing, and administration specialist for Brooks Internet Software Inc.
In his new role, Zimmerman's expanded authority and responsibilities include advanced decision making on behalf of the department, acting as a backup for the chief financial officer when needed, and working more closely with UETN's state legislative representatives.
Zimmerman reports to UIT & UETN Chief Financial Officer Lisa Kuhn.
"Brandon has been a tremendous asset to the university, especially these past three years as manager for UIT & UETN Finance," Kuhn said. "This promotion is not only well-deserved but better reflects the many responsibilities he's assumed to help ensure the financial wellness of our institution."
UIT & UETN Finance plans, organizes, leads, and monitors financial activities for all areas in UIT and the Utah Education and Telehealth Network, including the annual budget, cash management, accounting, inventory and asset management, financial audits, cost and funding models, contracts and procurement, and the Office of Software Licensing.
Zimmerman holds a Bachelor of Business Administration with an emphasis in management from Idaho State University.
Node 4
Our monthly newsletter includes news from UIT and other campus/ University of Utah Health IT organizations, features about UIT employees, IT governance news, and various announcements and updates.
Categories