Signs of the times: Digital messaging for a safer U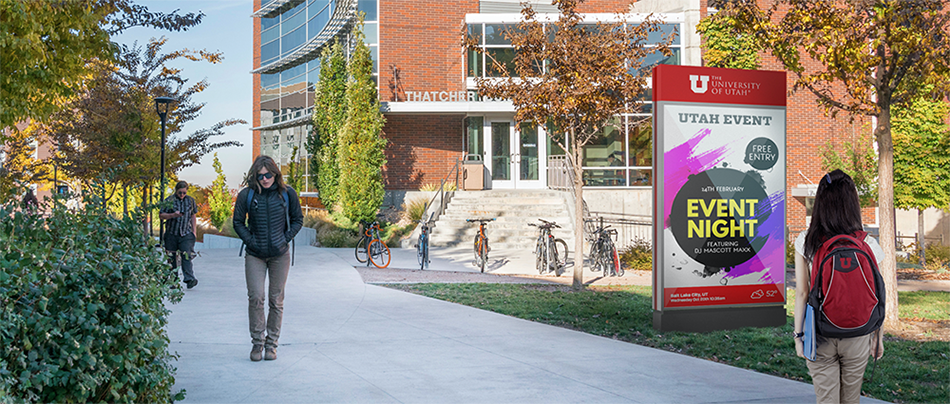 With student-facing technologies like Canvas and the MobileU application accessible at almost any time, it's hard to remember a time when campus updates depended on crowding around a bulletin board.
In the past six months, you may have noticed a high-tech alternative to bulletin boards. Interactive digital signs, or "monuments," of various sizes have cropped up around campus, along with fewer weather-worn posters and awkward A-frames.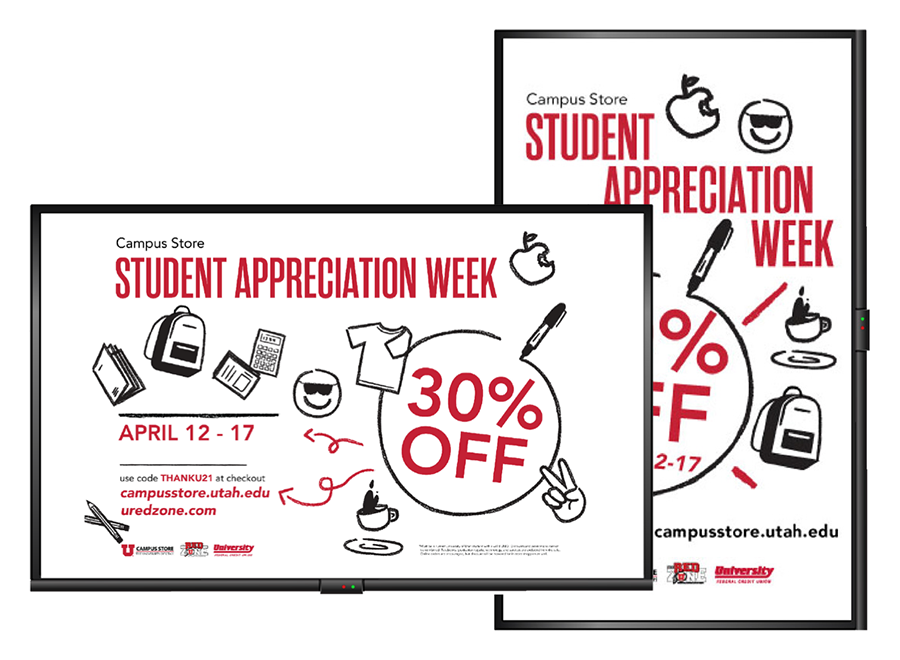 "A big part of this initiative was, 'How can we clean up campus and control messaging as well?'" said Jake Sorensen, associate director of advertising and sponsorship in Auxiliary Business Development. "While looking at ways to improve our campus's appearance, we had to address the proliferation of temporary signs that get torn down, are blown over, and generally have a limited life-span until they fall into disrepair."
The U's new centrally managed but locally controlled digital sign platform is powered by Play Digital Signage, a cloud-based software that enables the display of video, GIFs, and other dynamic content.
Digital signs, Sorensen said, serve the informational, promotional, branding, entertainment, and emergency broadcast needs of the university. For example, they can be used to publicize campus events, promote jobs, reinforce public health initiatives like mask-wearing, help people navigate, and provide timely emergency alerts. The messages, he said, can be tailored to a preferred audience, (e.g., faculty, staff, students, or visitors) and ultimately, the system will allow for targeted messaging to specific areas, or zones, of campus.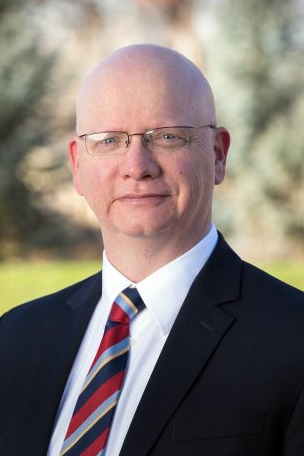 Though faculty, staff, and students are automatically signed up to receive campus alerts by UMail, and may opt to receive them via text by selecting the "Campus Alert" tile in Campus Information Services, Stuart Moffatt, interim director of Emergency Management at the U, said digital signs are an additional means to provide safety messages to people on campus.
"Expanding this from an information and advertising platform to a safety platform was a concept that really resonated with our campus partners," Moffatt said.
In the event of an emergency, the new digital sign platform allows for the quick takeover of every in-network screen. When an alert is sent, screens will display a safety message from Emergency Management that aligns with the university's three color-coded levels of alerts.
This new generation of digital signs includes four vehicular signs in high-traffic areas and at campus gateways; three pedestrian signs that line popular paths; eight wall-mounted pedestrian signs in the Central Parking Garage; and more than 100 indoor displays in corridors of 28 university buildings, on campus and in downtown Salt Lake City.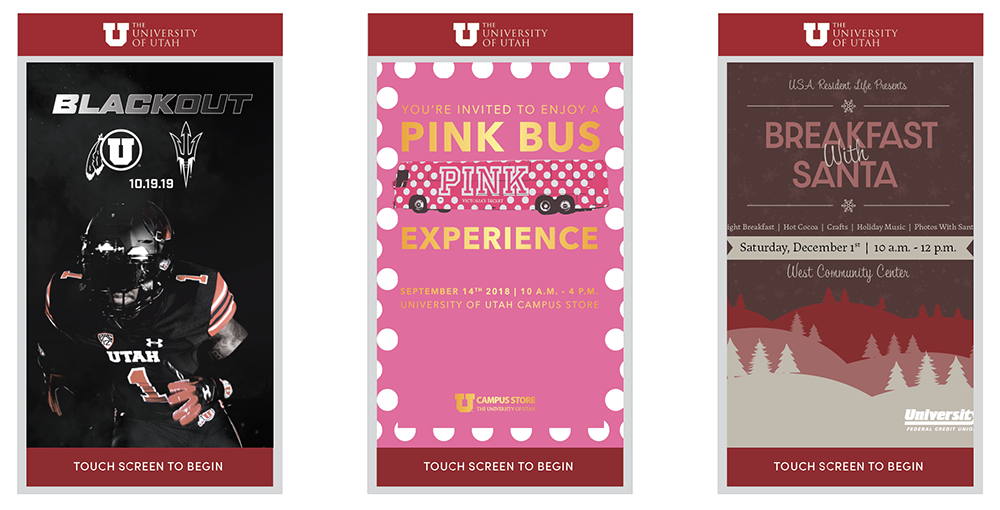 Sorensen touted the wayfinding potential of Play Digital Signage, noting that campuses aren't just home to students and staff, but also "prospective students and other visitors who frequently need to find their way from building to building and within a building."
Whether the message comes from a university department or commercial entity, all messages must adhere to a style guide that includes size specifications, and content is vetted to ensure it meets an established set of digital sign guidelines. These establish that the message is appropriately "consistent with the university's mission of education, research, and health care" and doesn't violate any restrictions, such as the promotion of a product, service, or business model that may be considered deceptive.
Play Digital Signage software features:
User-friendly
Full preview capability
Scheduling options
Supports static and dynamic content
Integrates with U emergency alerts, websites, and social media
Opportunity for interactivity, mapping, and wayfinding
"Our office's overall goal and mission is business development — how can we foster business relationships that create a new revenue stream for campus, supplement tuition and state appropriations, and enhance the student experience?" Sorensen said.
The funding model for U organizations, Sorensen said, is ad-free or ad-supported.
With the ad-free version, a monthly or annual fee covers the cost of the software, and departments can control all content on the signs in their building. If necessary, an added fee pays for any needed hardware.
The ad-supported version enables university organizations to use the Play Digital Signage network to provide curated content for free, with the understanding that their customized slides will rotate with blocks of pre-approved ads that support the cost of the network. Time slots for university organizations are offered at a discounted rate.
"One of the ancillary benefits of this arrangement is that every time we add screens, our cost-per-screen goes down, so we're leveraging that scale," Sorensen said.
"

[Play Signage] narrows the cybersecurity threat we experience as well."

–

Mark Beekhuizen, IT director, S.J. Quinney College of Law
Sorensen said that in his 15-plus years of being involved with digital signage on campus, Play Digital Signage has "by far been the easiest software for our customers to use and integrate their content with, so we're hoping that with a little training, they'll become experts and our marketing teams will be able to display their messages the way they want to."
"This vendor has a much more robust application programming interface that has enabled the ease of integration with our campus alert system," Moffatt said.
Mark Beekhuizen, IT director for the S.J. Quinney College of Law, was one of the early adopters of Play Digital Signage. At the recent SITC meeting, he mentioned that "from an IT operations perspective, when you have a centralized system that's managed with a single entry point, it narrows the cybersecurity threat we experience as well."
Want to learn more about the U's new digital signage network? Please contact Sorensen's team using this web form.
Node 4
Our monthly newsletter includes news from UIT and other campus/ University of Utah Health IT organizations, features about UIT employees, IT governance news, and various announcements and updates.
Categories