Get your ITIL certification through the U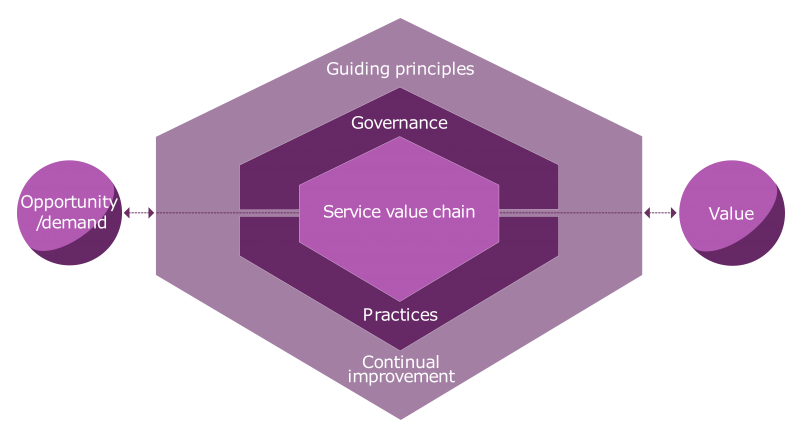 Participants will learn that the service value system comprises five parts that interact with each other and external stakeholders to co-create value. (Copyright AXELOS Limited 2019. All rights reserved.)
Need an ITIL 4 Foundations certification? We've got you! Course instructor Craig Bennion, UIT's ITSM process manager, recently added new dates for the online class.
The dates are:
Thursday-Friday, July 14-15
Thursday-Friday, August 11-12
Thursday-Friday, September 15-16
Thursday-Friday, October 13-14
Thursday-Friday, November 17-18
Thursday-Friday, December 15-16
ITIL 4 Foundations classes provide a practical understanding of the Information Technology Infrastructure Library (ITIL) at the foundation level, in preparation for the ITIL Foundation in Service Management exam. The two-day course will cover Service Management, ITIL Guiding Principles, the Four Dimensions of Service Management, the Service Value System, and Service Management best practices through lecture, discussions, and case study exercises.
The course costs $425 per university employee, and covers all training materials and the exam. UIT and ITS units must pay for ITIL training for their staff members, so before registering, please check with your manager to ensure that staff development funds are available. The class is also open to external participants (those not employed or enrolled at the university), costing $1,595. Class size is limited to 15 or fewer students.
Visit http://itil.it.utah.edu for more information. Email ITSM Process Manager Craig Bennion, one of the course instructors, at craig.bennion@utah.edu to register or if you have any questions.
Node 4
Our monthly newsletter includes news from UIT and other campus/ University of Utah Health IT organizations, features about UIT employees, IT governance news, and various announcements and updates.
Categories