UIT Leadership Spotlight: Garth DeVries, manager, USS Student Engineering Team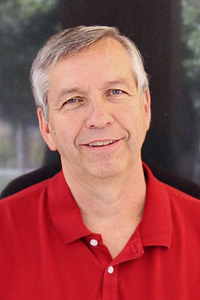 Where are you from originally?
I grew up not far from the University of Utah. I never bought a parking pass when I was a student since I could walk to campus.
What post-secondary degree(s) do you have, in what subjects, and from which school(s)?
I received a Bachelor of Science in health education from the University of Utah and a degree in computerized machining technology from Salt Lake Community College (SLCC). I did the SLCC degree for fun to help with my hobbies.
What led you to the University of Utah?
After several years working at SLCC, I decided I wanted to do more in IT. I started looking for jobs at the University of Utah because I liked working in higher ed.
Can you describe the path you took to IT leadership?
I worked in the desktop publishing office at SLCC. Then I opened and managed the testing center at SLCC's South City Campus. While running the center, I was in charge of the servers and computers that ran English and math placement tests. With that responsibility, I took some server and coding classes.
A few years later, I was hired for the UIT Administrative Computing Services (now University Support Services, USS) help desk. PeopleSoft was fairly new at the time. After a few months, I became a PeopleSoft developer and later a software design engineer. I had a knack for software development and enjoyed being a developer. From there, I became manager of the USS Student Engineering Team.
How would you describe your leadership style and/or philosophy?
I am fortunate to have an excellent team. Because of this, I let the software design engineers handle their areas. I will get involved if needed, but because my team members are good at what they do, I rarely need to. This allows me to concentrate on management priorities and help users with new functionalities.
What do you enjoy most about your role at the U?
I have worked at the U for 23 years, all in student technologies. This has allowed me to build great relationships with our campus leaders and users. I enjoy working with people across the university.
What do you find most challenging about your job?
I wish projects were prioritized a bit better. Sometimes, we work on several No. 1 projects at once. Also, we're often given short time frames, which can be challenging when there are multiple priorities.
What are some of your hobbies?
I restore antique cars. Right now, I work several hours per week on several projects. I also love to hike. I hike every other Sunday, although sometimes I get out more often. I mostly hike in the summer; I also hike during winter, just not as often.
Is there a fun fact about yourself that you'd like to share?
I was at Pearl Harbor when Apollo 12 astronauts arrived on the USS Hornet aircraft carrier after splashdown following their landing on the moon.
Node 4
Our monthly newsletter includes news from UIT and other campus/ University of Utah Health IT organizations, features about UIT employees, IT governance news, and various announcements and updates.
Categories