UIT Sr. Data Architect Bryan Harman retires after 30 years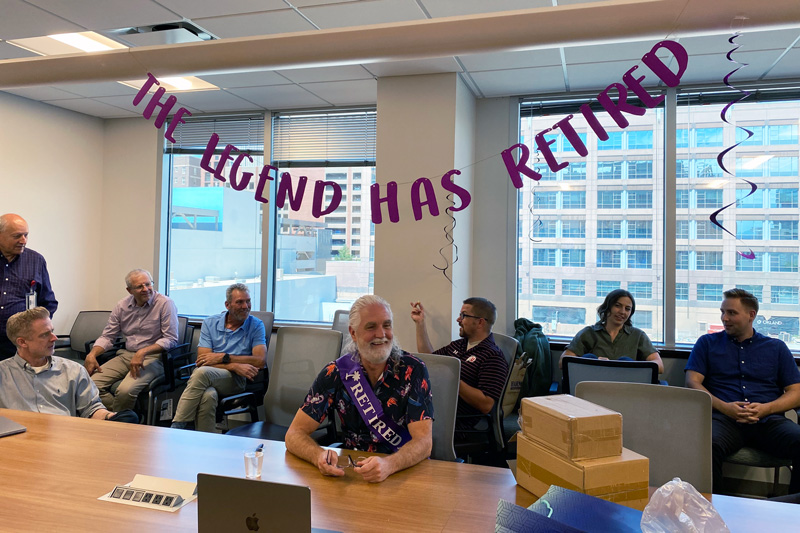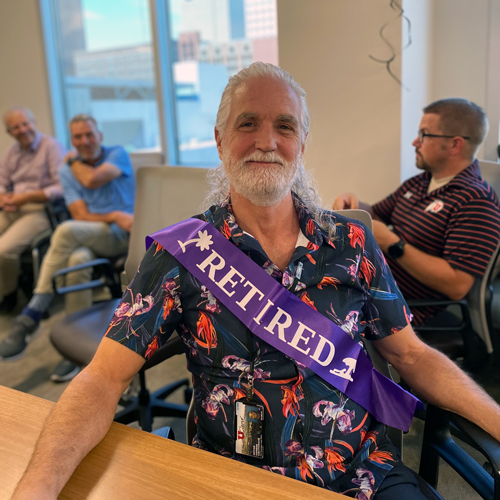 As the purple banner noted, a legend has retired.
After 30 years of service to UIT, Bryan Harman had earned the title. The time off, too.
On July 31, 2023, colleagues gathered in person and online to bid farewell to the senior data architect for Data Management & Analytics (DMA) in University Support Services.
DMA Director Brian Harris said he owes a lot to Harman.
"Bryan is one of the reasons I joined this team about 10 years ago. Bryan got me here, and I was so dang excited to come work with him," Harris said. "It was such a good opportunity. And I've been able to take advantage of all the opportunities that that job change brought, which has been a lot. So, from the bottom of my heart, Bryan, thank you."
As a show of appreciation, Harris and the DMA team presented Harman, who had been draped in a "RETIRED" sash, with a few retirement gifts, which included two garden gnomes, several piano books, and a coffee mug.
"I'm not going to make it through the day without some tears," Harman said.
He said the COVID-19 pandemic helped him figure out that it was time to retire.
"The part that I enjoy the most about working here is the people who I work with," Harman said. "And then suddenly you're not coming in to work and seeing people every day. Yeah, it's virtual, and that helps. But it's different in my mind. And I think that kind of helped the transition [to retirement]."
"… So, thank you. It's been nice to work with you all. And to get to know you. And I'll miss that," Harman said.
Harman said he had already turned off his alarm. It was important to him that he started the next day with nothing scheduled. Although, he might need to look more closely at those piano books since he didn't have his glasses on hand. He plans to put them to good use.
"One of the things I'm planning to do is set aside a scheduled time to practice the piano and get some songs ready to play music for people at Huntsman Cancer Institute or some hospitals or retirement homes," he said.
Whatever Harman decides to do next, it's unlikely he'll see any of his colleagues any time soon. But they'll all miss him.
"I will miss you on one hand because you're a really good employee, but on the other hand, we're really good friends," Harris said. "And everyone — my parents love you, my wife loves you — everyone, and I feel the same way. We'll miss you here."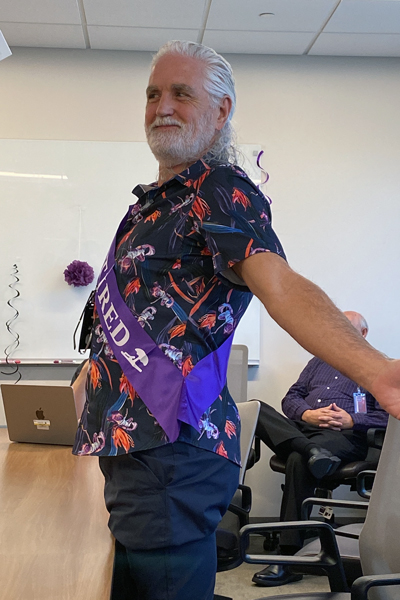 Harman shows off his purple "RETIRED" sash.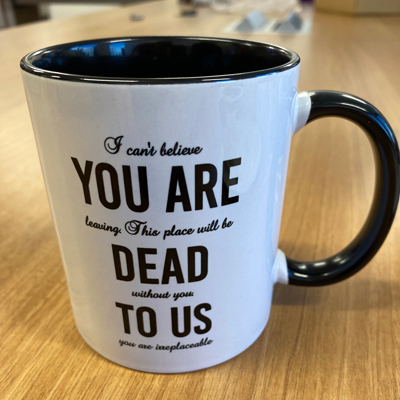 Harman received a mug that reads, "I can't believe YOU ARE leaving. This place will be DEAD without you. TO US you are irreplaceable," with emphasis on "YOU ARE DEAD TO US."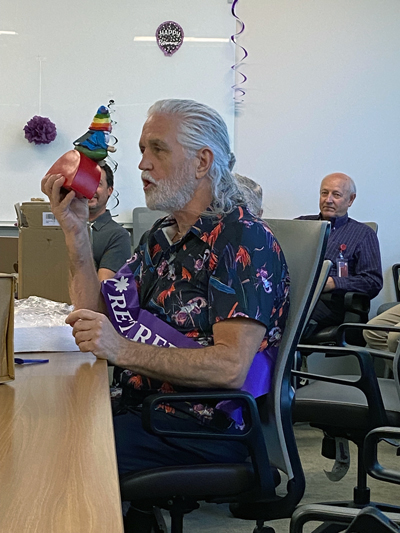 Harman examines the gnome he received as a retirement gift.
Node 4
Our monthly newsletter includes news from UIT and other campus/ University of Utah Health IT organizations, features about UIT employees, IT governance news, and various announcements and updates.
Categories