IT Leadership Spotlight: Harold Nez, IT manager, Department of Human Genetics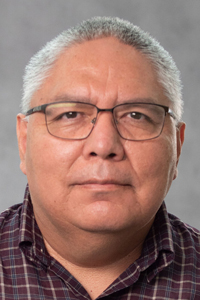 Where are you from originally?
Shiprock, New Mexico
What post-secondary degree(s) do you have, in what subjects, and from which school(s)?
A Bachelor of Arts in communication studies from Brigham Young University (BYU), with minors in music and business management, and a Master of Business Administration from the University of Utah
What led you to the University of Utah?
Work, of course. I worked an entry level job for several years for Microsoft tech support, but after a change in leadership, I started looking for other employment and found an opening in the Department of Human Genetics.
Can you describe the path you took to IT leadership?
While working on my undergraduate degree, I got a job at the Multicultural Center as a student editor for a magazine called Eagle's Eye. I restarted the magazine, which had been shut down for a few years. I had to purchase new computers and train my fellow student employees on how to use the software. I learned a lot during those years on troubleshooting IT problems, particularly on Macs. And I found I had a knack for working with computers.
After college, I found an entry level position in tech support for Windows. I learned a lot about people and how to fix problems over the phone. Eventually, I worked my way up to senior technician, which helped me get my current job at the U. My previous boss spent a lot of time not only teaching me about the ins and outs of IT services at a university level, but how to treat other people and offer the best support. When he retired, he asked me to take his place.
How would you describe your leadership style and/or philosophy?
Our customer comes first. We always wear multiple hats when working in IT, but our first priority is making sure our faculty, staff, and students get the support they need. I do my best to make sure the guys I work with react quickly to their requests.
What do you enjoy most about your role at the U?
The people in the Department of Human Genetics are some of the finest minds ever. They do cutting-edge research, and every one of them contributes in their own way to the success of the program. I've known many of them for years, and I enjoy how diverse they are, not just in science, but in other areas of life. I've learned how to be a better runner, how to cook better pasta, where the best hiking trails are, even how to get over a bad breakup.
What do you find most challenging about your job?
There is just so much to do, even with extra hands to help. But that is also the most rewarding part, being able to fix problems, especially as a team.
What are some of your hobbies?
I love running. I'm not fast, I just love the experience of getting outdoors, going hiking, and enjoying the mountains. I can often be found at a movie theater. I enjoy going to sports events and concerts. I have BYU season football tickets. I also have season tickets to U women's soccer, volleyball, and basketball. The last concert I attended was Bryan Adams and Joan Jett. The last play I attended was the "Newsies" musical at Hale Centre Theatre.
Is there a fun fact about yourself that you'd like to share?
I love learning about languages, but I'm not good at learning languages. I've studied French, Japanese, Hebrew, Chinese, Russian, German, Spanish, and Navajo. I served a mission for The Church of Jesus Christ of Latter-day Saints in the Philippines and learned Visayan and picked up some Tagalog.
Is there anything else that you think our readers would like to know about you?
I had my own DJ company. I've DJ'd at university dances, parties, and a multitude of weddings. I believe my love for music started in the 1980s when I was a breakdancer. If I tried those moves now, I'd be a broken dancer.
Node 4
Our monthly newsletter includes news from UIT and other campus/ University of Utah Health IT organizations, features about UIT employees, IT governance news, and various announcements and updates.
Categories