Kudos & Congratulations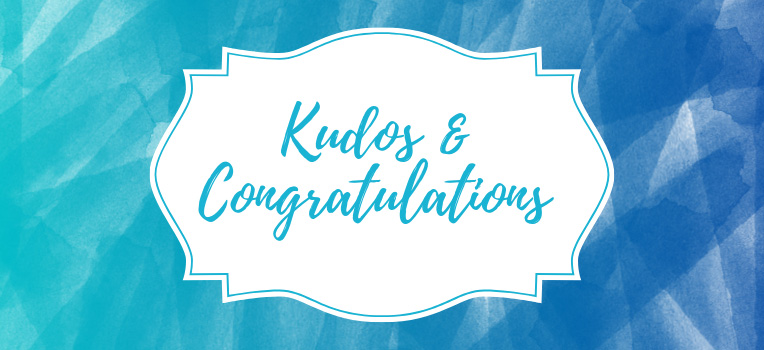 UIT staff recognized for their excellent work
Congratulations to Tyrel Marshall (Network Services) and Alan Wisniewski (Center for High Performance Computing) for winning the last prize drawing!
---
I'd like to personally thank everyone for the outstanding preparation and technical execution you and your teams demonstrated over the past months and weeks for the U.S. vice presidential debate. This led to a very successful event. The comments we're getting back from the commission and university administration are very positive.I can't thank you enough for the many hours of hard work and overtime you have put into this project. Were it not for the restrictions of COVID-19, we would throw a party to celebrate what you have accomplished. Maybe later.
The success of your work has come about because of great leadership and teamwork. I know you all cared very much how this project turned out. This positive attitude was felt by all who worked with you on this project. I'm sure this will carry forward as we continue our efforts to improve university IT services this coming year. Thanks to you for your individual and combined technical expertise which made this all possible. You are an incredible team.
~ Steve Hess, Chief Information Officer
The past few days I've been thinking a lot about how blessed I am to work with so many talented, hardworking, and dedicated people. The VP debate was a perfect example of these attributes that you all exhibit every day. I was beyond humbled by the effort that you all put into preparing for and delivering the IT services needed to support a very complex and demanding situation. You put in many long hours, dealt with a constantly changing landscape, and took on all the surprises that came your way with professionalism and dignity. I know of several situations where you took the high road when it would have been easier to point fingers. I know of surprises that came your way where you gracefully took the bull by the horns and dealt with them. The teamwork and collaboration you all exhibited was extraordinary. What is especially noteworthy is that you all pulled this off while having so many other projects on your plates and while dealing with the challenges of COVID-19.
With all that said, I want you to know how much the organization, from the president on down, recognizes what a great job you did. I don't remember hearing so many accolades expressed for a project before. You all nailed it! If we were all able to meet together, I would throw a massive pizza party to celebrate, but I'll work with Mike to get creative on how we can still celebrate and recognize such an amazing effort. I want you all to know my appreciation for your work on this project and the many other projects and day-to-day responsibilities you tackle.
Thank you!
~ Jim Livingston, Chief Technology Officer
Special thanks to:
Abraham Kololli
Barb Iannucci
Brandon West
Brayden Ashton
Bryan Morris
Cassandra Van Buren
Chad Thurman
Chris Pedersen
Chris Robinson
Corey Hayes
Syndi Haywood
Tali May
Teri Pearson
Jesse Adams
Jeshua Pina
Ben Poster

Dave Sageser
David Griffin
David Tubbs
Destry Mulleneaux
Doug Johnson
Doug Conorich
Eric Martinez
Fernando Ferrer Anato
Ian Boss
Lance Davis
Tim Goodale
Tony Jess
Zack Gutierrez
Connor Hoffman
Nate Remynse

Jason Lawes
Jonathan Stodola
Josue Smith
Ken Kizer
Kevin Buchan
Kurt Amberboy
Mike Ekstrom
Mary Smithing
Matt Munro
Jake Johansen
Tom Warnick
David Young
Vaibhav Narula
Nico Holguin
Dustin Udy

Corey Roach
Michael Hansen
Mike Tyler
Monte Shaw
Ray Carsey
Rick Titus
Rob Curtis
Rob Veljak
Samantha Lankford
Elaine Gallegos
Curtis Larsen
Tim Urban
Ryan Terry
Ryan Millward
---
While many people deserve great thanks for their efforts, I personally have seen Mike Ekstrom's herculean efforts to make [the U.S. vice presidential debate] happen over the past several months. You have spent many sleepless nights, and lived and breathed the debate for a long time. I watched how you handled as much as possible without bringing in others until needed. And you juggled your everyday work as well. You have been the glue to this whole effort.
Thank you for making the university and Utah look good.
~ Stacey Wood, Communications Infrastructure
My congratulations and thanks for a job well done for all involved, and Mike, thanks for your leadership.
~ Jill Brinton, UIT Project Management Office
It is absolutely a testament to our great team, but I talked to many people who emphasized how Mike was instrumental to the success of this effort. Congratulations on a job well done!
~ Corey Roach, Information Security Office
---
I have to let you know how amazing and patient Julia Harrison (UIT Unified Communications) was trying to get my Avaya phone set up. She spent eight hours on the phone with me and my granddaughter getting it hooked up. She truly deserves a raise!
~ Amy Gordon, Office of Equal Opportunity and Affirmative Action
I just wanted to recognize Julia Harrison (UIT Unified Communications). She has been our go-to source of support for many years now when we're struggling with high-risk phone issues in the Transfer Center. She is always so prompt, thorough, and supportive any time we reach out to her — which is usually always in a crisis. Thank you, Julia, for helping us in our times of need, which helps our patients, especially!
~ Megan Hawkinson, Centralized Patient Placement Center, University of Utah Health
---
I'd like to thank Rhett "Jonzy" Jones for always being willing to help us with scripts to automate various tasks. His contributions have helped us immensely as we have been deploying almost 3,000 new wireless access points in 80 campus buildings, and automating naming and configuration tasks. You can always count on Jonzy for help and super-fast turn-around — he is a master programmer and true professional! Thanks, Jonzy!
~ Curtis Larsen, CTO organization
---
We had an outage with the system we support that pages all of the doctors and nurses. Jon Hefner and Connor Hoffman worked with our team and helped us where we lacked knowledge until the application was back up and running. This had a significant impact on patient care, and their help was invaluable.
~ Justin Rhodehouse, Information Technology Services
Anyone at the
U can submit an item for Kudos & Congrats!
Anyone at the

U can submit an item for Kudos & Congrats!
Submit your kudos and the UIT employees you commend will be entered into a monthly prize drawing. UIT employees who submit entries will also be entered in a separate prize drawing.
UITL members and associate directors are not eligible for prizes.
Node 4
Our monthly newsletter includes news from UIT and other campus/ University of Utah Health IT organizations, features about UIT employees, IT governance news, and various announcements and updates.
Categories