UIT Leadership Spotlight: Val Olds, Manager, USS Finance, Faculty, and Research Team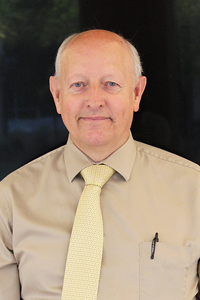 Where are you from originally?
I was born in Logan, Utah, where my father went to school at Utah State University, but I spent my growing years in New England. However, as stated in the movies, "Home is where you hang your hat!" So, wherever I am, it is home to me.
What post-secondary degree(s) do you have, in what subjects, and from which school(s)?
I have a bachelor's degree with a double major in math and theater education from Brigham Young University, a Master of Business Administration with a specialty in accounting from Texas A&M University, a Master of Science in business computing science with a minor in accounting from Texas A&M, and a Master of Science in e-commerce management from Creighton University.
What led you to the University of Utah?
Ten years ago, I was unemployed and looking for a job when I saw an open analyst position in UIT. I wish I had known about jobs at the U earlier in my career as I've enjoyed working here immensely.
Can you describe the path you took to IT leadership?
In college, I was the manager for a pizza delivery store and enjoyed the management aspect. That helped me to decide to get an MBA instead of going into a high school teaching position. My first job out of college was as a COBOL (common business-oriented language) programmer. I was able to quickly learn the software, and within a couple of months, I became the assistant project manager on a huge client installation in Calgary and then the project manager on other enterprise resource planning (ERP) software projects, and I obtained a Project Management Professional (PMP) certification.
After joining the U as an analyst, I took over team lead duties when the then team lead moved to another position in the university. My position then became the IT manager for the Finance, Faculty, and Research (FFR) Team.
How would you describe your leadership style and/or philosophy?
I consider myself a working manager, a hands-on person. Most days you will find me working with members of my team to identify and troubleshoot issues, or to define new enhancements, etc. Although I might be the team manager, I consider myself another member of the team, working to make the university a better place.
What do you enjoy most about your role at the U?
The people, those on my team and our end users, are great to work with. We collaborate well together, and I cannot imagine any place I'd rather be.
What do you find most challenging about your job?
Being strapped for resources can be a challenge, in terms of having enough people to staff all the various projects that come our way and the equipment to make it happen, which at times can lead to a missed desired deadline.
What are some of your hobbies?
I'm a numbers guy, so when I have spare time, I love playing sudoku, maintaining spreadsheets for my personal budget, and doing family genealogy.
Is there a fun fact about yourself that you'd like to share?
As a kid, I delivered newspapers, and my first hourly, paying job was working on a mink farm. Also, I am more or less bilingual.
Is there anything else that you think our readers would like to know about you?
I'm getting married in September.
Node 4
Our monthly newsletter includes news from UIT and other campus/ University of Utah Health IT organizations, features about UIT employees, IT governance news, and various announcements and updates.
Categories