Leadership Spotlight: Donna M. Roach, Chief Information Officer, University of Utah Health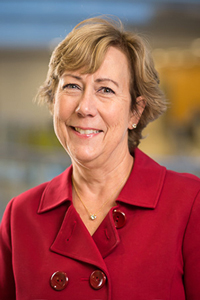 Where are you from originally?
I was born in St. Petersburg, Fla., and grew up in Florida, Massachusetts, and Illinois. I consider myself a Midwesterner based on living in Illinois, Michigan, Kansas, and Missouri.
What post-secondary degree(s) do you have, in what subjects, and from which school(s)?
I have a Bachelor of Science in health administration from the University of Illinois – Urbana/Champaign and a Master of Science in health systems management from Rush University – Chicago.
I am also a certified health care chief information officer (CHCIO), a fellow in Healthcare Information and Management Systems Society Inc. (HIMSS), and a fellow in the College of Healthcare Information Management Executives (CHIME).
How did you become interested in information technology?
I have to give full credit to my parents. My father was in the military and then became an electrical engineer. He always challenged me to be logical about how I approach solutions and encouraged my STEM background. My mother is more of the organizer and creative influence. This was a great backdrop for establishing a career in health care information technology.
What led you to the University of Utah?
Specifically, the position, but I love the energy of Utah. All of the activities that happen year-round; the beautiful landscape — especially Red Butte Garden; the wonderful, caring nature of the people who live here; and the University of Utah Health Executive Team.
How would you describe your leadership style and/or philosophy?
My leadership style focuses on being a learner, a relationship builder, and a strategic thinker. I bring these qualities to the teams I work on and the teams I build. I love the fact University of Utah Health is a learning organization, which fits with my background. I'm naturally a curious person, so I ask questions and want to understand the background leading up to a situation or need.
What do you enjoy most about your role at the U?
All of the wonderful executives, staff, and clinicians who serve University of Utah Health. My Information Technology Services (ITS) team (authentication required) is amazing, and I am very blessed to have been given such a great group of leaders and IT professionals.
What do you find most challenging about your job?
The IT landscape is constantly changing, and you must be able to adapt and grow with the future. Likewise, with health care, we are constantly faced with new challenges — take the pandemic as an example. You need to achieve balance in maintaining a secure and optimal environment, while being innovative and agile for the future.
What are some of the big projects/initiatives for U of U Health moving forward?
On my first day, I was asked to lead the Digital Health Strategic Plan with Dr. Maia Hightower, chief medical information officer for U of U Health. This will be a major focus on leading the organization through a digital transformation and focusing on the consumer's health journey. U of U Health has done a tremendous job on virtual and telehealth, and I will build on those successes. I am focusing on our efforts to create a true digital health experience for the community, while growing our IT technology, information, and connectivity architecture.
What are some of your hobbies?
I love golf and tennis, and hope to continue playing well into old age. I also grew up swimming competitively, so snorkeling — and eventually scuba diving — is on my list of things to continue to do. On the creative side, I make my own cards, which keeps my "she-shed" quite disorganized. I also enjoy cooking, gardening, and photography.
Is there a fun fact about yourself that you'd like to share?
As I mentioned above, I love to cook and bake. Growing up in the Midwest, I was part of 4-H and competed in the baking division. One year, I won best cookie at the Illinois State Fair. The funny thing is, coming to Salt Lake City, the altitude impacts the things I bake, and so my baking has not been as successful — let's just say it's a work in progress.
Is there anything else that you think our readers would like to know about you?
I have worked in health care IT all of my career. Most recently, I was at BJC Healthcare and Washington University School of Medicine as the vice president of Epic. Before that, I was with Ascension — the largest Catholic health care system in the U.S., with revenue exceeding $21 billion. While I was there, I was the CIO in the Michigan, New York, Kansas, and Gulf Coast markets before being transferred to the system office in St. Louis. I have thoroughly enjoyed my career development in health care and IT — things never get boring, and I truly feel I can contribute to the health care industry and my community.
Node 4
Our monthly newsletter includes news from UIT and other campus/ University of Utah Health IT organizations, features about UIT employees, IT governance news, and various announcements and updates.
Categories