icon "We have artisans doing everything from casting bronze, etching iron, brewing, cooking, sewing, (and) we even have a musicians guild that performs at our events. [The Society for Creative Anachronism] is really a medieval historical society."

— Dave Sageser
Dave Sageser:
medieval

history buff, weekend warrior
Lord Christoph von Lübbeke, a squire, and Sir Robert de Spencer, a knight, were the only archers along the periphery left to defend a kingdom beseiged by a force four times its size. The king granted Christoph permission to represent his knight Leah de Spencer, Sir Robert's wife, in the fight. It was only fair — Leah had been called away to a queen's tea.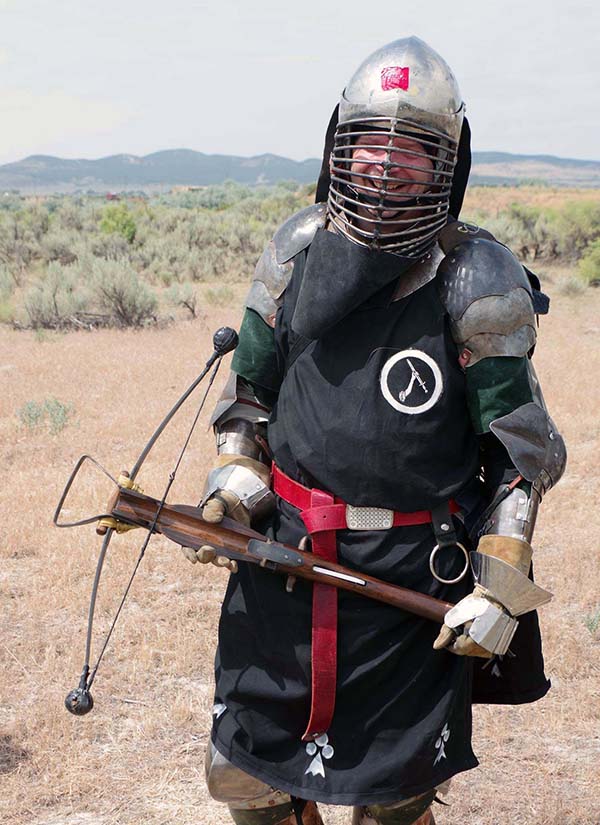 Shortly into the fray, Sir Robert was mortally wounded by an enemy arrow. To give the impression he wasn't alone, Christoph rapidly fired a series of bolts down range until an arrow clipped his right arm.
Injured but not out, he stuck one foot in the stirrup of his crossbow, used his left hand to pull back the string, and loaded the weapon. To fire, he slammed his helm into the trigger.
"It was an absolute blast," said Dave Sageser, a system administrator for the U's Financial & Business Services organization who is embedded in UIT's Campus Computer Support team.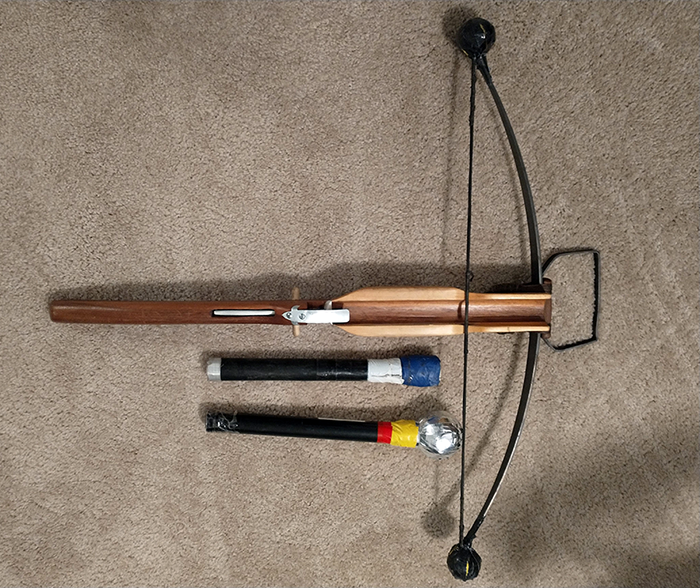 Von Lübbeke is the 1450s German persona Sageser assumes as a member of the Barony of Loch Salann, the Salt Lake City chapter of the Society for Creative Anachronism (SCA), a worldwide organization whose members share an affinity for pre-1600s life.
The oldest barony in the Kingdom of Artemisia, Loch Salann covers Salt Lake City, Midvale, Kearns, Park City, Sandy, West Valley City, and Tooele. The kingdom includes Utah, Montana, southern Idaho and the parts of Colorado and Wyoming west of the continental divide. The siege that Sageser described took place during a summer event in Idaho called Uprising, in which baronies join forces to rise up against the king. It takes weeks to set up fortifications on the field, complete with a gated castle that attackers must fight through.
Fighting, Sageser said, is "the flashiest and most visible side" of what the SCA does, but is "by no means the deepest part." Taking on a medieval name and identity, members come together to dress in period outfits and enjoy a recreated bygone world.
"The primary goal is to immerse yourself in your historical period and be around other people who uphold ideals like honor, chivalry, and courtly love, and have a good time at it," he said. "... We have artisans doing everything from casting bronze, etching iron, brewing, cooking, sewing, (and) we even have a musicians guild that performs at our events. It's really a medieval historical society."
Sageser discovered the SCA in the mid-1980s while an undergraduate at Penn State University, and laughingly recalls these early days when makeshift gear was all he had.
"I was a college student, so I was used to scrounging for things. I found a full-size Rubbermaid waste basket. In fighter practice, I'd seen people using plastic shields they cut out of 55-gallon plastic drums, so I figured it must be good enough."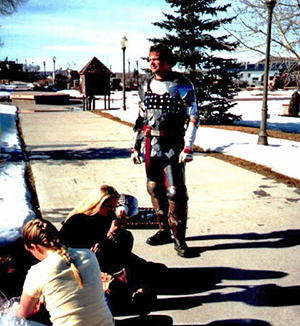 With shag carpet — "cheap, easy-to-make, incredibly dusty form of armor" — strapped around his torso, he felt, if not invincible, at least protected against his opponent's rattan clubs. But where traditional armor spreads a blow out with padding, plates, or both, his rubber and carpet creation "did not hold up well, at all."
"Let me tell you, a Rubbermaid trash can does not spread out force over time or space. I had such welts at the end of that particular session ..." he said.
Today, Sageser's armor is markedly more substantial. At more than 55 pounds, it includes a helm, gorget (neck armor), poleyn (knee armor), coat of plates (chest armor) — all purchased, gifted, or crafted himself. He made all components of the crossbow, minus the bowlike assembly called a prod. It was his first woodworking project since middle school shop class.
At home, he tinkers with a drill, hammer, anvils, and leatherworking gear, but "to really pound on things," he visits a metal shop at Hold Tyte. Groups within the SCA that share similar interests often form a household, and Hold Tyte consists of himself, his wife, Paula (whose persona is Rhianna ingen Cathail), and Robert and Leah Spencer and their family, though he admits, "Hold Tyte is actually quite loose."
"A lot of members are part of other households, so the philosophy is, if you consider yourself a member of Hold Tyte, you are," Sageser said.
Hold Tyte's workshop in Millcreek includes blacksmith hammers, planishing dies, power grinders, and throatless shears used to cut sheet metal to form armor pieces.
Because opportunities for combat archery are somewhat limited, Sageser said "it's normally a long sword, or a mace with shield for me." In his backyard, he practices maneuvers on a pell — which, "for a swordfighter, is the equivalent of a heavy bag for a boxer."
Sageser said "the toughest thing for most people to get over is actually swinging at somebody."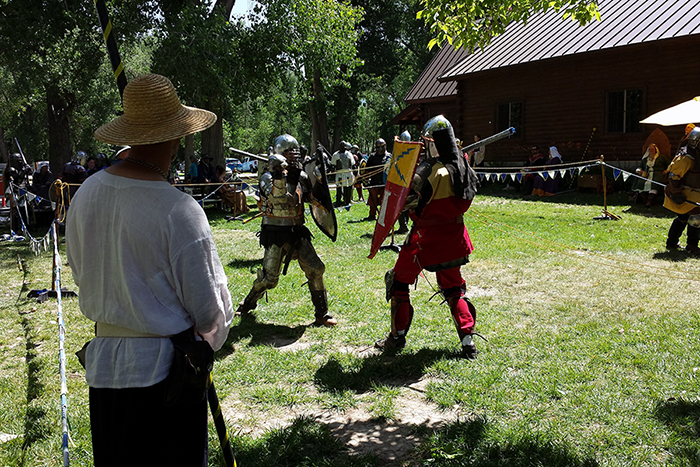 Before the pandemic, barony members would sometimes perform demonstrations at area schools, including a "whack-a-knight" segment where they'd get down on their knees and let the students swing at them.
"I'd say 97 out of 100 would swing dead center to your shield, because they've all been taught that you don't swing sticks at people. It takes quite a bit of conditioning to get them to aim away from the shield. Striking someone with real force is not instinctual, and for that, I'm glad."
Safety is extremely important in SCA-sanctioned activities. The organization has rules governing combat, armoring standards, and weaponry materials. Metal, for example, isn't permitted in the striking surface of a weapon intended for use at close range.
"Safety has to be the first thing, because while you're out there trying to kill your friend, you don't want to hurt them," said Sageser, who was previously the knight marshal, or safety officer, for his barony. "We must always ask, how do you make something that is safe for all the fighters on the field while still being effective?"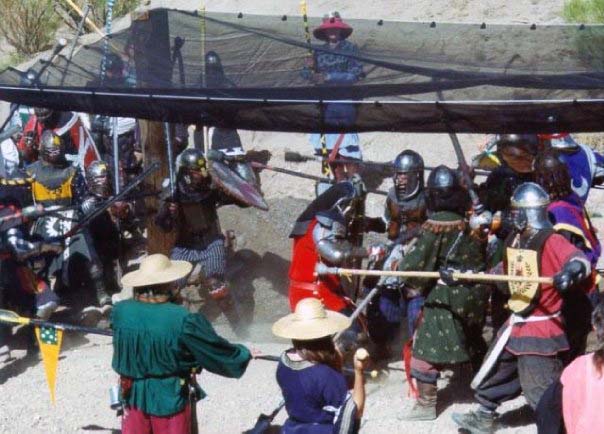 There's been quite an evolution in materials used in combat archery, he said. Arrows once made out of golf ball tubes with a tennis ball attached to the front evolved to aluminum shafts with blunts on them, ammunition that's "easy to make, durable, and awfully safe."
Most injuries, he said, are sprained ankles, though more serious scrapes do happen.
Sageser has cracked a rib and recalled a particularly painful episode that involved his fighting helm. After buying it, he carbonized the steel to toughen it up, then nickel-plated the helm to make it shiny and rust-proof. Unbeknownst to him, the carbonization process crystallized the steel bars of the face grill.
A few years later, fighting in a demo, he stepped into his opponent's blow and "heard a ping from inside my helmet." It shattered, with shards of steel lacerating his chin.
"There was an upside," he said. "As I'm sitting there in the emergency room getting stitched up, the doctor started to sing 'C'est Moi' from [the musical] 'Camelot.' He had a beautiful tenor. It was awesome."
Sageser also enjoys tabletop role-playing games. The gaming group he's been with for 27 years switched to playing Dungeons & Dragons virtually in March of 2020.
Node 4
Our monthly newsletter includes news from UIT and other campus/ University of Utah Health IT organizations, features about UIT employees, IT governance news, and various announcements and updates.
Categories