UIT Leadership Spotlight: Bill Lutz, Vendor Manager, Office of Software Licensing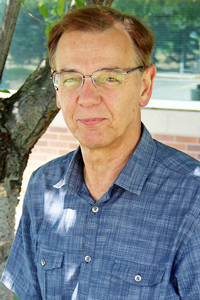 Where are you from originally?
Midland Park, New Jersey
What post-secondary degree(s) do you have, in what subjects, and from which school(s)?
On-the-job learning opportunities and experiences from the school of hard knocks.
What led you to the University of Utah?
Prior to my employment at the University of Utah, I had worked in various management positions within small businesses and large corporations. I was presented with an opportunity to join the U in 2014, and I saw it as a great opportunity for me to give back to the community.
So, I applied and was hired for the position of vendor manager for the Office of Software Licensing (OSL).
Can you describe the path you took to IT leadership?
I have more than 35 years of experience in material control positions with extensive experience in supervising and managing warehouse operations. For more than 23 years, I worked for Toshiba Corp., where I had advanced to the position of warehouse operations manager and was responsible for a staff exceeding 150 people that supported four manufacturing operations that operated 24 hours per day, seven days a week out of three facilities. I also worked in buyer, purchasing, materials analyst, and materials planning positions at Toshiba and previous employers.
I departed Toshiba in 2004 to start my own business. For the next five years, I operated my own architectural drafting services business, as well as worked for and with a couple of architectural firms. I have experience working on residential, commercial, renovation, and historic restoration projects.
In 2010, I joined a company in Utah that provided high-speed internet and digital television services to the hospitality industry. As the global purchasing coordinator, I was responsible for purchasing products from domestic and international suppliers and coordinating product deliveries for installations in 41 countries.
In 2012, I joined Westin Automotive Products as the distribution center manager, overseeing the day-to-day activities of its Salt Lake City Distribution Center.
On June 16, 2014, I joined the University of Utah as vendor manager for OSL. In 2015, I assumed management responsibility for the day-to-day operations of OSL in support of campus-wide software licensing agreements for the U and multiple other software licensing agreements for the Utah System of Higher Education, which comprises eight public colleges and universities and eight technical colleges.
How would you describe your leadership style and/or philosophy?
Work as hard as I can with dedication to the responsibilities of the position, and openly share information with those you work with in an honest, transparent way so that they will trust your opinions and contributions. Leadership by example.
What do you enjoy most about your role at the U?
Being responsible for collaborating with many individuals, internal and external, to provide software licensing services and support to students, staff, and faculty so they can receive an education and do their jobs.
What do you find most challenging about your job?
Keeping up with the constant changes that occur with software products, licensing agreements, and user community requirements. It is a constant learning experience and there are always opportunities for growth and improvement.
What are some of your hobbies?
I love snowboarding, golfing, bicycling, gardening, and traveling. But my best hobby is spending time with my wife and family.
Is there a fun fact about yourself that you'd like to share?
I love reading Clive Cussler's adventure novels and have a complete set of his books — 89 and counting.
Is there anything else that you think our readers would like to know about you?
I've had many up and down experiences in my life, and I have learned much from both. Never giving up and being flexible has helped me get through them all. Something I learned a long time ago while working at Toshiba — continuous improvement.
Node 4
Our monthly newsletter includes news from UIT and other campus/ University of Utah Health IT organizations, features about UIT employees, IT governance news, and various announcements and updates.
Categories