UIT Leadership Spotlight: Trevor Long, Associate Director, Governance, Risk & Compliance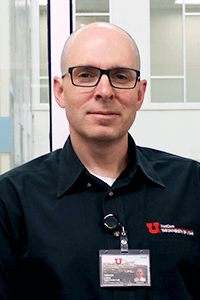 Where are you from originally?
I'm a native of Utah.
What post-secondary degree(s) do you have, in what subjects, and from which school(s)?
I have a Bachelor of Science in social and behavioral science, and a Master of Science in information systems, both from the U.
What led you to the University of Utah?
It was pretty random. When I was an undergrad, I took a class in the U's College of Education (I needed just a few more upper-division credits) and they needed some IT help. I thought it would be an easy student job until I finished my degree. Fast forward to today and I'm still here! I never expected that I would be at the U this long; however, it has been a great experience and an awesome place to work.
Can you describe the path you took to IT leadership?
My first boss at the U was Laurie MacMillan. She is one of the best bosses I have ever had and modeled what it means to be a true leader. From my time working with her, I decided to pursue a more leadership-centric IT career path and essentially try to pay it forward. It is remarkable how much impact a leader can have on retaining talent and job satisfaction.
How would you describe your leadership style and/or philosophy?
Trust. In a knowledge worker environment, trust is crucial. There is no place for or a situation in which micromanagement or constant shoulder surfing will lead to any kind of success. That means more effort from the leader upfront to make sure the left and right parameters are clearly explained, along with the ultimate end goal. The employee trusts the leader to provide clear expectations, a definition for what success will look like at the end of the project or effort, and all the required support to get there. It also means that the leader needs to trust the employee to execute according to the given parameters, even if the employee arrives at the "final destination" in a different way than the leader would have, but nevertheless meets all the expectations and requirements outlined. And both need to be open to honest feedback. That is a very long-winded way to simply say trust. People thrive in environments of trust.
What do you enjoy most about your role at the U?
Great colleagues! We have some amazing people at the U who bring such different experiences and backgrounds.
What do you find most challenging about your job?
Sometimes the university moves slowly when it comes to change. However, that is not abnormal for any large organization ... that has been around since 1850.
What are some of your hobbies?
Relaxing is my favorite hobby, and the vehicle to that end, for me, is reading and traveling. Granted the latter is greatly diminished right now, but the former has gotten a huge boost as a result of the impacts of COVID-19 on daily life. I am a "Lord of the Rings" fan, however, I read books from all genres. Recently, I finished "The Name of the Wind," which some great people at the U had recommended. I'm always on the lookout for a new read, and I find that recommendations from people you know are absolutely the best way to find another great book.
Is there a fun fact about yourself that you'd like to share?
In the "Before Times," we used to love to go on cruises. 😞
Node 4
Our monthly newsletter includes news from UIT and other campus/ University of Utah Health IT organizations, features about UIT employees, IT governance news, and various announcements and updates.
Categories