UIT Leadership Spotlight: Jesse Adams, Associate Director, Security Operations Center, Information Security Office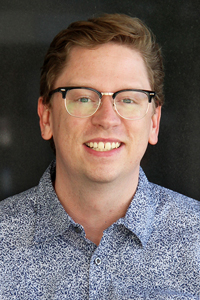 Where are you from originally?
I'm originally from North Carolina. The recession in 2008 hit North Carolina hard, so I joined the military after graduating college. I was stationed at Hill Air Force Base and, after I got out, I decided to hang around.
What post-secondary degree(s) do you have, in what subjects, and from which school(s)?
Bachelor of Arts in communications from Appalachian State University, 2008
What led you to the University of Utah?
When I left the military, I decided to put my GI Bill to good use and enroll at Weber State University. After finding the job prospects in the area to be lackluster, I transferred to the University of Utah. I kept an eye on student job openings that sounded like they matched my skill set and ended up in the Information Security Office (ISO).
Can you describe the path you took to IT leadership?
I wasn't particularly interested in IT security to begin with, but I took the job as a student employee to put experience on my resume while I worked toward my second degree. As the ISO onboarded more and more students, the responsibility of training them fell to me — something that I've always enjoyed.
A full-time position opened up and I decided that I liked the job and the organization so much, I should stick around. I oversaw our student internship program (at our peak we had nine students) and found myself enjoying the role of mentor more and more. I like to brag about the success rate of our internships: Every student who worked for us who wanted a career in IT security found a job in IT security before graduation.
During this time, I helped to create and shape our developing Security Operations Center (SOC). When we finally began hiring full-time SOC employees, it fell to me once again to mentor and train them. The former chief information security officer, Randy Arvay, created a new position for the SOC manager. He encouraged me to apply for the position, which I've been in for a little over two years now.
How would you describe your leadership style and/or philosophy?
I try my best to be as transparent as possible. Whenever we have new processes, procedures, or policies, it's OK to ask why.
What do you enjoy most about your role at the U?
I really enjoy being a mentor and helping to mold the next generation of IT security experts at the U. I'm a big fan of learning by teaching, and I have ample opportunities to do that here.
What do you find most challenging about your job?
Keeping up with the world of IT security is a big challenge. It can sometimes be like drinking from a firehose.
What are some of your hobbies?
3D printing, 3D modeling, anything I can do with my dogs.
Node 4
Our monthly newsletter includes news from UIT and other campus/ University of Utah Health IT organizations, features about UIT employees, IT governance news, and various announcements and updates.
Categories