UIT wrapping up forms migration, begins offering FormAssembly licenses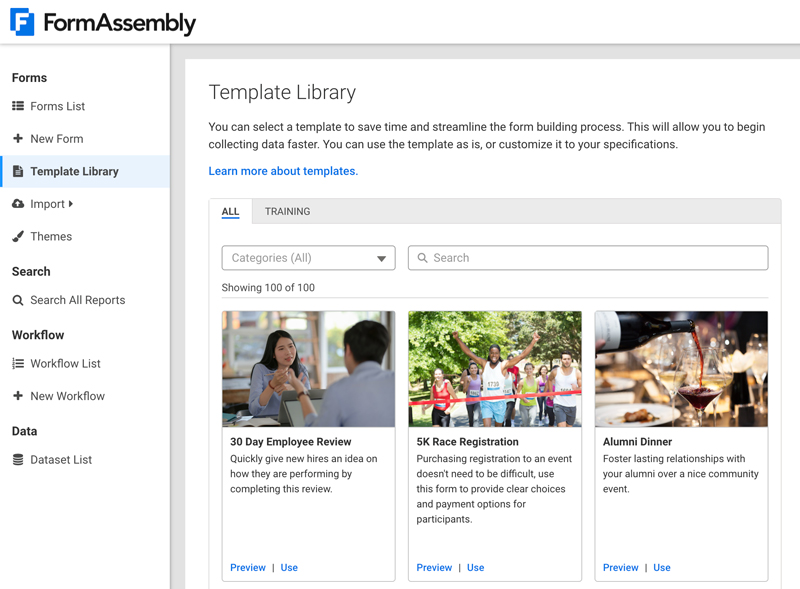 A little more than a year after it began, UIT's migration from Form Tools to FormAssembly is nearing an end. In total, Content Management & Usability staff transferred about 450 forms between the systems; the team also created several new forms and special databases for clients. The team, which will soon retire Form Tools, now offers FormAssembly licenses.
"It's been a fairly lengthy process," website services program manager Emily Jacoby said, noting that the web team had to identify all the forms in Form Tools and contact clients to find out whether their forms were still needed. "Our team is just awesome. This project required heavy lifting, all hands on deck, and everybody jumped in to help."
Jacoby managed the effort, while User Experience Designer Roger Kowallis and Senior Web Software Developer Shellie Eide helped build more complicated forms outside of FormAssembly. The team, and student employee and Web Content Specialist Avaree Vowell, re-created the forms in FormAssembly.
"They moved heaven and earth on the FormAssembly migration," said Barb Iannucci, director for Content Management & Usability in University Support Services. Her team administers and supports the form tool for University of Utah Modern Campus Omni CMS customers and provides training, support, and other web development services to campus organizations.
Jacoby added, "It was not for the faint-hearted. That's for sure."
About midway through the process, the team realized that emails from FormAssembly were not encrypted, forcing them to revisit the practice of emailing data from form submissions — a process that many users relied on.
Under university policy, personally identifiable information (PII) must be encrypted at rest and in transit. PII could potentially include basic contact information, such as first name, last name, and email address — information commonly collected in forms.
"It's going to become more and more important to protect (encrypt) email as more and more types of data are considered personally identifiable information," Iannucci said.
The web team worked with the Information Security Office'sGovernance, Risk, & Compliance team to find a solution. The best answer, at least temporarily, was Google Sheets.
That opened "a whole can of worms," Iannucci said, because it disrupted long-established business processes and required more effort to access the data. While some clients embraced the new workflow (which had some unexpected benefits), others struggled with it. It also caused some complications and extra work for Jacoby and the team.
"We hear (our clients)," Jacoby said. "We have been actively trying to find a solution that streamlines processes and follows university policy, and I think we've found that middle ground."
Iannucci said they found a workaround that will securely deliver form data from FormAssembly to university email accounts.
The team will follow up with clients to provide more information about the email connector, and then users can request to switch their email content, Jacoby said. The spreadsheet option will remain available.
Iannucci said they will train form editors how to use the email connector after they give people access to build and maintain their own forms. The interface, she said, is self-explanatory, guiding users through the process. Once connected, users will receive the data securely via email and be able to respond directly to the form submitter.
In addition, they recently purchased FormAssembly Compliance Cloud, which will help the team ensure compliance with various data protection laws (e.g., Health Insurance Portability and Accountability Act and General Data Protection Regulation). The upgrade provides priority support and increased IT security and privacy controls for sensitive data, Iannucci said.
FormAssembly comes with many other features, including predefined content, a drag-and-drop form creator, conditional logic, spam protection, electronic signatures, and third-party integrations like Salesforce. Forms look better, too.
FormAssembly licenses and pricing
For Omni CMS users:
Creator — standard form building: $200 a year per user
Creator — advanced form building: $500 a year per user
Data viewer: $100 a year per user*
*Each organization will receive one free data viewer license.
For non-Omni CMS users:
Creator — standard form building: $500 a year per user
Creator — advanced form building: $800 a year per user
Data viewer: $400 a year per user
"The forms look a little bit nicer, crisper," Jacoby said. "On the back end, they are easy to set up. … Even with the conditional logic, which can be a little bit more complicated, it's still a simple process."
Iannucci will notify Omni CMS clients when licenses are available for purchase. More information is available on the team's website, which will be updated with additional details in the coming days.
Options include data viewer licenses and creator licenses for either standard or advanced form building. Each organization will receive one data viewer license at no cost. Data viewers can log in to FormAssembly to access submission data. Creators can build and modify forms and view submissions. Those without a license can view submissions via email or Google Sheets for free.
Pricing depends on whether the client uses Omni CMS, which Iannucci's team supports, or another content management system. The number of available licenses is limited.
Jacoby said she's working on help guides and training materials, including how to set up and use the email connector, access data in Google Sheets, share data with others, and embed forms on sites.
"We learned a lot during this transition. While we encountered some unexpected obstacles, we're doing everything we can to ensure a seamless and secure experience for our clients and users who provide them with data," Jacoby said. "I'm looking forward to launching our email solution because I know it's going to make a lot of people happy. I'm also excited to give users the ability to build and edit forms, as it will provide an opportunity to streamline their processes once they see how easy FormAssembly is to use."
Node 4
Our monthly newsletter includes news from UIT and other campus/ University of Utah Health IT organizations, features about UIT employees, IT governance news, and various announcements and updates.
Categories