IT efforts help Herriman campus prepare for fall opening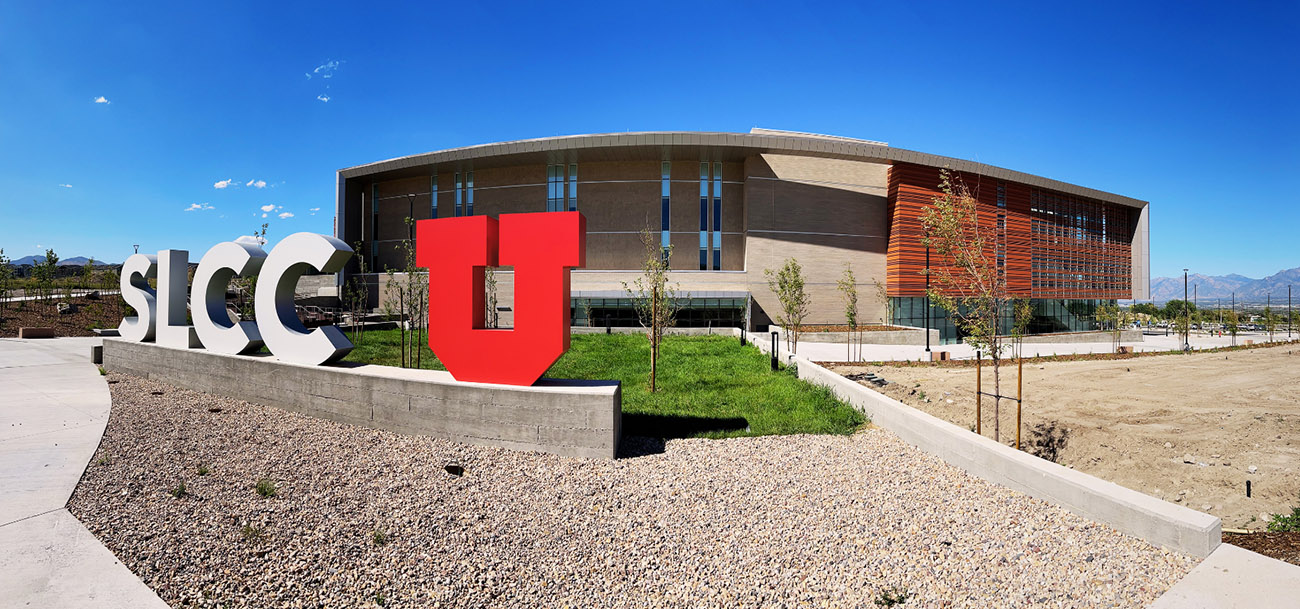 To Holly K. Johnson, the digital learning center at the Herriman campus perfectly captures the spirit of the institution — making higher education more accessible.
"It's a learning space. It's a gathering space. It's an upskill space and it's a creative space," said Johnson, associate director for Outreach & Innovation Services in UIT Digital Learning Technologies (DLT).
The Herriman campus, a partnership between the University of Utah and Salt Lake Community College (SLCC), serves one of the fastest-growing populations in Salt Lake County that encompasses South Jordan, Riverton, Bluffdale, Herriman, and Draper. Prospective students have the opportunity to earn an associate degree from SLCC and a bachelor's degree from the U — all under the same roof. According to the Office of Undergraduate Studies, 40-45% of the U's transfer students begin their educational journeys at SLCC.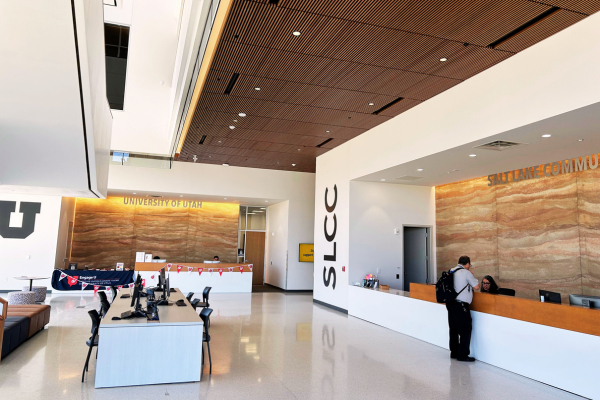 "We know there are a lot of nontraditional students living in that southwest quadrant who have some college experience but no degree," Thomas Chase Hagood, senior associate vice president for Academic Affairs, said during a recent U Rising podcast. "It's really an important population in the state of Utah — folks who are midcareer or midprofession and need the next certificate or degree to grow and develop."
Funding for the Juniper Building, completed in collaboration with Salt Lake City-based ajc architects, Big-D Construction, and the Utah Division of Facilities Construction and Management, was appropriated by the Utah State Legislature in 2021, with additional support from SLCC, the U, private donors, and infrastructure investments from Herriman City. Two years of planning culminated in a "ribbon joining" ceremony on August 7 ahead of its official August 21 opening.
The digital learning center is located on the second floor of the Juniper Building [map], named for the Juniper Canyon Recreation Area it overlooks. The space features an area for workshops, five computer workstations, four study spaces for drop-in use, and a Simple Studio, a self-serve video production studio where faculty, staff, and students can create quick, quality videos for courses, training, seminars, and class projects.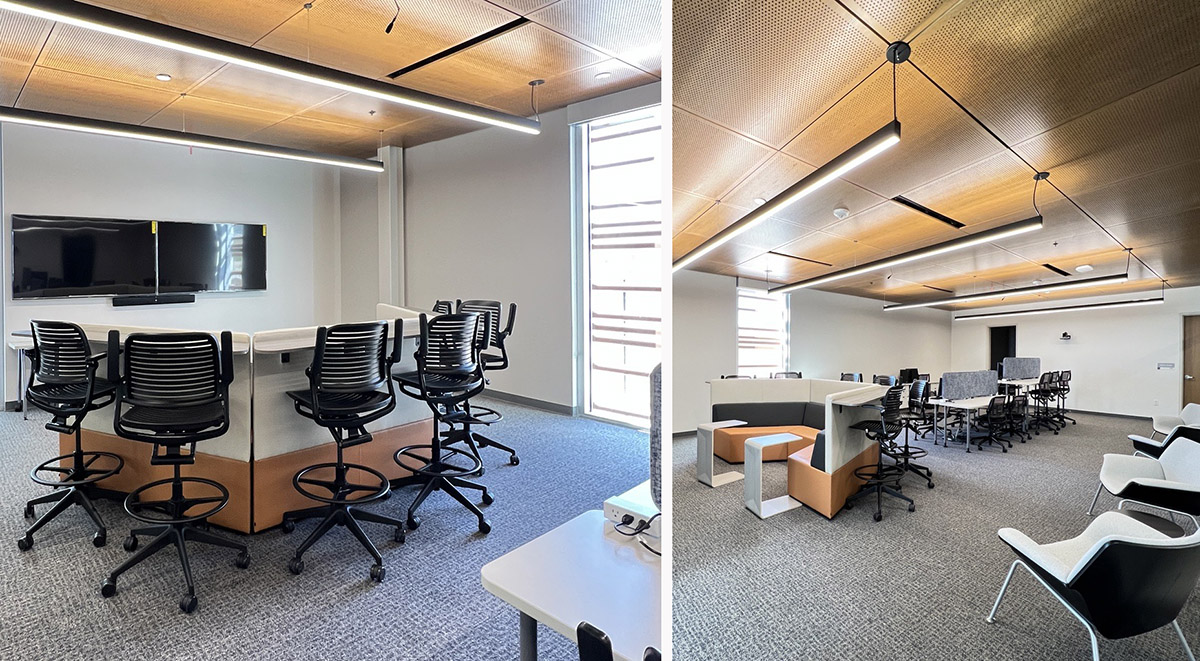 Matt Irsik, head of Marriott Library user support and computing services, said the PCs in the digital learning center are equipped with more than 100 software applications, including the Adobe Creative Cloud suite, ArcGIS, Microsoft 365, and RStudio. U students enrolled at the Herriman campus, Irsik added, may access Marriott Library's checkout equipment, which includes PC and Mac laptops, iPads, graphic tablets, cameras, chargers, and virtual reality headsets.
DLT Director Jon Thomas said the digital learning center was inspired, in part, by Adobe Creative Commons in Kahlert Village. The U is a member of Adobe's Creative Campus program. The U and SLCC maintain campus licenses that provide students, faculty, and staff with free access to Adobe Creative Cloud, which includes more than 20 desktop and mobile apps that support a range of multidisciplinary programs.
"Our partnership with Adobe is part of a larger effort at the U to familiarize students with creative apps that will help them succeed in a digital economy," Thomas said.
"

Our partnership with Adobe is part of a larger effort at the U to familiarize students with creative apps that will help them succeed in a digital economy

."

–

John Thomas, director of UIT Digital Learning Technologies
Johnson urged U students to take Adobe Creative Skills Series courses, which include "Create stunning presentations," "Create compelling application materials," and "Create viral social media," with more coming soon. The module-based courses typically can be completed in one to two hours and include a digital badge of completion that can be added to resumes and LinkedIn profiles. For faculty and course developers, Johnson encourages the use of Learning Experience Design Cards to create more creative and engaging course materials.
"Life is stressful. Going to school is stressful. Finding a job is stressful. That's why offering fun activities where learners practice with the tools is so important. The reward is the student discovering that everyone is creative in every field of study," Johnson said. "I'm really passionate about building creative communities where people think beyond PowerPoint, a place we can build confidence and put digital skills into the hands of everyone."
Johnson recalled when, in the beginning of the COVID pandemic, the university offered a CARES Act-funded professional development course called Creative Communicator. Several success stories sprung from this free course offering, she said, such as a retired teacher who learned to create captivating classwork around childhood literacy and a woman who emigrated from Greece and applied her new skillset to teach ancient Greek and Latin.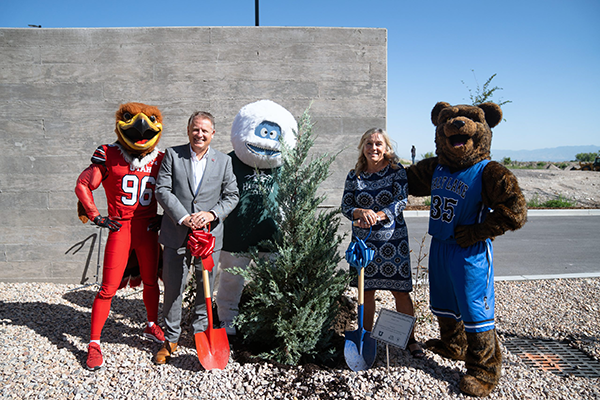 "She became so comfortable making videos, she gained the confidence she needed to go on and earn a degree in instructional design," Johnson said. "Sometimes the greatest thing we can do is give people the confidence they need to take those next steps."
In addition to DLT's efforts, the Herriman campus wouldn't have been up and running in time for fall semester without considerable legwork by UIT and Marriott Library IT staff.
"To say that there were some challenges to getting [the Juniper Building] ready would be an understatement," Irsik said. "Though deciding the number of systems, where they would be located, and getting everything ordered with the current long lead times and shipping issues proved to be harder than we thought, the Marriott Library is happy to support the technology needs of students in this new project."
In terms of network connectivity, Kevin Buchan, an IT project manager with the UIT Project Management Office, explained that wireless coverage seamlessly toggles between eduroam and SLCC's guest network.
Additional IT-related responsibilities included fulfilling service orders, activating voice and data circuits, racking network servers, putting in wired ports, as well as installing virtual private network (VPN) hardware, phones, printers, audio/visual equipment, and physical security-related systems. The UIT Account Executive team also set up the Herriman campus phone tree, the automated system that guides callers to the correct extension.
Node 4
Our monthly newsletter includes news from UIT and other campus/ University of Utah Health IT organizations, features about UIT employees, IT governance news, and various announcements and updates.
Categories