UIT Leadership Spotlight: Roy Schulz, manager, UMail & Collaboration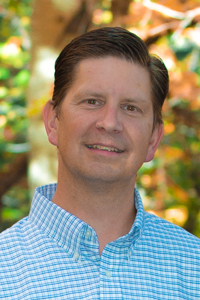 Where are you from originally?
Aside from working at the North Rim of Grand Canyon the summer I graduated from Brighton High School and then spending two years in Austria, I have lived in Utah my entire life.
What post-secondary degree(s) do you have, in what subjects, and from which school(s)?
I almost have an associate degree from Salt Lake Community College (SLCC). In the late 1980s, I started working for a company that sold cutting-edge PC point-of-sale systems back when all that was available in that space was either tied to a mainframe or a big fancy calculator attached to a cash drawer. I started as a salesperson but ended up being pretty good at the whole "computer thing" — building, installing, and networking PCs. That effectively ended my schooling. From there, I got a job at WordPerfect, where I developed more computer skills, and after a few years and a Novell merger, I was sent packing by the Corell acquisition.
What led you to the University of Utah? Can you describe the path you took to IT leadership?
My mother-in-law worked for the College of Nursing and told me to apply at the U. In 1995, I took her advice and got a job working for the Administrative Computing Services (ACS) Help Desk with Stacey Wood (now associate director for University Campus Computer Support [UCCS]). From there, I moved to NSC (which evolved into UCCS) and then the Unix Systems group, where I learned from computer/internet pioneers like LeRoy Eide and John Halleck. In early 2000, I joined the UMail team, where I worked as the technical lead until summer 2022, when Dave Packham became the associate director (now director) for the Identity & Access Management (IAM) team. With that change, I took the opportunity to shift my focus to management.
What do you enjoy most about your role? What do you find most challenging?
The shift from managing technological challenges to personnel needs has been difficult and rewarding, and it is still a work in progress. But if I can help provide the tools, my talented team of nine (plus two students) has the drive and capacity to get the work done. Each member has unique strengths that help us be successful.
Management has been a labor of love that becomes more enjoyable each day. It's great when people can communicate and collaborate, and it's exciting to work on providing new ways to accomplish that. As with most technology, it's nice to help provide communication tools that mostly just work, and you don't have to worry about them. For what we do, no news really is good news!
I have truly enjoyed working with this amazing team, some of whom I've worked with for more than 20 years.
What are some of your hobbies?
When I get the chance, I love to be with my five kiddos. Any time we can find a large body of water, that's when the adventure begins. Fishing, boating, stand-up paddling, snorkeling, scuba diving, and even just building sandcastles or skipping rocks. If there's a lake or an ocean (or even a pool in a pinch), that's where you'll find us.
Is there a fun fact about yourself that you'd like to share?
My parents fled/escaped from East Germany in the 1960s, so I grew speaking German. I joke that I'm an American handmade by Germans.
Also, since my in-laws own/operate Granite Bakery, I'm a volunteer baker when they get super busy during the holidays, and I have been known to deliver a wedding cake or two ...
Node 4
Our monthly newsletter includes news from UIT and other campus/ University of Utah Health IT organizations, features about UIT employees, IT governance news, and various announcements and updates.
Categories