Meet Your Colleagues: Copper Team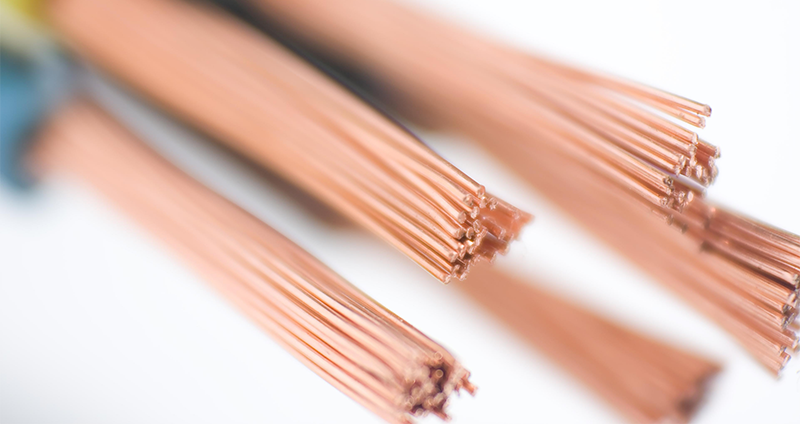 If cabling isn't the first thing that comes to mind when you think about the University of Utah's data network, credit the installers.
"Copper cabling in older buildings is an art. It takes true skill to create pathways that people don't see," said Chad Thurman, Cable Team manager in UIT Communications Infrastructure.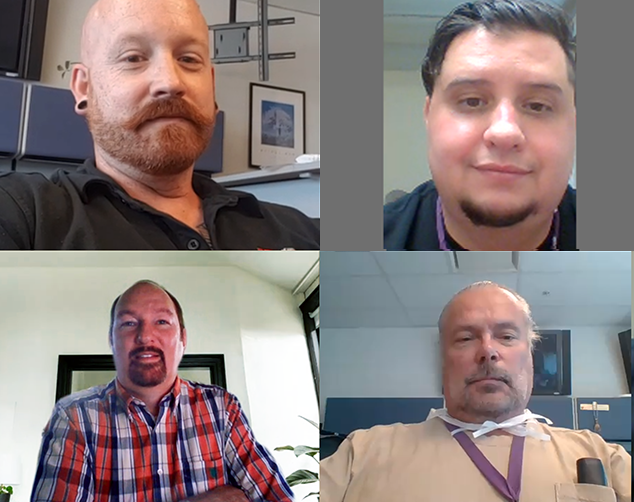 The U's sprawling telecommunications network, which consists of a hybrid system of copper and fiber-optic cable, is critical to keeping the university up and running.
"When the power and lights go out, even if the space is cold, as long as people are connected to the internet, they're going to go to work," Thurman said.
Fiber has advantages in terms of speed and bandwidth, but copper is less expensive, easier to terminate, and one of the best electrical conductors — more than any other non-precious metal.
The U has a substantial amount of both — upward of 38 million feet of fiber and 42 million feet of copper. The U's Fiber Team and Copper Team work in tandem; if you think of it in terms of running, fiber is the long-distance runner and copper is the sprinter. Glass threads in fiber-optic cable carry light well over long distances, while copper is ideal for shorter runs. This design is predicated, in part, by the strengths and limitations of each type of cable. Fiber can transport a signal more than 23 miles with a laser the size of a memory stick — more if it's a larger laser. Copper is limited to 328 feet.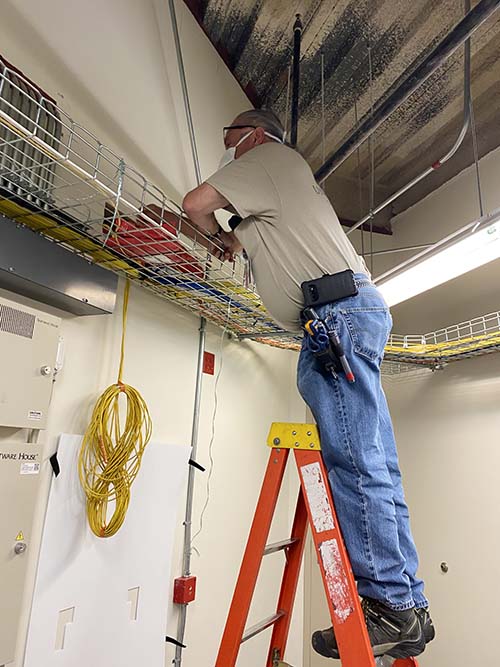 "That's why you'll have fiber linking building to building, to a hand-off or 'meet me' point," Thurman said.
A building's age presents a unique challenge, too. Four of the buildings on Presidents Circle — the John Widtsoe Building, LeRoy Cowles Building, Alfred Emery Building, and James Talmage Building — were built between 1901 and 1902.
"Many of these buildings on Presidents Circle weren't designed for networking. They were barely designed for phones," said Telecom Installation Technician Mike Tyler, whereas newer buildings, Thurman added, "are all piped and ready, making easy to tuck cables away in walls."
There's a cap, Thurman said, on what his team can charge for labor, so larger-scope projects must go out to bid. For projects within their budget, however, Thurman said they're always the best option for superior workmanship and materials.
"We use the highest-quality copper cabling and terminations for the fastest speeds possible," he said. The team uses CommScope cable, which Thurman said "is rated as one of the best, if not the best."
Besides the Fiber Team, the Copper Team works closely with UIT's Voice Systems Team, Network Services group (edge and wireless), University Support Services (USS), and UIT's Project Management Office and Account Executives, who coordinate with project managers in Facilities Management to determine cabling requirements — how much and where it should go.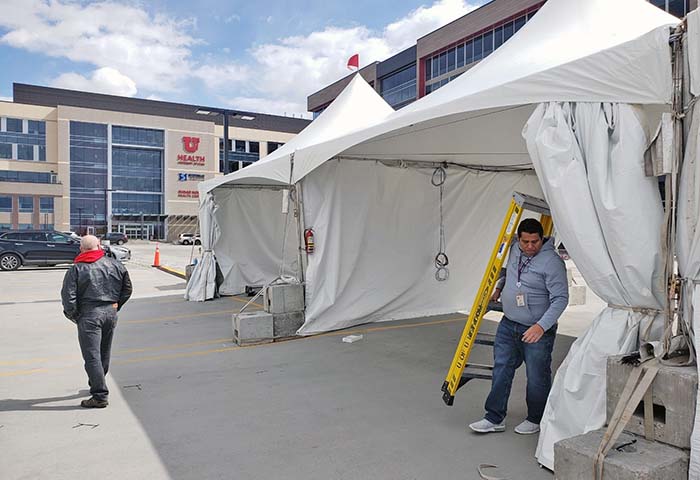 One recent project that Thurman describes as "quite an orchestration of effort" centered around a Facilities Management request to install Kronos clocks. Kronos is the university's payroll application. No single entity owns the process, he said — individual departments purchase the clocks through the U's Division of Human Resources, but USS and the Network team help program and configure the clocks, and provide the Kronos virtual local area network (VLAN) on the network switch port and internet protocol (IP) address for the subnet gateway that allows the clocks to connect.
Working on-site in teams of two is less than ideal in a pandemic, but Doug Conorich, who's pulling double-duty with his Fiber Team colleague Brandon West to fill staffing gaps on the Copper Team, said they're all "adjusting well" to new safety protocols.
"There's more handwashing and sanitizing, and when access is taken away, we have to be proactive about getting keys so building managers can monitor who's going in and out," Conorich said. "But with the right [personal protective equipment], face shields, and even gowns on occasion, we've all made the adjustment."
A job well done is what ultimately matters.
"I really like the customer interaction, getting to see the final end product, and meeting the customer's expectations," Tyler said.
What's cool about copper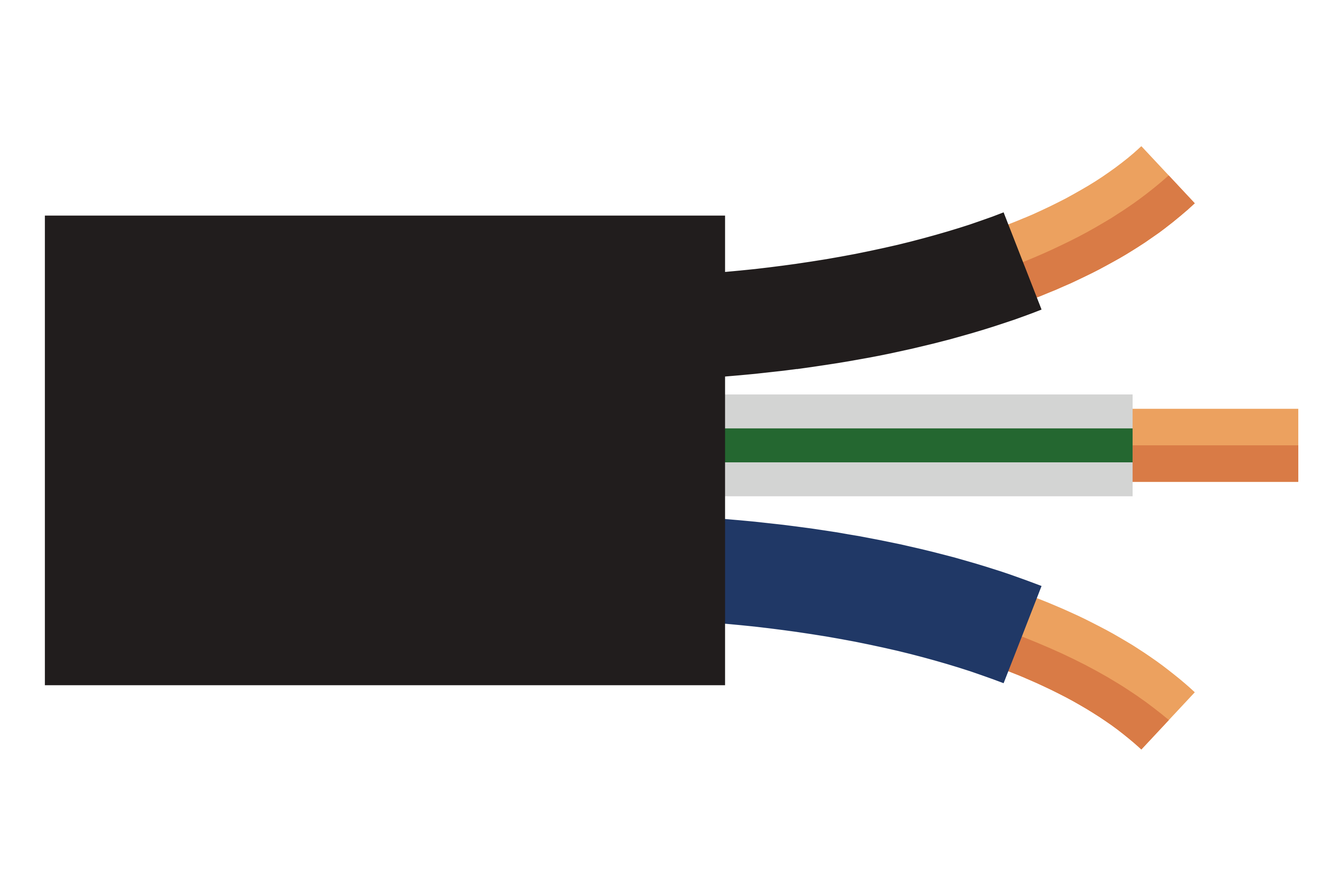 Conductivity
Because it's a highly conductive metal, electricity easily passes through copper.
Flexibility
Copper's not only conductive, it's ductile, too — meaning it bends and flexes to some degree without breaking or becoming damaged. Why does this matter? Copper cabling often travel through walls, floors, ceilings, and other confined spaces.
Thermal resistance
Copper's melting point is approximately 2,000 degrees Fahrenheit,  so it's unlikely to be affected  if a cable surges or overloads.
Refinement
Copper is routinely refined to 99.98% purity for data cable standards — more pure than Ivory soap.
Source: U.S. Geological Survey (USGS)
Node 4
Our monthly newsletter includes news from UIT and other campus/ University of Utah Health IT organizations, features about UIT employees, IT governance news, and various announcements and updates.
Categories