Responding to COVID-19: CTO highlights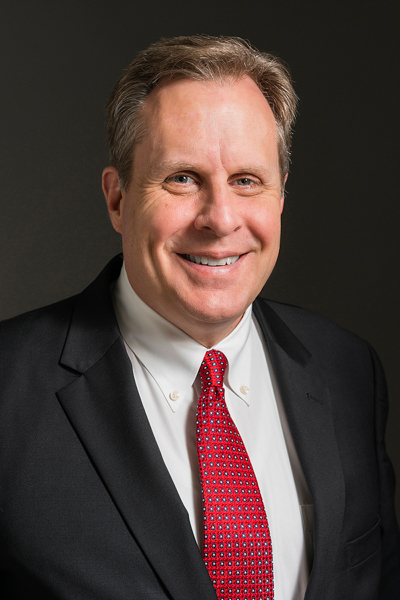 I'm beyond proud of how our IT infrastructure teams have worked together to support the University of Utah and University of Utah Health throughout the COVID-19 crisis.
To pull off so much work, without complaint, is an accomplishment that deserves to be recognized. It has been humbling for me to see the commitment these teams have shown during a time of great concern for the health and safety of themselves and their families, and yet, they never stopped working — even with an earthquake and aftershocks thrown into the mix.
The following metrics highlight key efforts that helped ensure a smooth transition to a new way of working, teaching, learning, and caring for our patients. It's also worth noting that these teams responded to a crisis while ensuring most major IT projects continued to move forward.
Telehealth
268 iPads deployed
3,000 telemedicine visits daily, on average — and the number continues to grow
Ticket volumes increased from 307 in February to 894 in March, and 422 in the first 12 days of April
308 virtual private network (VPN) clients installed
Provisioned providers on Telehealth platforms utilizing single sign-on:

InTouch — 3,484 users and 150 waiting rooms
Vidyo — 1,071 users and 274 patient rooms
Zoom — 1,835 users

MyChart visits increased from 537 in February to 3,158 in March
Support calls increased from 118 in February to 753 in March, and 560 in the first 12 days of April
Two Telehealth carts were deployed to the COVID-19 emergency department (ED); one cart was deployed to the regular ED
Network Services
Installed and configured new Virtual Private Network (VPN) infrastructure that enabled faculty, staff, and students to work remotely
Added an additional VPN appliance to the existing campus Cisco VPN environment
Average VPN utilization increased from 600 campus and 400 hospital daily users to 1,600 and 1,200, respectively
Set up networking infrastructure for 21 COVID-19 tents in Farmington, South Jordan, Sugar House, Park City, and adjacent to the main hospital
Provided four full-time equivalent (FTE) hours to assist with the UIT Help Desk and ITS Service Desk to meet increased demand
Ticket processing became more hospital-focused, with more than double the load demand for network services, not including COVID tent setup efforts
Ticket distribution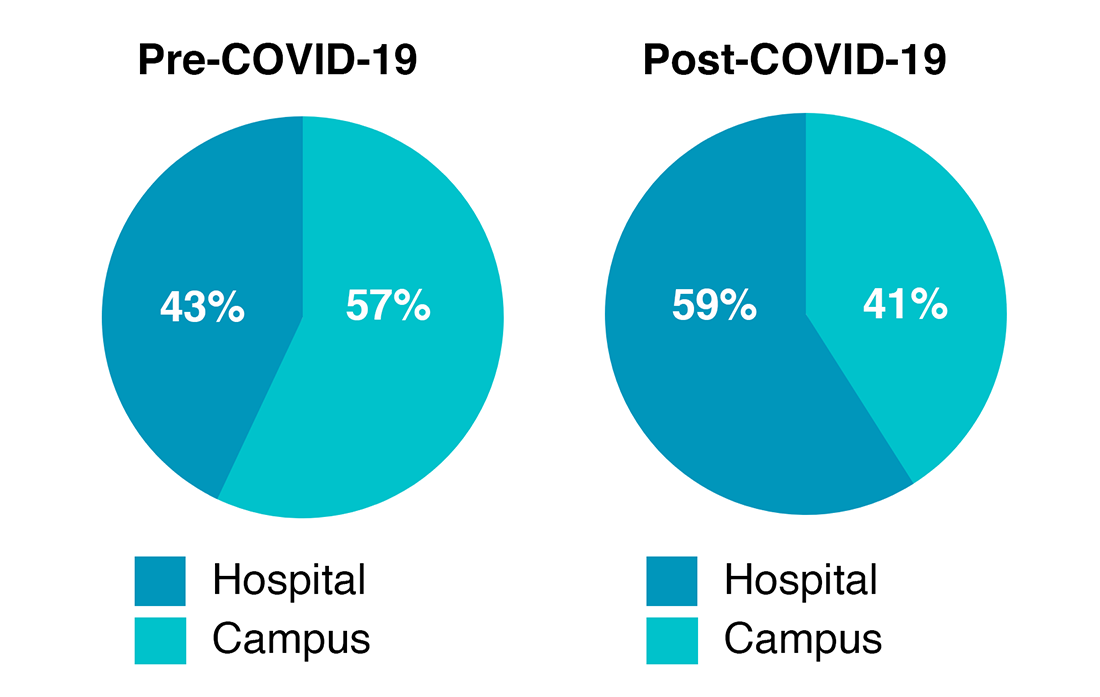 Opened tasks by month and type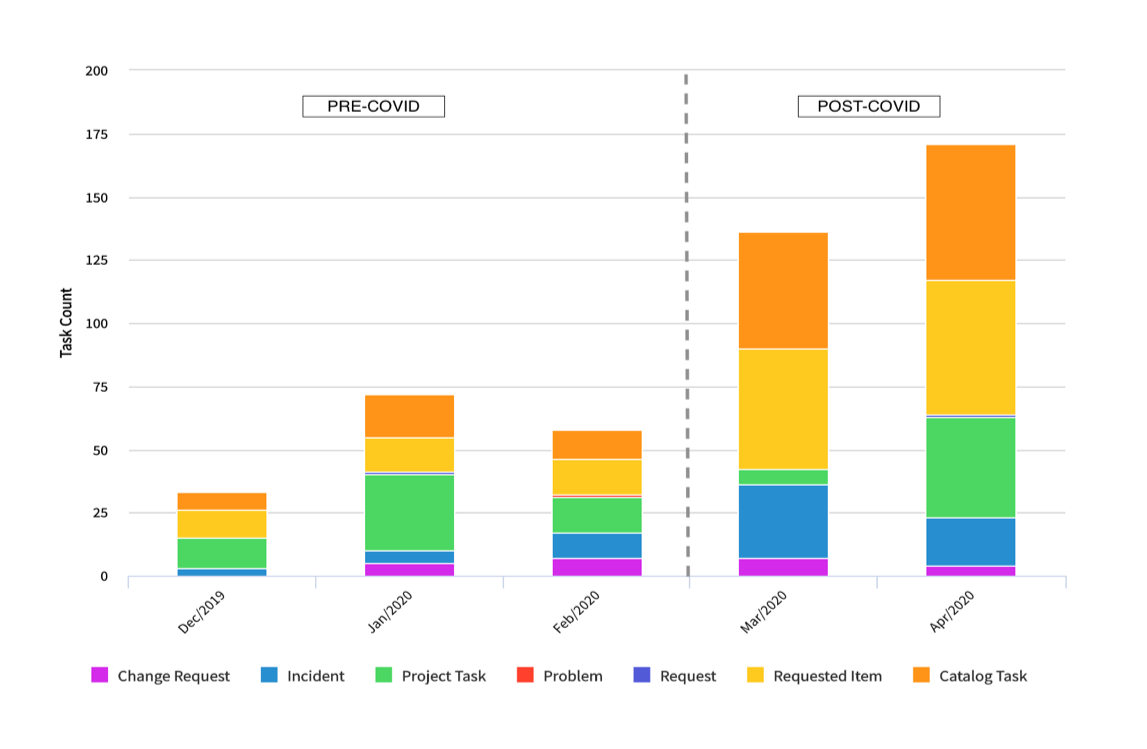 Service Management (ServiceNow)
Created six new web forms to gather COVID-19-related information related to:

Returning traveler
Hotline response
Case reporting
Building access request
Request for volunteer support
Volunteer recruitment (internal and external)

Created 16 COVID-19 workflow groups and added 52 users to triage requests
Provided 3 FTE hours to support the ITS Service Desk
Field Services and Asset Management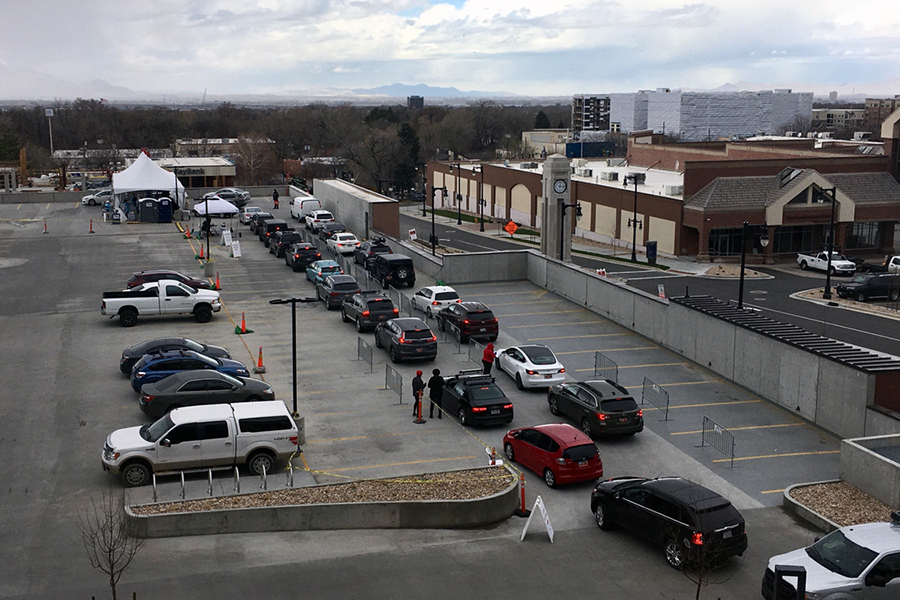 Set up the hospital COVID-19 command center in cooperation with other infrastructure teams, which included a mobile teleconference unit, two large panel displays with live news streaming services, and three network ports to assist with live employee forum and management council streams
Provided hospital administration staff at the command center with in-person IT support
Provided IT hardware and support at 21 COVID-19 tents
Provided IT hardware and support to the Wellness Clinic roaming bus for mobile COVID-19 support at the request of the chief wellness officer
Set up 35 workstations at a new urgent care unit at the hospital
Provided IT support to combine Surgical Specialty Transplant Unit (SSTU) and Orthopedic Trauma and Specialty Surgery (OTSS) to create a COVID-19 treatment unit
Reconfigured more than 200 iPads for providers to use during video visits with patients
Assisted more than 1,000 end users with configuration at home, including preparing more than 300 workstations for off-site home use
Provided four FTE hours to set up 21 new workstations on the ITS Service Desk
ITS Service Desk
Answered 5,400 more calls than average in the last two weeks of March
ITS Service Desk capacity more than doubled in a single day that included setting up and testing 32 new phones to allow for surge support for the university's COVID-19 hotline, UIT Help Desk, and ITS Service Desk
Transitioned to a work-from-home model while maintaining service level agreements (SLAs)
Identified and trained more than 30 staff members to help existing staff help callers with COVID-19 information and support technical questions as the organization as a whole transitioned to a work-from-home model
UIT Help Desk
Set up 40 additional PCs, which allowed for overflow calls to be taken from the university's COVID-19 hotline
Transitioned the UIT Help Desk to a work-from-home model that included upgrading workstations, installing software, and providing training while maintaining SLAs
Biomedical
Assisted in the equipment setup in 21 COVID-19 tents, and facilitated equipment redeployment in newly-outfitted negative pressure air spaces for COVID-19 patient care
Inspected and tested more than 60 infrared thermometers for screening staff entering the hospital and clinics
Actively worked with nursing and medical leadership to accommodate new intensive care units (ICUs) in the hospital in anticipation of an expected surge of COVID-19 patients
Adjusted schedules to allow for greater on-site coverage and physical distancing
Monitoring and Student University Development Opportunity (sUdo) program
Provided three weeks of managerial support and oversight to the UIT Help Desk and ITS Service Desk to better support call volume management, documentation, staff onboarding, and moving UIT Help Desk to a work-from-home model
Provided four Monitoring FTE hours for a week to support an increase in COVID-19 -related calls to the UIT Help Desk and ITS Service Desk
Provided 2.5 Monitoring FTE hours in support of the UIT Help Desk and ITS Service Desk
Provided 25 students for a week to support the university's COVID-19 hotline, UIT Help Desk, and ITS Service Desk
2 sUdo leads were assigned to the UIT Help Desk full time
Communications Infrastructure
Communications infrastructure teams responded to 28 percent more incidents and 50 percent more service requests over previous monthly averages — all while meeting service level targets on 92 percent of all incidents and requests
The Voice Services team:

Enabled 1,320 new phone lines related to COVID-19, including 565 soft agents to enable people to work from home and five phone lines to support COVID-19 tents
Doubled call capacity from 500 to 1,000 paths for IP phones to support increased call volumes

Account executives conducted 30 phone training sessions for contact centers
Fiber and cabling teams added infrastructure to support 21 COVID-19 tents
The UIT Campus Computer Support team loaded 931 VPN clients on staff-owned personal computers to support remote working
University Television (UTV) upgraded Comcast/Xfinity home users (student cable and IP TV for campus) network connection from 1 GB to 10 GB
Skype and Teams services provided by UIT's UMail and Collaboration team saw significant increases in use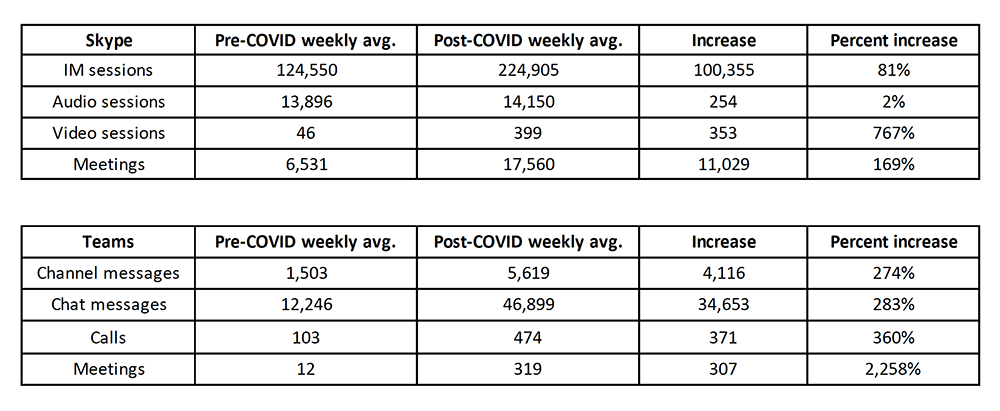 Client Engineering
Configured and supported the deployment, or redeployment, of more than 700 iPads for virtual visits — an 18 percent increase in total mobile devices managed — in less than two weeks
Application install requests from the software portal increased from 150 per week to 3,000 per week, including, but not exclusive to, many voice applications that support remote work for contact centers
178 percent increase of Citrix Gateway sessions from the previous 30 days
5 FTE hours to set up COVID-19 tents and support the ITS Service Desk's increase in call volume
With little to no impact, maintained the service levels of more than 11,000 Citrix sessions, 12,000 end-user devices, 5,000 printers, and approximately 5,000 mobile devices
Hardware Platform Services
Deployed more than 80 new server blades to handle increased demand from server clusters, including UMail and Citrix, due to additional COVID-19 load and regular growth
Created storage shares for COVID-19-related data, and helped support and educate users
Provided 1 FTE hour to support the ITS Service Desk due to increased call volume
Software Platform Services
Deployed a new network video recorder (NVR) server for live patient video streaming for the hospital in cooperation with UIT teams (Facilities IT, Network Operations Center, etc.) and the Facilities department
Deployed a new multitier web application environment to support the COVID-19 research efforts of the Office of Research Integrity and Compliance
Pushed out approximately 10 COVID-19-related Epic updates
Provided 5.5 FTE hours to assist with UIT Help Desk and ITS Service Desk
IT Product Management and Enterprise Architecture
Wrote 18 help articles, created 3 how-to videos, and contributed to a Remote Resources Guide to help remote workers and students connect to the internet, install telephones, and use conferencing software.
Node 4
Our monthly newsletter includes news from UIT and other campus/ University of Utah Health IT organizations, features about UIT employees, IT governance news, and various announcements and updates.
Categories