U of U Health CIO Jim Turnbull reflects on his U career
Just days from now, Jim Turnbull had planned to start a 7,000-mile journey across the United States and Canada on his motorcycle. He would start in Georgia, winding around the Blue Ridge Mountains, then head north along the East Coast until he reached Newfoundland.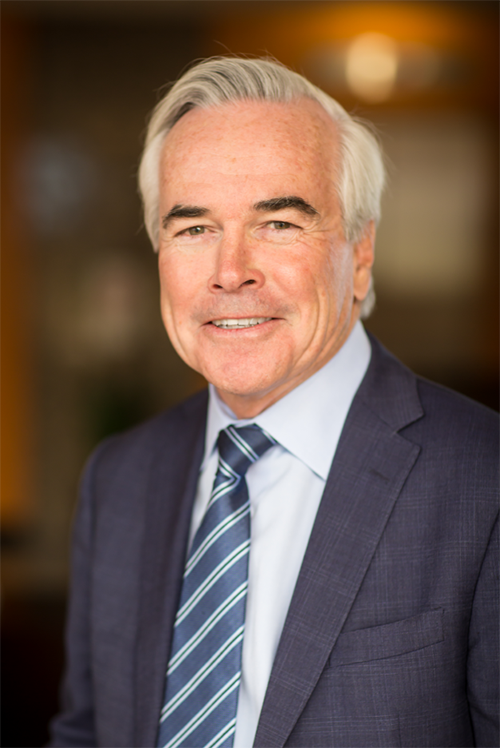 He would ride solo, although he hoped to meet a few friends along the road. It would likely take more than a month to make it back to Salt Lake City.
But he hadn't planned for a pandemic.
As the magnitude of the preparation effort to combat COVID-19 became obvious, many University of Utah Health colleagues approached the chief information officer about staying until things stabilized.
"For so many reasons — professionally and personally — I could not justify walking out on our team," Turnbull said. "I discussed the situation with our CEO, Gordon Crabtree, and he was very receptive to me staying through the immediate response to the crisis."
For now, Turnbull is postponing his retirement from May to early July. It's a just small addition to the last chapter of a storied 47-year career in health care and information technology, including seven years at the Children's Hospital in Denver, Colorado, and 12 years at U of U Health.
Here, Turnbull reflects on his time with U of U Health.
Epic history
Before joining U of U Health in 2008, Turnbull worked at the Children's Hospital in Denver, Colorado. He credits his experience with the Epic electronic health records (EHR) implementation and development process there as one reason why the U recruited him.
"The Epic inpatient product was quite immature at the time. Because we were one of the early adopters, we were able to influence a lot of the development of the pharmacy, radiology, and intensive care applications. I think we really helped to enhance the product."
U of U Health, which wanted a fully integrated EHR system, started its transition to Epic shortly after Turnbull arrived. In October 2010, Turnbull's Information Technology Services (ITS) division, in collaboration with many other departments, implemented Epic's Revenue Cycle suite. Following the Epic implementation in specialty clinics, ITS and U of U Health went live with the inpatient areas on Mother's Day in 2014. Many enhancements continue to be made to this day.
With Epic, U of U Health has changed for the better, Turnbull said. Everyone on the front line of patient care now uses the same integrated solution, which provides access to the entire health record. In addition, more than 400,000 patients now have MyChart personal health record accounts, which enable them to be more engaged in their care.
U of U Health
CIO Jim Turnbull
Academics
Bachelor of Arts in organizational psychology from the University of Manitoba
Master of Business Administration from the University of Western Ontario
Doctor of Health Administration from the Medical University of South Carolina
Awards
1996, 1998: Computerworld Smithsonian Award
Professional service
Fun fact
Turnbull told Computerworld that before he joined the health care industry, he worked 2,200 feet underground in a nickel mine in northern Canada.
Years ago, Turnbull said, many referring physicians described U of U Health as the "black hole" because they never received any information back about their patient after sending them here.
"Now, there are 2,000 providers and staff in the region who have access to their patients' information online through Epic Link," he said. "Now, our relationships are a lot better, and it's a better cultural fit for the region we serve."
Downtown Data Center
While Turnbull and ITS teams were in the middle of the Epic transition, they also were working with UIT leaders to design and build the Downtown Data Center (DDC), which houses a signification portion of the university's storage and server capabilities, as well as the infrastructure for many of U of U Health's systems and applications.
The combination of UIT and ITS technologies in one location had long been a dream of University Information Technology (UIT) Chief Information Officer Steve Hess, Turnbull noted.
"Steve is a true visionary who has left an amazing mark on the state of Utah's education system," he said. "The DDC is just one more example of Steve's achievements."
Turnbull said the facility, developed under the leadership of Chief Technology Officer Jim Livingston, was the first LEED Gold-certified data center in the Salt Lake Valley. It was designed to be incredibly flexible and inexpensive to run. For instance, the DDC runs primarily on outside air instead of air conditioning, and at a higher temperature than similar data warehouses built about the same time.
"But what's really unique about it, is that they recently created a hybrid approach to cloud computing, where we can adjust to the demand by using the capabilities in the Downtown Data Center, or by purchasing, leasing, or renting space in the cloud. We can flex those resources back and forth depending upon demand and pricing."
The DDC, Turnbull said, reflects the hard work by UIT and ITS staff.
"They built an incredible place, and I'm so proud of our teams for what they accomplished. The DDC management and staff run a tight ship."
Most wired/rankings
U of U Health has been recognized seven times (2013-19) as one of "Healthcare's Most Wired," a program by the College of Healthcare Information Management Executives (CHIME) "to identify, recognize, and certify the adoption, implementation, and use of information technology by health care provider organizations." (The American Hospital Association conducted the annual survey until 2017.)
Turnbull called the recognition a benchmark, saying he thinks of it as a tool to compare U of U Health to the rest of the industry.
"We don't strive to be 'Most Wired.' We are 'Most Wired' because we do a lot of things right," he said. "… But we're not out looking for a trophy — that's not the objective. We strive to meet the needs of the organization, and if because of that we get the 'Most Wired' designation, that's just the cherry on top."
Organizational growth
In the past 12 years, outpatient visits have more than doubled and U of U Health's physical footprint has grown dramatically. At the same time, the IT staff has grown by close to 50 percent. By combining security and infrastructure teams with UIT, both groups have achieved economies of scale.
"We have a great environment in place, where we can scale up and deliver services very quickly to a rapidly growing volume of patient care," he said.
Despite the overall growth, the cost per unit of IT service has decreased. Turnbull said IT used to constitute 7 percent of the total operating budget for the U of U Health system. Now, it's below 5 percent. He credited U of U Health's "incredible" ITS teams, as well as sound strategic investments in technology and applications, and strong partnerships with departments across the organization, for the cost savings.
"When I look back over my career, achieving these economies of scale was something I always hoped would eventually happen. I just didn't know when."
One challenge, however, is staying competitive in terms of recruitment and salaries.
"We try to stay very competitive, but the market is changing so fast that we now reassess salaries twice a year."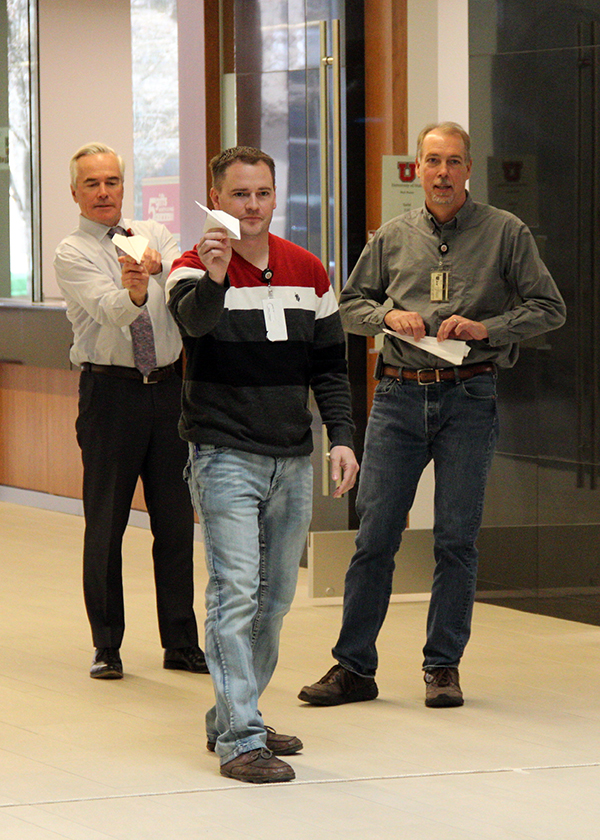 Employee recognition and retention
Turnbull said that one of the best decisions ITS leaders made, in terms of the culture of the department, was establishing an employee-led recognition and retention team and giving it the flexibility and freedom to make ITS a great place to work. The committee's recommendations — including days of service and social events — have helped keep turnover low and morale high.
"They've come up with so many great ideas over the years, and I give all the credit to them. … It's been fun to see all the good ideas they've come up with."
COVID-19 response
Turnbull said it's taken an incredible amount of collaboration across the university, in partnership with the state, other health care systems, suppliers, and the community, to address the COVID-19 crisis. Once again, he's amazed by how the ITS and UIT teams have stepped up, reconfiguring applications, enabling a massive expansion of telemedicine services, standing up testing sites in tents around the region, scaling up infrastructure, supporting the reconfiguration of the hospital, transitioning to a work-from-home environment, and much more.
"The commitment, personally and collectively, that it took to pull this off is apparent every day. I am incredibly proud that we have enabled those on the front lines to deliver exceptional care to our patients, families, and the community."
A lasting legacy
When he looks back at the changes during his time at U of U Health, Turnbull said "it's a big, long list of cool things." But one that stands out is the implementation of Epic at the Fourth Street Clinic, which provides health care and support to homeless and underserved Utahns.
With U of U Health's support, the clinic was able to secure an Epic license at no cost. ITS teams then provided clinic staff with several months of onsite training and IT support, culminating in a successful implementation.
"It was the right thing to do. How this department stepped up to the plate and made it happen was really remarkable," Turnbull said, noting that the Epic implementation was an IT-led project, triggered by discussions that he had with Dr. Tom Miller, U of U Health's chief medical officer and a former member of the Fourth Street Clinic board of directors.
Another project that makes the list: computer-assisted coding.
Previously, Turnbull said, someone had to read every patient record line by line and work with providers to ensure it was properly coded. Then Shawn Wells, now director of Health Information for ITS, developed a system in partnership with 3M in which a computer reads the chart the first time and suggests changes. This improves efficiency for the coders and improves coordination with the medical staff.
"I never thought I would see that during my career, but we were the development site for it. And last I heard, the system is used in over 3,000 hospitals in the country now," he said. "So, hats off to those folks — that was a pretty cool thing."
When he thinks about that project, he said it reinforces his view that if you allow exceptional people to take on a big challenge, you get exceptional results.
"I see that every day. The commitment of the staff to each other, to the organization, to the patients and families we serve and to the industry … they're really a remarkable group of colleagues."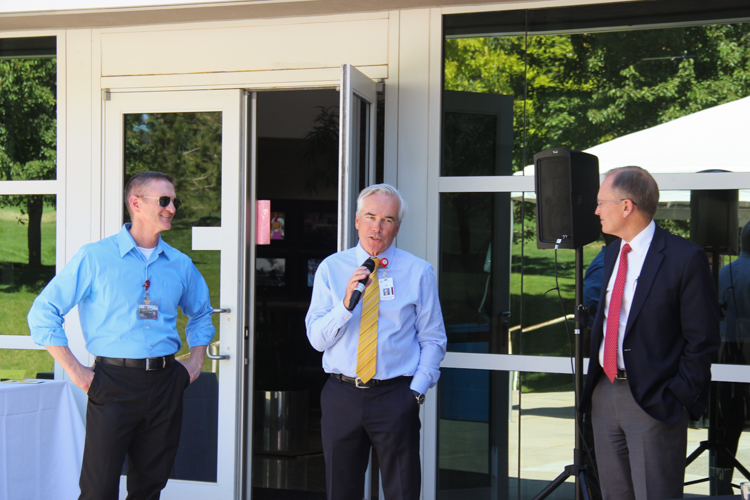 Advice for the next CIO
Turnbull shared some advice on the initiatives, emerging technologies, and trends his successor should keep an eye on.
"My successor needs to ensure that infrastructure and data security receive appropriate care and feeding. So much of our success in the past decade has been the ability to respond to the strategies and growth of the organization because we have the foundation that enables our success. As far as emerging technologies are concerned, I would take every opportunity to reduce dependency on mice and keyboards, and switch to voice-enabled capabilities. At the other end of the spectrum, I wouldn't get too enamored with the artificial intelligence 'hype.' Finally, take care of our amazing team, and never underestimate their accomplishments and the value their commitment and expertise has meant to the university and those we serve."
Last thoughts
"I've been blessed throughout my career with wonderful role models, mentors, staff, and colleagues. Working for our CEO, Gordon Crabtree, at the culmination of my career has been a blessing that I will always treasure. I hope that my willingness to take risks, trust my staff, and learn from my many mistakes has in some small way enabled many of the teams I've worked with to be successful. I couldn't be more proud of their accomplishments.
"It's been an amazing 47 years. I wouldn't change anything. I'll miss this place, I'll miss the people tremendously, but it's time to move on. I know I'm leaving the division in good hands, and now it's time to go have some fun."
Although his immediate plans and priorities have changed due to the COVID-19 pandemic, when Turnbull finally walks out the door, he said "it will be with a sense of great pride and confidence in the individuals and teams I leave behind."
Node 4
Our monthly newsletter includes news from UIT and other campus/ University of Utah Health IT organizations, features about UIT employees, IT governance news, and various announcements and updates.
Categories