Be a Teams player with Microsoft's collaboration hub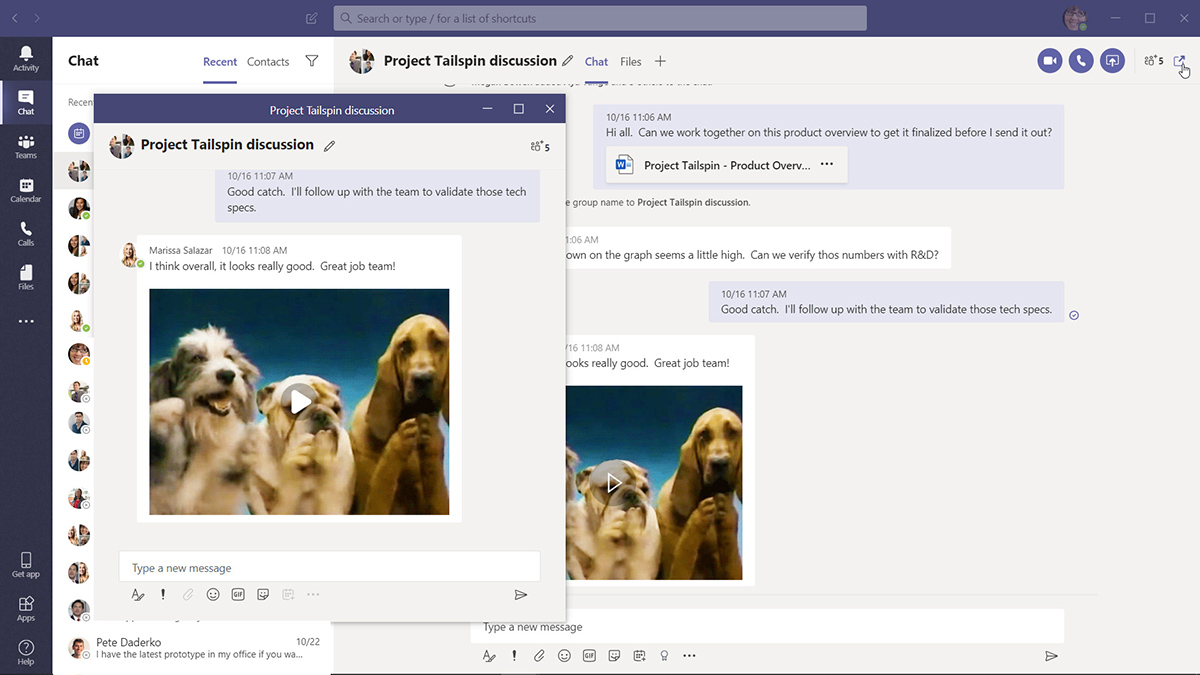 When collaborating digitally, do you cobble technologies together — share a Box file here, attend an online meeting via Zoom there, perhaps chat using Skype for Business? Are you still waiting for feedback about an important email from last week?
If this workflow sounds familiar, it may be time to consider becoming a "Teams" player.
Teams is an alternative to email communications, online web conferencing platforms like Zoom and Skype, and Microsoft's answer to collaboration applications like Slack and Atlassian's HipChat. All current members of the U community, including affiliates with uNIDs, may use the U's instance of Teams. Teams-based collaboration with non-U community members is not possible at this time. Access this knowledge article for desktop and mobile installation instructions.
Key features of the no-cost "digital office space" include one-on-one and group chats (with a slate of emojis, GIFs, and stickers to liven up the conversation), file storage and sharing, online meetings, and third-party app integrations.
"Teams' greatest advantage is that it consolidates office tasks into single interface with persistent chat, calling, video messaging, calendaring, a wiki, and a place to share documents," said Clayton Norlen, product manager in UIT Product Management (CTO Office). "It's an alphabet soup of everything you might need to do your job every day."
Now that the majority of the U community has transitioned to remote work and instruction due to the COVID-19 pandemic, Teams is a unified communication tool that bridges the gap in face-to-face interactions. The app appears to be gaining traction: According to Microsoft, Teams video calls increased more than 1,000 percent in March. At the university, private Teams chat messages climbed from 12,898 in February to 26,396 in March, a 51 percent jump. Over that same period, meetings shot up from 292 to 4,160, an increase of approximately 93 percent.
The basics
This quick start guide (PDF download) and the following vendor tutorials will help get up and running on teams.
---
Features recently added to the U's instance of Teams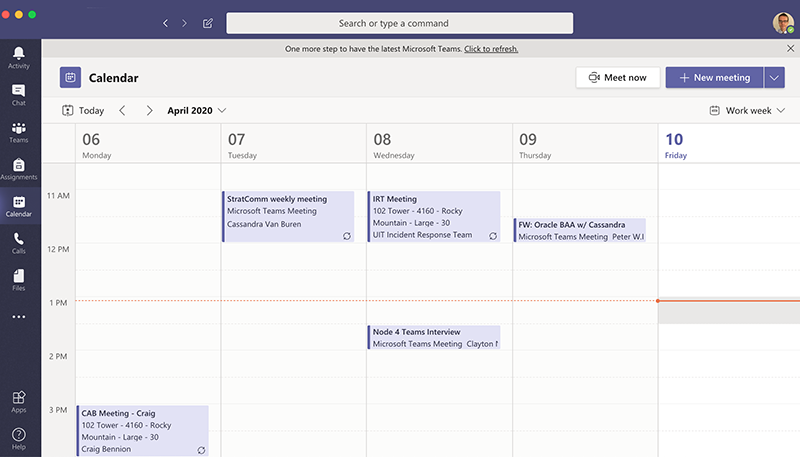 Calendar
The Calendar option, accessed on the left-hand navigation panel, integrates with a user's Microsoft Outlook calendar. The Teams version offers the same basic functionality, with some additional meeting features located on the top-right of the calendar screen:
Meet now: Host a private meeting
New meeting: The process for setting up a virtual meeting is similar to creating an Outlook meeting invitation as a Skype call
Live event: This option, accessed from the New meeting drop-down menu, allows users to broadcast video and meeting content to an online audience
Access this vendor website for more information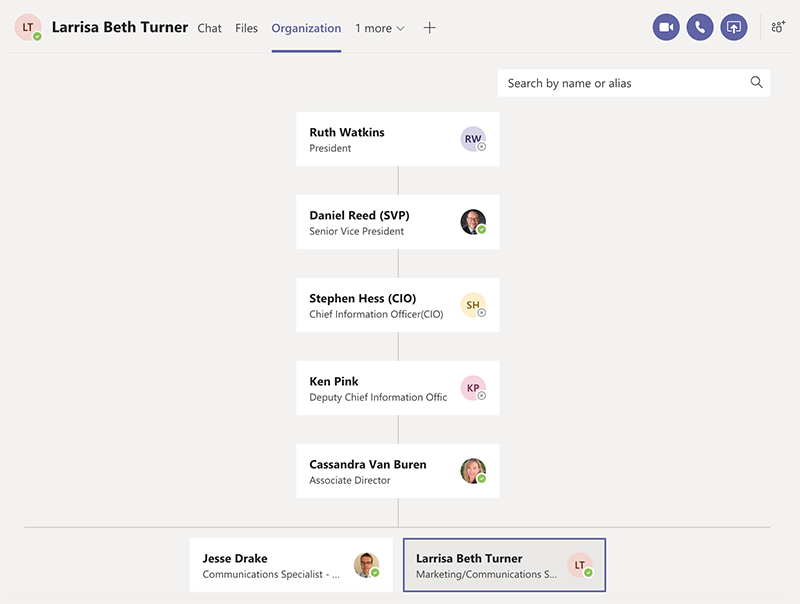 Organization
In a one-on-one chat, select the Organization option at the top of the window for a quick glance at the other person's reporting relationships within the organization and university. Access this vendor website for more information.
Stream
With Stream, users may upload, view, and share videos to support events such as meetings, presentations, and training. Located below a message post or chat box, the feature also enables comments, and the ability to tag timecodes in comments. Access this vendor website for more information.
Praise
A Praise message badge is a quick way to boost morale and motivation. Deliver Praise (Achiever, Creative, Problem solver, Thank you, etc.) in a chat, or recognize a team-worthy win by sending it in a channel conversation. Access this vendor website for more information.
Backgrounds
Have boring, blank walls? Add a background image during a Teams meeting by selecting the ellipses […], Show background effects, then Apply an image that catches your eye. To experiment beforehand, set up a meeting with yourself via the Meet now option on your calendar screen.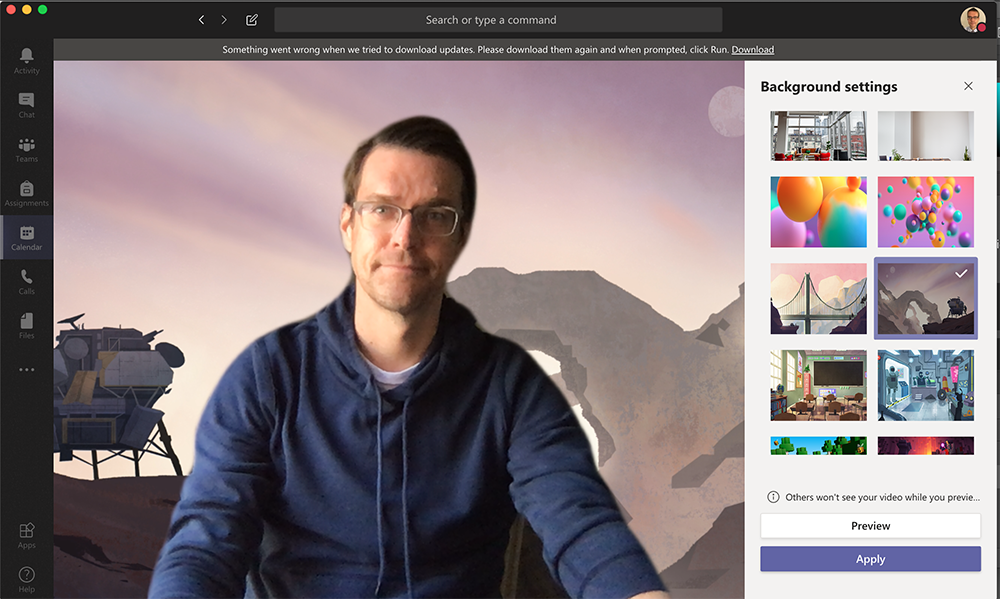 The versatility of features like these, Norlen said, is key to Teams' popularity.
"What makes the application so powerful is that we all work differently. Teams accommodates diverse workflows of a diverse set of users," he said. "We're motivated to seek out tools that make getting our work done."
"Students probably won't feel the need to set up meetings or get on a phone call necessarily, but they will use persistent chat. Employees use it to stay in touch and keep tabs on projects, but they can also crowd-source ideas," Norlen said, noting that one of the lesser-used but notable Teams' functions is the ability to conduct a poll in a chat.
Node 4
Our monthly newsletter includes news from UIT and other campus/ University of Utah Health IT organizations, features about UIT employees, IT governance news, and various announcements and updates.
Categories