Web development news includes OU Campus rebrand
The Content Management & Usability team in University Support Services has some exciting news it would like to share.
"It's been fulfilling to work on these updates because it will take our customer service experience to the next level," said Emily Jacoby, website services program manager.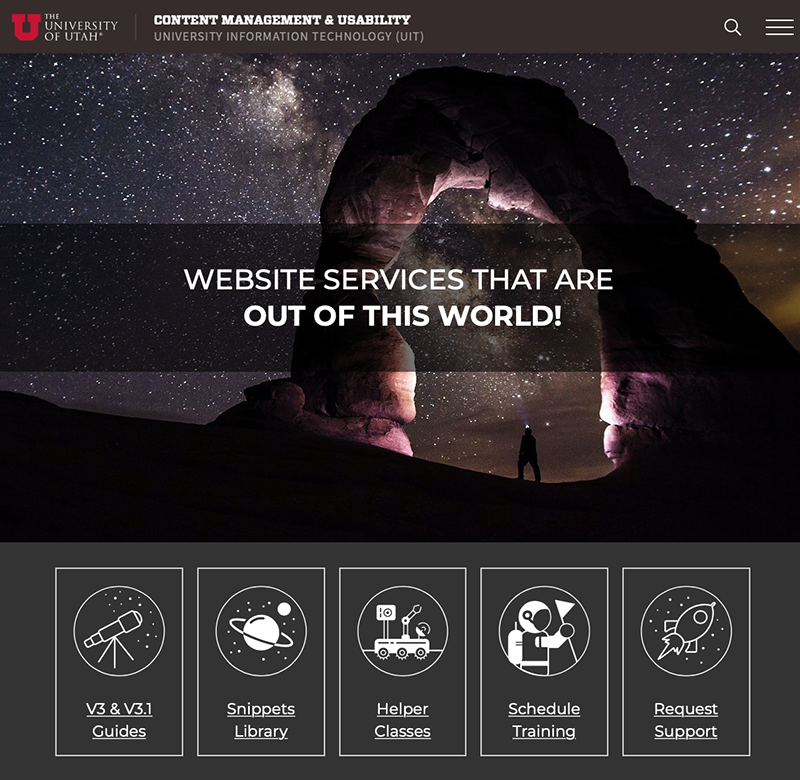 OU Campus rebrand
The web content management system OU Campus has been rebranded as Omni CMS. The name change is the result of OmniUpdate, the creator of OU Campus, merging with Destiny One to form Modern Campus.
The 3.1 template
Omni CMS editors — the 3.1 template is here, and you get first dibs!
USS' Content Management & Usability team is taking requests to transition sites to the new template. UIT's website it.utah.edu, for example, was recently moved over to 3.1.
The process for migrating to the new template, Jacoby said, won't require the two-week freeze that was typical in previous migrations and upgrades.
Based on feedback from clients, as well as striving for optimal usability, the team has also brought back a visible top navigation menu for larger screens. This will be in addition to the standard side navigation.
Please visit this website to request the new template and learn more about 3.1 features, including:
Customizable top navigation
Customizable header colors
Updated search area
New heading sizes and styling
Customizable footer display options
Revamped website and revised guides
In an effort to promote the 3.1 template, websites.it.utah.edu has been revamped, with the landing page, snippets library, and general tutorials with step-by-step instructions revised to be easier to understand and follow.
Omni CMS version 11
An newly-updated version of the Omni CMS interface features:
A new main interface
New WYSIWYG (what-you-see-is-what-you-get) toolbar and icons
Quick edit table properties
"The sleek new design promises to make editing even easier than before, without changing much of the functionality," Jacoby said.
Please visit this website for more information.
More news for Omni CMS web editors
Node 4
Our monthly newsletter includes news from UIT and other campus/ University of Utah Health IT organizations, features about UIT employees, IT governance news, and various announcements and updates.
Categories