IT Pros Forum welcomes two new board members
The IT Professionals Forum Board of Directors recently welcomed two new board members, Ann Brady and Jeff Jonsson, who were nominated to serve by members of the IT Pros community. Board member Barry Bryson agreed to serve another term.
In addition to Brady, Bryson, and Jonsson, board members include President Steve Harper, Kim Antry, and Jon Rusho, and UIT liaison to the board, Cassandra Van Buren. The nomination and election process is held each April, and board terms are two years.
In an email to the IT Professionals Forum, Harper thanked Joel Hsia and Matt Irsik, both of Marriott Library, who stepped down at the end of their terms.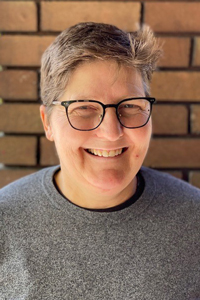 "Thanks for all your help and guidance over the last few years. Your contributions will be missed," he said.
He also welcomed Brady of Moran Eye Center and Jonsson of Marriott Library, saying "We look forward to learning a little more about you two. Thanks for being willing to serve!"
Ann Brady, senior systems administrator, Moran Eye Center
Ann Brady has worked in IT at Moran Eye Center since 1988. Brady has had a diverse IT role, from computer support and systems administration to projects and full stack development. In her free time, Brady enjoys spending time with her kids and puppy, studying history, cycling, camping, hiking, and everything else outdoors.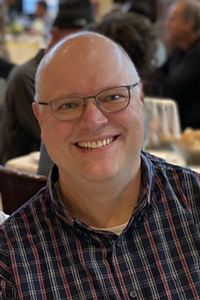 Jeff Jonsson, systems administrator, Marriott Library
"I have been with Marriott Library for 31 years, starting my career here as a part-time weekend computer operator while I earned my bachelor's degree as a U of U student. I did a variety of jobs in system administration after we phased out our IBM mainframe. In 2001, I moved into the library digitization group and became the sole sysadmin for our digital asset management system known as CONTENTdm, upon which we built the library's digital collections, utahdigitalnewspapers.com, and the Mountain West Digital Library. In 2007, I moved more into general system administration, where I have found myself working with our VMware infrastructure, Windows and Linux guest administration, EMC SAN administration, Qumulo storage cluster, Rosetta archival digital asset management system, and a decent-sized Commvault backup infrastructure to protect the petabyte of data that we have ingested into our digital library."
"In my spare time, I like to take my wife, our two teen daughters, and our dog into the woods or the desert with our pop-up camper and relax in the outdoors."
Node 4
Our monthly newsletter includes news from UIT and other campus/ University of Utah Health IT organizations, features about UIT employees, IT governance news, and various announcements and updates.
Categories