UIT Leadership Spotlight: Barb Iannucci, Director, Content Management & Usability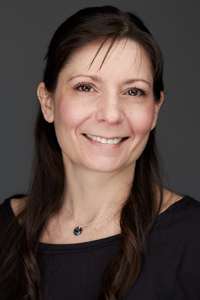 Where are you from originally?
I grew up 5 minutes from the Park Building.
What post-secondary degree(s) do you have, in what subjects, and from which school(s)?
I have a bachelor's degree in computer science from the University of Utah.
What led you to the University of Utah?
In general, my dad, because he was a linguistics professor and an associate dean for the College of Humanities at the U. For college, it was definitely the half-off tuition. For my career, I had grown attached to the interesting people and the vibrancy of campus.
Can you describe the path you took to IT leadership?
I actually started out as a geology major in college, figuring I would frolic in nature all day. Then my career counselor told me that I would most likely end up living in a mining town helping big corporations strip the earth of its precious resources — and that didn't work for me.
I had considered studying computer science (CS) before that but was discouraged by people who told me that I would never survive the U's rigorous and highly competitive CS program if I hadn't grown up building computers on my own (I hadn't). But I had to take a CS class for my geology prerequisites, and I did really well and I really enjoyed it, so I just went for it.
After I graduated, I worked briefly at a video game company, but I wasn't thrilled with the lack of work-life balance. I moved on to become the webmaster for the David Eccles School of Business. Eventually, I moved to UIT, where a series of events opened an opportunity for me to apply for a leadership position for which I was hired.
How would you describe your leadership style and/or philosophy?
I try to identify and nurture the individual strengths of the people I manage. I like figuring out what motivates them and what doesn't, and I find the psychology behind it all very interesting. I don't think a one-size-fits-all strategy is effective, so I try to be flexible and tailor my approach to the situation and the personalities involved.
What do you enjoy most about your role at the U?
I absolutely love all the interesting people I get to work with and the cool projects my team gets to work on, as well as helping and watching people grow professionally.
What do you find most challenging about your job?
Meeting deadlines that are driven by external factors, rather than available resources and effort required.
What are some of your hobbies?
Traveling, playing music, watching live music, eating good food, and reading good books.
Is there a fun fact about yourself that you'd like to share?
Fresh out of college, I was the lead programmer for World Championship Poker for the Nintendo Gameboy Advance. It was fun seeing my name in the credits for the first time.
Is there anything else that you think our readers would like to know about you?
I've been a part of the university since I was a baby. My dad would bring me to his classes when babysitters fell through, I went to preschool here, I received my post-secondary degree here, and I have pursued a career here. I think that means I must really like it here.
Node 4
Our monthly newsletter includes news from UIT and other campus/ University of Utah Health IT organizations, features about UIT employees, IT governance news, and various announcements and updates.
Categories