Kudos & Congratulations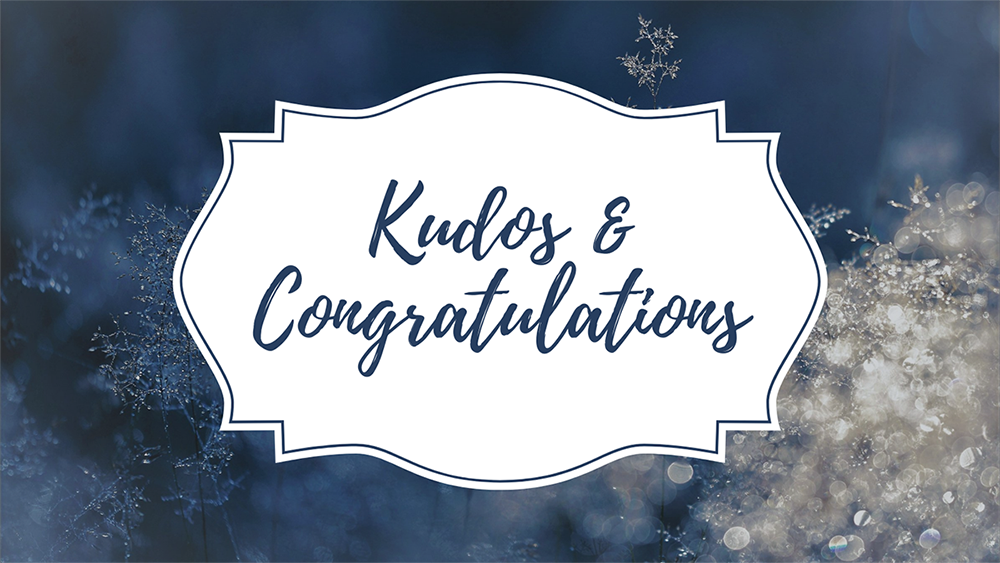 UIT staff recognized for their excellent work
Congratulations to Robert Jans and Josh Keener (both from the CTO organization) for winning the last prize drawing!
---
Cody Exon is my go-to person to help with any questions or problems I have with UMail issues. He is the one who works through the issues with me and my users, and gets things working. I am so grateful for his help.
~ Beth Sallay, CTO organization
---
I would like to send Kudos to Keith McClung and Kirk Barlow. I seriously appreciate their support while I have been recovering from injury. They are great to work with as well!
I also want to thank Stacey Wood for being a thoughtful manager for our group. She constantly amazes me on how she can juggle so many different responsibilities.
Go Utes!
~ Monte Shaw, CTO organization
---
Cody Exon deserves every kudos possible because no matter how busy he is with the Help Desk — whether that's training the revolving student help, helping users with the UMail migration, or just the day-to-day tasks of having to help ALL of campus and redirecting them as needed — he still makes time to assist all the IT teams out there as well. He is one of the main pieces that makes Help Desk successful (McKenzie Spehar and Tom Whitaker are as well), but very few understand the immense pressure him and his team are under constantly as they deal with the brunt of the ever-changing IT environment.
Matt Munro is another important piece to all of UIT. His knowledge is vast and his workload is large, but no matter what he always makes time for his team and UIT as a whole. He assist so many users and does it with a smile. I appreciate his genuine efforts to ensure that UIT is taken care of and seems to put them before his own needs. Matt is a one-in-a-million type of an employee!
~ Eric Martinez, CTO organization
---
Larrisa Beth Turner and Jesse Drake, once again you proved yourselves invaluable all year long. Your excellent communication skills, professionalism, and diligence helped to keep UIT, ITS, and the entire university informed and inspired. Thank you.
~ Cassandra Van Buren, Strategic Communication
---
Kudos to Scott Wilgar, a great employee, extremely hard worker, and a great friend.
Kudos to Marc Thompson, a really fun person to work with who always manages to deliver excellent results and get stuff done!
~ Dalton Clift, CTO organization
---
Kudos to Jason Moeller. He is a great leader, good to work for, and has always been supportive of his staff.
~ Reza Sarijlou, University Support Services

---
Thanks to Nick Bradberry for taking on the bulk of two messy projects (NOC internal access on the new VPN and sale of Dialysis) — all while dealing with an onslaught of tickets.
~ Chris Robinson, CTO organization
---
I wanted to pass along how much I appreciate Eric Martinez's support over the past few days. His communication, responsiveness, and attentiveness has been much appreciated. I know the UCCS team is short-staffed. Yet, Stacey Wood and Matt Munro have continued to juggle workloads and priorities to ensure the support provided remains excellent. On behalf of University Safety, thank you for all that you and your team do for us.
~ Ryan Doyle, Emergency Communications, University Safety
---
I would like to express my appreciation for the great work that Lisa Sorensen provided in automating the Freezer submission process. Lisa has been very professional, easy to work with, and has always been available to answer my questions. The automated process that she created has been well received by the researchers and has saved me hundreds of hours. I am looking forward to working with Lisa some more to help streamline some other Risk & Insurance Services functions.
~ Matt Tuttle, Risk & Insurance Services
---
I would like to send a big Kudos and thank you to Brandon Zimmerman. In the past year, I have stepped up in my duties when it was needed and Brandon has been very supportive and helpful in my succeeding.
I have been with the university a few short years and am still learning the ins and outs of my job. Brandon has been so patient and helpful every time I've called him with a question. He takes the time to teach me and if he doesn't know the answer, he's been great to help me find out where I can get it. I appreciate him as a boss and a mentor.
~ Melissa Ulfich, UIT Finance
---
I just wanted to let Mike Ekstrom know how thankful we are at U. Student Apartments for UIT's quick response after internet went down due to construction activity in the west village yesterday.
We had students very stressed out with the timing of the outage corresponding with the end of their semester, and your response time reflected a commitment to customer service for those students. We really appreciate it.
The speed at which individuals were on-site and troubleshooting, sending out the outage notice, and then continuing to keep us informed throughout the repair was fantastic. Please thank all of those involved on my behalf: Chad Thurman, Tim Goodale, Bryan Morris, Abraham Kololli, Nick Bradberry, and Tom Warnick.
~ Jennifer Reed, Auxiliary Services
---
I wanted to give a shout-out to David Craig for assisting with the technical details of the Lumen relocation work. David really helped ask clarifying technical questions of IHC and Lumen to make sure we were all on the same page — very important with this type of work as you all know! His help with the PACE Plan was critical in getting this work approved in a timely manner. David's input and participation gave me and our stakeholders more confidence in the entire process. Well done!!!
~ Maura Mckendrick, Planning, Design & Construction
Anyone at the U can submit an item for Kudos & Congrats!
Submit your kudos and the UIT employees you commend will be entered into a monthly prize drawing. UIT employees who submit entries will also be entered in a separate prize drawing.
UITL members, directors, and associate directors are not eligible for prizes.
Node 4
Our monthly newsletter includes news from UIT and other campus/ University of Utah Health IT organizations, features about UIT employees, IT governance news, and various announcements and updates.
Categories