Slate CRM to improve grad school application process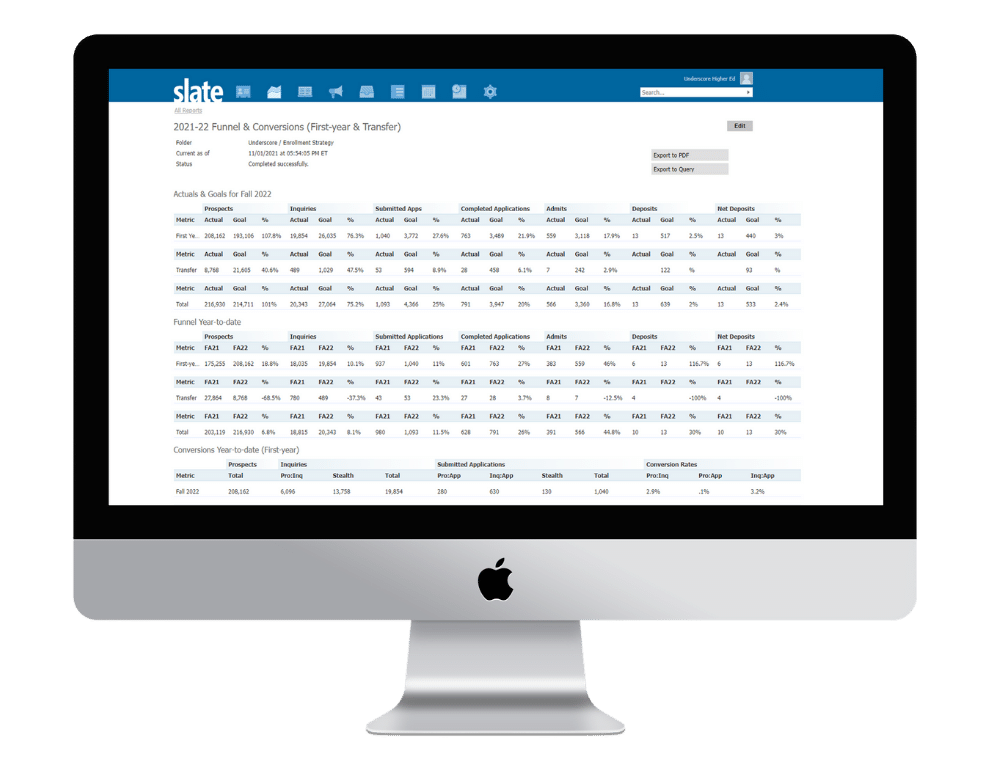 There's enough to worry about when applying to graduate school — meeting submission deadlines, providing solid references, and writing compelling personal statements. The last thing students and other prospective candidates need is an application portal with technical limitations.
In August 2021, the University of Utah embarked on a project to explore new platforms for use by all prospective graduate students, domestic and international, seeking admission to a master's or doctoral degree program. With input from university stakeholders and following a comprehensive bid process, Slate was selected as the best platform to meet the U's current needs.
The new constituent relationship management (CRM) system is in the testing phase. A pilot program will begin in fall 2022, with the system expected to enter production by fall 2023, according to Brent Wimber, IT project manager in the UIT Project Management Office, which is assisting with the project.
"Slate is a pretty complex tool. ... Everyone involved is excited about how this project will lead to student success at the university."


– Brent Wimber, IT project manager, UIT Project Management Office
Once it's live, Brittany Baker-Brousseau, senior associate director for the Office of Admissions, said Slate will provide the U with needed flexibility by tracking applicants from prospect status to admitted/not admitted student status, in addition to enhanced reporting functions and faculty engagement features.
Slate — used by more than 1,500 U.S. colleges and universities, according to the company's website — is designed for admissions and enrollment management, and student success. It also contains modules that support gift management and processing functionality for advancement departments. Approximately 500 U staff members will use Slate to process more than 11,000 applications every year in support of approximately 200 graduate programs, Wimber said. The U currently enrolls 8,033 students in graduate-level programs, according to the Graduate School.
Baker-Brousseau and Brandon Ritter, senior systems manager for the Office of Admissions, noted several reasons why Slate is well-suited to fulfill the U's graduate application needs:
The system integrates well with PeopleSoft applications and systems
Slate's interface is easy for users to navigate
It provides CRM functionality, such as email campaigns that guide prospective applicants through the application and submission process
Workflows can be automated to better evaluate applicants
"Slate will give us the ability to organize all information by student record, so department staff and our staff can see which emails students have received from our office, when they started their application, whether they have logged in to their tracker to check for missing materials, and so on — all in one place," Baker-Brousseau said.
Applicants, she added, will have access to a portal for tracking their application and, where appropriate, uploading materials, which "will make it clearer to all parties where a student is in the application funnel and why."
Wimber said success criteria for the project include:
Full integration with PeopleSoft and OnBase, the university's document management system.
Onboarding of all internal and external users. To date, Underscore, a Slate consulting firm, has trained approximately 50 Graduate School and Admissions staff members. Slate, Ritter said, also provides training documentation and access to a community of Slate users at an array of institutions.
Completion of the application payment and waiver process in Slate.
Building billing and reporting functionality that meets university protocols.
Communication around change management.
"Slate is a pretty complex tool …" Wimber said. "It amazes me all the pieces that have to be touched."
Baker-Brousseau lauded the partnership among various stakeholders.
"We have deeply valued the partnership of the graduate departments that agreed to be part of the pilot," she said. "They have brought wonderful questions to the group and have patiently explained the nuances of their processes."
Baker-Brousseau said David Kieda, Ph.D., Graduate School dean, and Katharine Ullman, Ph.D., Graduate School associate dean, "have ensured that the student experience is central to any process changes," and that Underscore staff "have shared best practices for data integrity and workflow.
Ultimately, Wimber said Slate will provide the U with a "powerful tool for recruitment."
"Everyone involved is excited about how this project will lead to student success at the university," he said.
Node 4
Our monthly newsletter includes news from UIT and other campus/ University of Utah Health IT organizations, features about UIT employees, IT governance news, and various announcements and updates.
Categories