UIT All-Hands Meeting and Kevin Taylor Award recap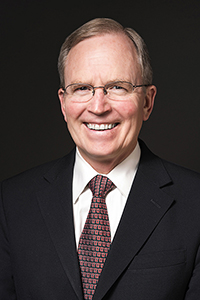 University of Utah Chief Information Officer Steve Hess kicked off a virtual UIT All-Hands Meeting on October 30 with a quote from Mike Tyson: "Everybody has a plan until they get punched in the mouth."
"Things were going pretty well for the university, the country, UIT, and hopefully all of you until we got punched in the mouth with a number of different challenges," Hess said.
There was, of course, the organization's pandemic response — a formidable task that required buoying IT infrastructure for remote work and online learning, dealing with COVID-19 scams and related cybersecurity risks, and preserving pre-pandemic levels of service. And, oh, minor distractions like earthquakes, extreme fires, and hurricane-force winds.
Hess said Tyson's quote, applied more broadly than to just boxing, alludes to life in general — it's how you react to adversity that defines you, not adversity itself. He thanked UIT staff members for their resilience.
"On behalf of the university, I'd like to thank you for all that you've done in shouldering major responsibilities and providing the means for providing the university to continue when it was not possible to go on campus," Hess said. "Now more than ever, IT is at the forefront of navigating this new normal. ... I know it's tough, but we'll come out of this."
Hess presented an update on UIT's strategic plan — achievements and initiatives as they relate to the U's four strategic goals — and an overview of CARES Act funding. CARES, a federal program to fund the pandemic efforts of educational entities, is helping fulfill 250 projects throughout Utah as administered by UETN. Hess also addressed campus-wide software contracts and related savings, Information Security Office efforts, and the organization's budget, in addition to a Q&A session.
The meeting concluded with the Kevin Taylor Memorial Service Award ceremony.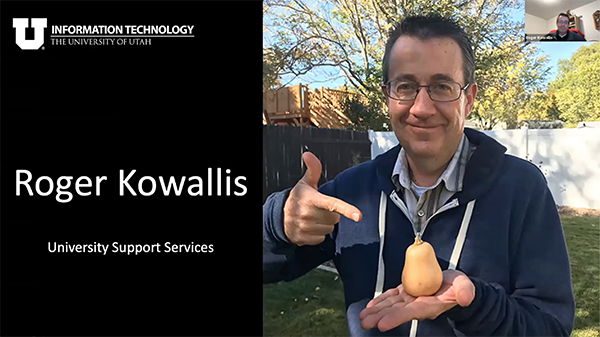 UIT leadership (UITL) is delighted to congratulate Roger Kowallis, of University Support Services (USS), this year's winner.
In her nomination letter, Barb Iannucci, associate director for USS Content Management & Usability, said Kowallis "checks all of the boxes in every list you'll ever find of qualities to look for in an employee."
"Some might make the mistake of glossing over Roger and the immense value he brings to the organization due to his unassuming, unimposing, quiet, and focused nature," Iannucci wrote. "When he sets out to do a project, he does it with an intensity, thoroughness, and efficiency that I really rarely see. ... He does all of this with such humility, kindness, and what seems like endless amounts of patience."
Kowallis received a plaque and $500 honorarium for his tremendous collaborative spirit and intrinsic service orientation in support of the organization, campus, and broader community.
UITL extends its congratulations and heartfelt thanks to all of this year's nominees for their superior service and ongoing contributions:
Rob Birkinshaw, Software Platform Services, Chief Technology Officer (CTO) organization
Nick Bradberry, Network Services, CTO
Barb Iannucci, Content Management & Usability, USS
Dan Jenkins, Hardware Platform Service, CTO
Doug Kenner, Product Management/HR, USS
Brad Zumbrunnen, Network Services, CTO
Please visit this web page to access excerpts of nomination letters for Kowallis and the others.
Node 4
Our monthly newsletter includes news from UIT and other campus/ University of Utah Health IT organizations, features about UIT employees, IT governance news, and various announcements and updates.
Categories