USS' virtual Halloween party offers frights and delights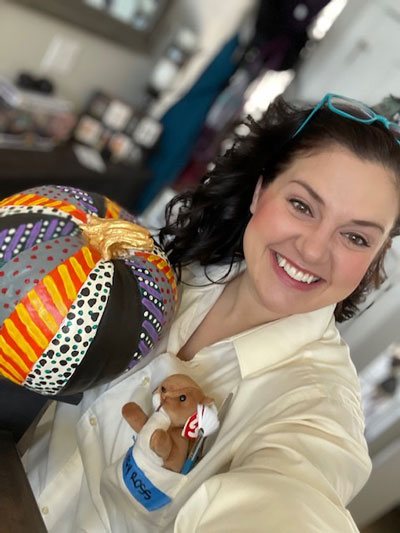 University Support Services (USS) knows how to party — even in a pandemic.
In lieu of an in-person event, USS staff gathered October 30, 2020, for a virtual Halloween party, which offered plenty of frights and delights. Activities included costume, pumpkin decorating, and Zoom background contests; coloring; a movie screening; video games; scary stories; a "Where's Jason" puzzle; and a USS leadership "Guess Who" game. Staff could earn points toward prizes for participating in select events.
Shenia Sellers, Kelsey Loizos, Emily Jacoby, Aimee Morgan, and John Fresco — dubbed the "Spooky Skeleton Crew" by Sellers — organized the party, hosted via Microsoft Teams and Zoom. The event kicked off with a few words from Deputy Chief Information Officer Ken Pink and a search-and-find puzzle featuring 15 hidden images of USS Engineering Associate Director Jason Moeller.
From there, staff could choose their own adventure — watch "Beetlejuice" in the Cinema Cemetery, play Jackbox.TV games in the USS (Underground Super-Spooky) Lair, or hang out in the Water Tower — and post messages and contest entries in the associated Teams subchannels.
The "Guess Who" game, which stumped several employees, offered a chance to learn more about USS leadership, from their silliest fears to their favorite candy. A few highlights:
Barb Iannucci's childhood costume was Punky Brewster
Doug Kenner's preferred super power is ability to defeat Balrogs and the Borg in the most epic way possible
Dan Thornley's favorite horror movie is "Friday the 13th"
Pink's favorite candy is candy corn
Rachael Sheedy's favorite horror movie is "The Haunting of Hill House"
Tom Howa's silliest fear is mice
Gary Carter's preferred super power is the ability to fly
Moeller's childhood costume was a baseball player
See the gallery below for photos and screenshots from the event, as well as some of the stories or details that USS staff shared with their posts.
Node 4
Our monthly newsletter includes news from UIT and other campus/ University of Utah Health IT organizations, features about UIT employees, IT governance news, and various announcements and updates.
Categories