THE CARES ACT fast-tracked network upgrades in 2020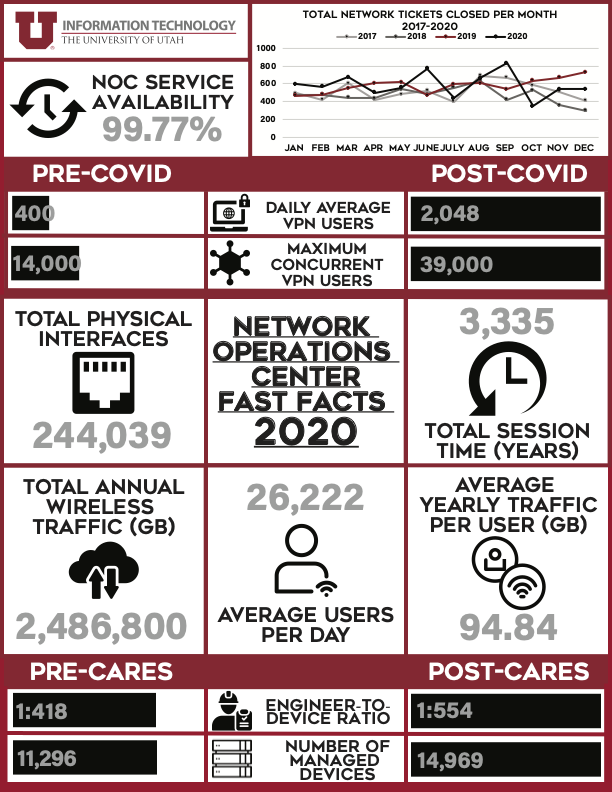 Making January a time to take stock of the past year is as perennial as football on New Year's Day.
It was certainly a topsy-turvy period, but UIT's Network Services' Fast Facts infographic illustrates that, in many respects, 2020 was a banner year, too.
The University of Utah's steep rise in virtual private network (VPN) use coincided a pandemic-related switch to a hybrid model of online and in-person teaching and learning, and a majority of university employees working from alternate locations.
Before COVID-19 precipitated these changes, the campus VPN would see 300 to 400 peak VPN connections on an average day. Afterward, that number shot up to more than 1,000. University of Utah Health, meanwhile, had 400 to 600 peak daily VPN connections before the pandemic, which has since surged to more than 2,000.
Another highlight of 2020 was the acquisition of network hardware, using CARES Act funding for education. Of $9.3 million allotted to network projects, 80 percent was earmarked for wireless upgrades — work that had to be completed no later than December 31 2020.
"A timeline that ambitious required a lot of collaboration and partnership …" said Network Services Associate Director Abraham Kololli.
Network Manager Ray Carsey said in a good year his team installs approximately 800 access points (APs), but in 2020, because of CARES Act deadlines and contracts with outside vendors, engineers added more than 3,100 APs and 100-plus switches to support them — "four years of work in four to five months," Kololli said. That's a more than 25 percent bump in total managed devices — from 11,296 to 14,969.
Meanwhile, network staff fielded 6,501 help requests in 2020 — including incidents, tasks, changes, and problems — up from 6,241 in 2019.
"We had all these projects to do in a short time, and that was on top of our normal everyday work," Carsey said. "That really impresses me about our team."
Kolloli said meeting tight project deadlines would have been impossible without the help of UIT's Project Management Office and the organization's Accounting team, who were essential to the supply chain. Kolloli lauded their quick contract reviews and sign-off on purchase orders. He also commended the inventory specialists who ensured an uninterrupted flow of materials, despite competing with other universities that received CARES Act money. Carsey gave a shout-out to members of the U's Downtown Data Center as well, remarking that they "really came through with cabling and racking of our equipment."
Business Data Analyst Rosalia Villegas praised Facilities Management for granting network personnel access to more than 80 buildings, and outside vendors, who "really went above and beyond."
"They were very responsive, working long hours before the holiday to make sure they could spend time with their families," Villegas said.
Unsurprisingly, with fewer people physically on campus, Wi-Fi use dipped from 35,608 average daily wireless users in 2019 to 26,222 daily users in 2020. Total annual wireless traffic predictably subsided, too, dropping from 7.38 PB in 2019 to approximately 2.5 PB (~2.5 million GB) in 2020.
Villegas was quick to assure the U community, however, that when activity on campus returns to normal, the network will be ready.
"We will continue to improve the network and wireless experience at the university — add new technologies, replace old hardware, [and] extend connections. The work isn't done, this is just the beginning," she said.
Node 4
Our monthly newsletter includes news from UIT and other campus/ University of Utah Health IT organizations, features about UIT employees, IT governance news, and various announcements and updates.
Categories