CARES will add significant gains to U's Wi-Fi capacity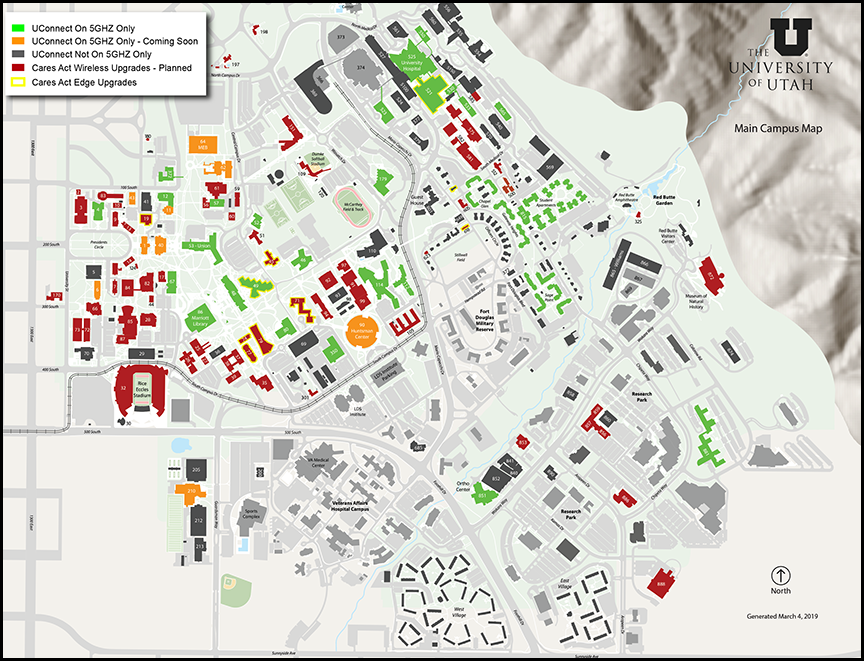 Federal funds are breathing new life into previously pause initiatives.
The CARES Act has awarded $9.3 million to UIT's Network Services team, out of which $5.9 million is earmarked for improving wireless coverage at the university — inside and out. The act provides funding for education to respond to the public health emergency created by the COVID-19 pandemic, including enhancements to wireless infrastructure to support social distancing.
The scope of interior work involves hiring contractors to install 3,000 wireless access points (APs) in 76 buildings. Exterior work will add 100 new rooftop-, exterior wall-, and stick/box-mounted APs near outdoor areas and thoroughfares with heavy foot traffic, such as bus shuttle stops, and near benches and tables. In all, the project will increase the number of wireless APs at the university by approximately 27 percent — from 8,910 to 12,263.
Access this UIT Knowledge Base article for an overview of the interior project, status map, and list of buildings set to receive Wi-Fi upgrades. An interactive geographic information system (GIS) map of new outdoor coverage areas is being developed. Business Data Analyst Rosalia Villegas said Network Services selected the buildings based on a range of metrics that included overloaded AP score, help tickets received, AP density, and identified rogue APs.
Network Engineer Trent Cutler said user feedback was a big catalyst for the outside enhancements.
"Outdoor Wi-Fi coverage is one of the biggest complaints we get from students," Cutler said. "Everyone has had the experience of trying to use your phone with poor Wi-Fi reception, where it cuts back to cellular. There's this dance people have to do. That will likely be resolved soon for students spending time outdoors and walking between classes."
The added capacity is part of ongoing updates to Wi-Fi designs in campus and University of Utah Health buildings, in consultation with network engineers at universities like Stanford, North Carolina at Chapel Hill, Ohio State, and Dartmouth. "We've done our homework," Cutler said.
The new designs, Villegas noted, will also support 5GHz-frequency UConnect.
"It's important that IT [administrators] know that not only are we adding APs, we're following best practices. We're just moving UConnect to 5GHz at faster scale because of the CARES Act," Villegas said, adding that members of the U community can do their part to improve connections by following Wi-Fi best practices.
Added Cutler, "This funding basically changes that so we can be the Verizon man going into every corner of campus and saying, 'Can you hear me now?,' except of course, using instrumentation to measure and validate."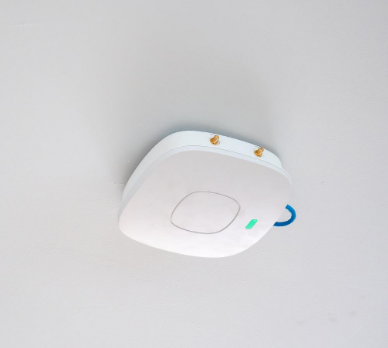 In addition to new APs, Villegas said switches are also being added to support the lifecycle replacement of edge network hardware. Edge is a system of distributed computing brings data processing closer to devices.
The CARES Act requires that all work is completed by December 31, 2020.
While CARES is a pandemic-related measure, UIT Project Manager Jody Sluder noted that the overall project is really a long-term solution, "to make sure the next 10 years are covered."
"We're designing based on normal occupancy and the capacity needs we anticipate in the future," Sluder said.
Cutler said while more Wi-Fi coverage certainly supports the current HyFlex teaching mode (courses concurrently delivered in person and online by the same instructor), it benefits other mediums, too. He said one use case involved members of the School of Music who felt that inadequate Wi-Fi limited the performances they could promote via social media.
"It's very interesting to see what new things can be accomplished with Wi-Fi right now," he said.
As work gets underway, UIT are asking building managers to help provide access to restricted areas.
"We really need everyone's help to make this successful," said Network Services Associate Director Abraham Kololli. "We'll be as minimally disruptive as possible, but we may need assistance with building access. Thank you in advance for your cooperation as we improve the students' experience."
Node 4
Our monthly newsletter includes news from UIT and other campus/ University of Utah Health IT organizations, features about UIT employees, IT governance news, and various announcements and updates.
Categories