Telecommuting Town hall recap
Hess: Telecommuters must follow IT security policies
According to Jeff Herring's calculations, most University of Utah employees have been working from home since March 16, 2020, or about 435 days. Those days have often been difficult and anxiety-filled, the chief human resources officer said, but they've also had some silver linings.
"We've learned a lot in [the past year] as we adjusted," Herring said during the U's virtual Telecommuting Town Hall on May 17, 2021. "… We had to learn to embrace technology in a different way. We found ways to come together socially even while remaining physically distanced, and we had to find One U ways to navigate situations that changed not just weekly but daily and often hourly."
With the pandemic beginning to abate, Herring and other university leaders held the town hall to discuss how the U plans to move forward with a telecommuting environment, which Herring announced will be a 24-month pilot program. Guidelines will be released shortly, he said.
Other speakers included Cathy Anderson, chief financial officer; Gordon Wilson, associate vice president for Administrative Services; and Steve Hess, chief information officer.
Anderson spoke about the long-term vitality of the university and its resources, most of which are faculty and staff and the work they do. She said telecommuting offers many benefits, such as enabling more people to participate in meetings that they wouldn't be able to attend in person, but the university also must ensure it uses its resources wisely.
"The technology is important. That's the easy part," Anderson said. "The hard part is the culture and how we work together, and that will be something that we will be focused on in this pilot."
Wilson briefly talked about commuter services, specifically noting that the university has adjusted some of its parking options to be more flexible for telecommuters. More information is available on the Commuter Services website.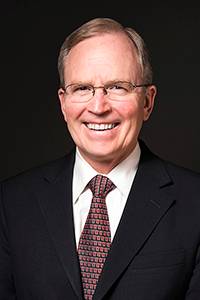 Hess, who oversees University Information Technology and serves as the chief information officer for the Utah System of Higher Education (USHE), joined Herring and Anderson in recognizing employees for going above and beyond in the past year, giving a special thanks to the university's IT staff.
"Our IT teams have put in long hours and great efforts to maintain our systems as we moved from a physical, face-to-face [environment] to online," Hess said after the meeting. "It is a credit to them how few IT problems the university experienced during the past year. Our staff worked diligently and effectively to make that possible."
Hess addressed the IT security issues that come with telecommuting, including concerns about data privacy and work on personal devices. He urged employees (and students) to review and follow university IT regulations, especially now that the U is piloting a 24-month telecommuting program.
"We understand that a lot of people jumped online [due to the COVID-19 pandemic] and that some of these guidelines may have not been followed," Hess said. "But if there's going to be a continuation [of telecommuting], we need to ensure that private, restricted, [and sensitive] data are protected."
Hess' top tips for U telecommuters include:
Obtain permission to take university equipment home. Before you take any equipment home, you must fill out a form and submit it to your supervisor. It's your responsibility to protect those devices and return them at the appropriate time. That includes limiting personal use to incidental activity and preventing others from using them.
Protect your devices. Ensure that your university and personal devices, if used for work, are up to date with the latest version of your operating system, and employ the appropriate and latest firewall, antivirus, and antispyware protections.
Protect restricted and/or sensitive data. Avoid storing restricted and/or sensitive university data on your personal devices. If — if! — you need to store restricted or sensitive data on your personal devices for work purposes, you must protect it. That means your personal devices must comply with university regulations and/or you must store the data in university-approved solutions, such as Box.
Follow the same physical security habits at home that you would at work. Ensure, for example, that other people cannot access checked-out university equipment or personal devices containing university data.
Use the university's virtual private network (VPN). Connect to the VPN when accessing restricted and/or sensitive university data. Also, stay on a private, secure Wi-Fi network and avoid public Wi-Fi.
"All faculty, staff, and students are accountable to the university's IT security rules, regulations, and policies even if they work at home," Hess said. "We must secure private data — on and off campus — since the 'new normal' will involve university personnel and students doing some work and coursework from home."
---
Telecommuting resources
For more information about telecommuting and IT security regulations, as well as practical information about how to implement the best practices at home, please refer to the webpages below.
Node 4
Our monthly newsletter includes news from UIT and other campus/ University of Utah Health IT organizations, features about UIT employees, IT governance news, and various announcements and updates.
Categories