UIT Leadership Spotlight: Gary Carter, Director, Enterprise Resource Planning/Product Manager for Finance and Auxiliary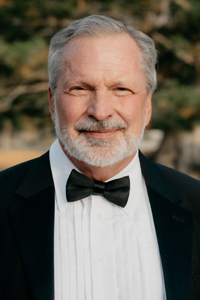 Where are you from originally?
Ogden, Utah
What post-secondary degree(s) do you have, in what subjects, and from which school(s)?
I have a Bachelor of Arts with a major in English and a minor in accounting from Brigham Young University, and a Master of International Management from Thunderbird, American Graduate School of International Management (now called Thunderbird School of Global Management) at Arizona State University.
What led you to the University of Utah?
I had previously worked at a couple of other companies with Deputy Chief Information Officer Ken Pink and stayed in touch with him through the years. When the associate director of Enterprise Resource Planning (ERP) in University Support Services (USS) position opened, we reconnected and here I am.
Can you describe the path you took to IT leadership?
I started my career after graduate school as an accountant and controller for several companies — just before computers became mainstream. During my early career, the work was entirely manual with ledgers, spreadsheets, paper, and pencil. As personal computing and computers developed, accounting systems and other systems started to become automated. So I began working with vendors and companies to automate our computer system.
Evans & Sutherland recruited me for my first IT job, as a business analyst to implement Oracle E-Business Suite (Financials, HRMS, and Projects.) I then consulted for one of the Big Six accounting firms, becoming the first kid on the block to implement Oracle Projects, Human Resources, Payroll, and CRM.
To make a long story short, the mixture of implementing Oracle systems as an employee and as a consultant led to managing ERP teams. At times, I have also managed internal development, business intelligence, and quality assurance teams.
How would you describe your leadership style and/or philosophy?
I try to be collaborative — listening to team members, receiving and providing input, and coming together to arrive at the solution that is best for the institution. I also try to adhere to the principles outlined in one of my favorite management books, "Leaders Eat Last."
What do you enjoy most about your role at the U?
I enjoy working with such amazing and extremely talented people, and observing what we can accomplish with our resources.
What do you find most challenging about your job?
The bureaucracy and length of time it sometimes takes to make a simple decision.
What are some of your hobbies?
Music is probably my biggest passion. I sing with Utah Voices, for which I am member of the board of directors. One of the worst devastations of this pandemic has been the arts.
I also like photography, stained glass, running and weightlifting, travel, cooking, and gardening.
Is there a fun fact about yourself that you'd like to share?
I win Scrabble and Trivial Pursuit about 90% of the time and lose Risk and Monopoly about 90% of the time.
Is there anything else that you think our readers would like to know about you?
I have always been shy and introverted by nature, but time and wisdom have taught me to overcome that to an extent. The greatest lesson I think I have learned is that life is about people and how we treat each other. That is the only thing that really counts; all the other stuff is just dust.
Node 4
Our monthly newsletter includes news from UIT and other campus/ University of Utah Health IT organizations, features about UIT employees, IT governance news, and various announcements and updates.
Categories