PMO Corner
UIT helps U Athletics transition to digital ticket system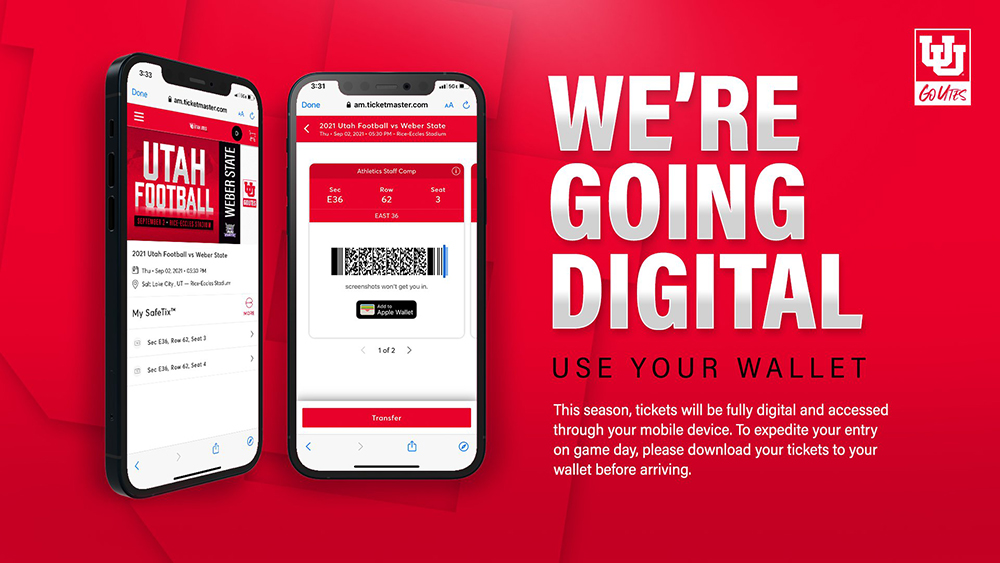 The Salt Lake City stop of musician Garth Brooks' tour on July 17, 2021, was Rice-Eccles Stadium's first large-scale test of digital ticketing, with the University of Utah football season opener on September 18 providing a fully mobile game day experience, from tickets to parking permits.
Utes fans may now log in to their accounts and manage game tickets at the university's Ticketmaster portal. At the gate, a QR code that refreshes every 60 seconds is scanned on a patron's mobile device. Tickets may also be downloaded to a mobile device's wallet (e.g., Apple Pay or Google Pay), making them available even when there's a weak cellular signal or crowded network, like when 50,000 football fans descend on a venue and compete for Wi-Fi.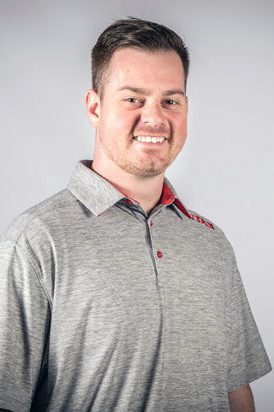 Keith McClung is a systems administrator for UIT's University Campus Computer Support team who's embedded in U Athletics, an area of emerging technology that comprises 21 organizations and 14 Division I NCAA sports in 13 buildings. He said that in addition to the stadium, digital tickets are also the norm at the Jon M. Huntsman Center, Ute Soccer Field, and temporarily at Dumke Family Softball Stadium (softball games are traditionally free, but tickets were issued during the 2021 spring season due to COVID-19 protocols).
"Paperless ticketing was an inevitability," McClung said. "The pandemic pushed contactless entry to the forefront, though it's always been part of the plan at the university."
In addition to providing operational support to U Athletics — which oversees desktop clients, credit card scanners, and drivers and special configurations for ticket printers that event staff use to print paper copies of digital tickets on-the-spot — the organization works closely with Stadium & Arena Event Services and Aaron White, its director.
Mike Ekstrom, director of UIT Communications Infrastructure, called White "an excellent example of a good IT citizen at the university."
Mobile tickets offer several benefits, McClung said, like cutting down on theft and counterfeiting (the QR code contains validation technology that renders duplicate screenshots and printouts unusable). Because the tickets are contained in a mobile device, you can't lose them like a physical ticket.
Mobile ticketing is a part of a broader stadium enhancement project that includes an $80M end zone expansion that, among other things, added 5,637 seats to the facility. UIT teams from Network Services, Cable, Voice Systems, the Information Security Office, and Account Executives group played an integral role in its development — from project management to setting up firewall rules, installing wireless access points (APs), and laying the groundwork for voice and data pathways.
"The stadium has so many different spaces — offices, high and angled ceilings, and small areas where [network] coverage was needed. … Nothing was easy about getting a signal through that building," said David Craig, IT project manager with the UIT Project Management Office.
Craig praised the efforts of all UIT teams involved, particularly Network Engineers Curtis Larsen, Nathan Dougal, Christian Johnson, and Nathan Eldredge for their contributions. Because the network didn't extend to every corner of the stadium by homecoming game day, Craig said the team installed temporary APs to fill in the gaps.
"

It's truly remarkable what we can accomplish when so many different teams bring their talents to bear.

"

–

Abraham Kololli, associate director, UIT Network Services
The network, he said, is "the supportive framework that everything else rides on."
"These guys need to be credited for being creative and coming up with a plan like this on the fly. Without them, it would have taken forever to fill the stadium," Craig said. "They put wireless APs in all the areas tickets were scanned, where there was no infrastructure in place to run cables. They really put their heads together and made it happen."
Abraham Kololli, associate director for UIT Network Services, concurred.
"Like any heavily-focused technology project, the network becomes an integral part of the project," he said.
McClung also thanked Network Engineers David Tubbs and Trevor Overby for their help configuring Ticketmaster-specific virtual local area networks (VLANs), firewalls, and unique routing.
On the compliance side, as payment card industry (PCI) program owners, U Athletics and Financial & Business Services partnered to make sure the point-to-point encrypted (P2PE) mobile ticketing system at the stadium and elsewhere was PCI compliant, according to Trevor Long, associate director of UIT's Governance, Risk & Compliance (GRC) team. McClung noted that Ticketmaster routes all credit card information through an encrypted tunnel.
In the end, the mobile ticketing project at the stadium and other venues succeeded because of a strong partnership.
"It's truly remarkable what we can accomplish when so many different teams bring their talents to bear," Kololli said.
Node 4
Our monthly newsletter includes news from UIT and other campus/ University of Utah Health IT organizations, features about UIT employees, IT governance news, and various announcements and updates.
Categories