UIT played a critical role in U's managed print solution
Note: This is the second in a series of articles about the work to identify and implement a managed print solution at the University of Utah.
---
Of all the services that IT directors attend to, Mark Beekhuizen says printing is probably the most hated.
First, there are user preferences: color, paper size, orientation, single- or double-sided pages, and machine type. Then there are all the items that require monitoring: drivers, paper feeds, toner, disk space, and network connectivity. The lists for both go on and on.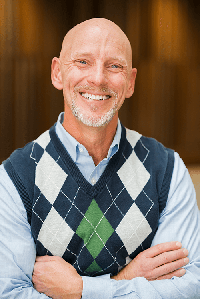 "You're continuously battling the personal needs of every single user as to how they get something off of a printer," said Beekhuizen, IT director for the S.J. Quinney College of Law and chair of the Architecture and New Technology Committee (ANTC). "Then if a print server goes down, the entire organization can't print."
The U's Managed Print Services (MPS) team hopes to improve the user experience and service support model with a campus-wide managed print solution, on which it partnered with UIT, ANTC and its Managed Print Services Advisory Committee, and other IT professionals to research, test, and deploy.
Eric Goodrich, manager for MPS, said the development and implementation of a managed print solution has been like learning a second language.
"It's been vital to have the support of UIT, the subcommittee, and ANTC," Goodrich said. "I've really relied on them for their IT expertise and encouragement that we're on the right path."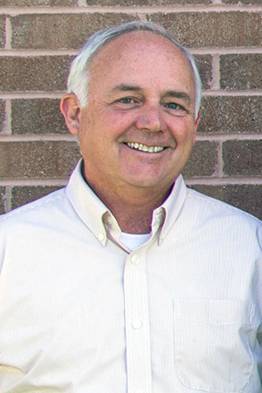 UIT's Earl Lewis, who was the initiative's project manager, said early attempts at campus print services took a piecemeal approach, adding devices to buildings with no way to properly manage them.
"They would do a one-off thing without thinking, 'Well, let's step back a minute and design a more holistic view of this network, as it's going to be needed in the future,'" said Lewis, who works for UIT's Project Management Office.
New infrastructure, as well as monitoring and maintenance procedures, have resolved those problems, he said.
"Newer virtual machines, a new and more robust database version, and networking components all came together to make it a more sustainable approach to campus-wide printing."
UIT helps overhaul outdated technology
An upgrade to the Canon uniFLOW environment, housed at the Downtown Data Center, was critical to implementing the U's managed print solution.
The uniFLOW software received an upgrade, as the print management platform could no longer integrate properly with university systems. Then a uniFLOW support engineer wiped and reconstructed the servers.
The Server, Operations, and Hardware team in Hardware Platform Services in the Chief Technology Officer (CTO) organization built three new virtual servers, one of which is dedicated to a Microsoft SQL Server database that Senior Database Administrator Josh Grey, from the Data Management Platform Support Services team in Software Platform Services (CTO), created to provide more disk space and a more stable database.
Senior System Engineers Josh Gross, Steve Adams, and Dan Burtenshaw in Identity & Access Management (IAM) configured Active Directory for the distributed machines so users can log in and manage them.
MPS also worked with the UCard Services team to ensure that uniFLOW communicated with Blackboard, and later Atrium, campus card management servers. The uniFLOW data feed, however, needed to be fixed in order to move forward with an upgraded accounting and reporting structure.
"The MPS subcommittee said, 'If we're going to do pay for print, then we need to have the right data in the uniFLOW platform,'" Lewis recalled. "… So one of the first things that we did is sort out the data feed problem and then get the IAM people to set it up."
The project team reached out to IAM Senior Architect Vaibhav Narula, who "can solve any problem you throw at him," IAM Associate Director Chris Stucker said.
Narula and Senior Software Design Engineer Rohit Pant developed the queries for the new data feed, which uses a PeopleSoft lightweight directory access protocol (LDAP) solution to provide information to different cost centers in uniFLOW. This enables the university to charge for printing and copying according to user role.
"One of the things that MPS was never able to do, and not too many other people have figured out, is how to charge to the right destination when people have more than one persona," Stucker said, noting that Narula and Pant continue to work with MPS to fine tune the data feed for uniFLOW.
When people use an MPS-networked device, they "tap on" with their UCard to print and pay. If PeopleSoft identifies that the individual has a dual role, the user will be prompted to select where the print job should be billed. Deductions for student jobs process through students' Atrium (formerly Blackboard) accounts; departments receive an invoice or report for faculty and staff jobs.
One network to manage them all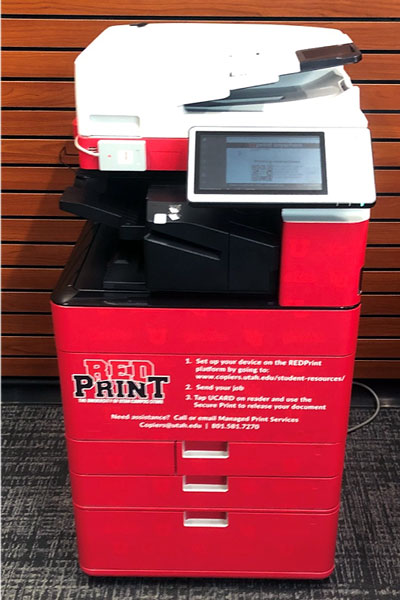 The next big piece involved creating the network infrastructure to manage all the uniFLOW-utilizing — or RedPrint — machines deployed across campus.
Brad Zumbrunnen, a network engineer in UIT's Network Services (CTO), ensured all the machines could communicate, setting up firewall rules and creating a printer-specific, campus-wide virtual local area network (VLAN). This enabled MPS to securely add printers to any building without needing to request access to that department's network.
Now, when MPS needs to install a new machine, it's a well-known process, Lewis said.
"We have a prescriptive solution for that," he said. "All they [service management people] have to do is go to the wall jacks where they want to plug in and say, 'These are the wall jack numbers.' And then the network team knows what to do to get those printers on the right network."
In the past year, the VLAN has been used to bring RedPrint machines online in 14 locations, including the Campus Store, College of Law, A. Ray Olpin Union, and College of Education. MPS plans to deploy copiers in another 15 locations in the near future.
Goodrich said the ultimate goal would be to move all campus printing and copying devices — including more than 200 machines that MPS administers— from local department networks to the printer-specific VLAN, regardless of whether they are managed by the MPS team or use uniFLOW.
The network silos, he said, make it difficult to calculate data for device types and print volumes.
"Having that information would allow us to see where more cost-effective machines could be placed and even leverage the numbers with lower vendor pricing," he said.
A new support model takes shape
With all MPS devices on one network, monitoring and maintaining the machines is easier than ever.
Previously, Lewis and Goodrich said, the MPS team didn't know about recurring problems — such as machines running out of disk space or going offline — until someone raised an alarm.
"We were kind of reactive versus proactive. When there was a problem, I had to rely on the end user to report the issue," Goodrich said.
To prevent server-related failures, Senior Systems Administrator Jake Kerr with UIT's Service Monitoring Group helped create a central monitoring procedure via Orion. Now, a team of MPS and UIT staff receives alerts about critical problems, including server disk space, bandwidth and connectivity issues, firewall changes, and running processes and services on each server.
"We thought about all the aspects of managing and maintaining the system, and making sure that the MPS staff have a platform that they can use," Lewis said. "They really have to worry only about the printing functions."
Additionally, MPS now completes daily server management monitoring as a preventive measure.
This maintenance and monitoring ensure high performance and optimization for end users.
"My pitch to campus IT professionals is that we'll take away the heartache of these copiers. … We can put their machines on the VLAN and then they don't even have to worry about them," Goodrich said.
MPS service levels
In addition to the technology updates and new monitoring procedures, Managed Print Services (MPS) organized user support into three service tiers:
Tier 1 — basic triage by MPS
Tier 2 — vendor or UIT involvement
Tier 3 — escalated high-level vendor or UIT involvement
MPS staff received extensive training, enabling them to complete Tier 1 service calls. This helped reduce overall wait times to less than an hour for Tier 1 services and freed up vendor technicians so they could respond more quickly to Tier 2/3 calls.
Join the MPS VLAN
Interested in learning more about or placing your device(s) on the print-specific VLAN? Please contact Eric Goodrich, manager for Managed Print Services, at eric.s.goodrich@utah.edu.
Node 4
Our monthly newsletter includes news from UIT and other campus/ University of Utah Health IT organizations, features about UIT employees, IT governance news, and various announcements and updates.
Categories