UIT leaders applaud readiness efforts for VP debate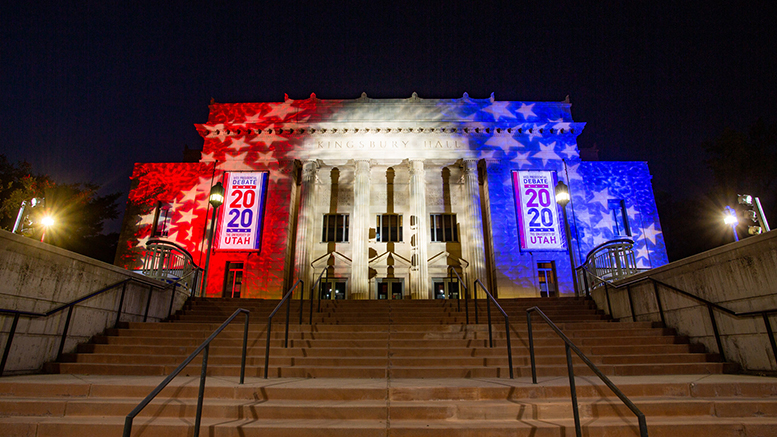 Planners going into Utah's first, and 2020's only, United States vice presidential debate on October 7, 2020 knew that optics could impact the University of Utah's reputation. A lot was riding on making a good impression.
"It was great opportunity for the state," said Abraham Kololli, associate director of UIT Network Services.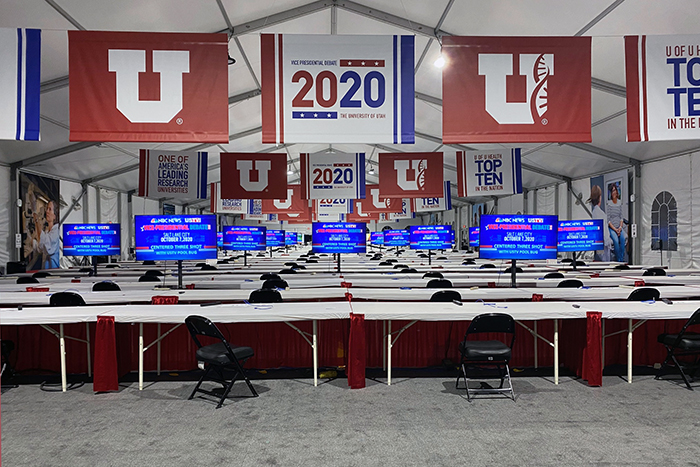 What ultimately was broadcast, however, told only part of the story. Largely unseen was a legion of IT staff members who spent almost a year ensuring that the 90 minute debate was successful and associated event requirements were met. It all came together as unrelated major projects moved forward, like the opening of Kahlert Village, now the largest building on campus.
Planning directives from the Commission on Presidential Debates (CPD) in December 2019 required a separate highly-secure phone, wired, and wireless network independent of campus networks to support approximately 700 international media professionals, 500 debate security and support personnel, and 600 visiting dignitaries and VIPs up to a week preceding the event.
UIT partnered with Lumen Technologies (previously CenturyLink) to deliver the extensive dedicated network core and backbone for the debate hall and related venues. Major network cabling in Kingsbury Hall, Gardner Hall, Crocker Science Center, and the Park Building was rewired to support the stand-alone 2,000-port network for the debate.
The complexity and timing of the event was further complicated in March 2020, as COVID-19 response requirements took shape across the country. How many attendees would be permitted? What would social distancing requirements look like? Would the event be canceled or moved to a virtual format? According to Mike Ekstrom, director of Communications Infrastructure in the Chief Technology Officer (CTO) organization, uncertainty drove other universities to back out from hosting the presidential debates late into their planning efforts.
"Much of the agility surrounding these evolving scenarios directly depended on our IT infrastructure plan. In the end, the event dramatically restricted the on-site attendee list while keeping the core IT requirements," Ekstrom said.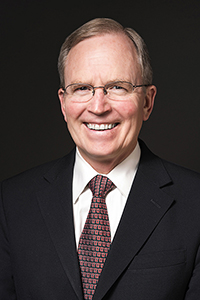 The U's Chief Information Officer Steve Hess tipped his hat to all IT teams involved.
"I'd like to personally thank everyone for the outstanding preparation and technical execution you and your teams demonstrated over the past months and weeks. This led to a very successful event," Hess said. "... I can't thank you enough for the many hours of hard work and overtime you have put into this project. The success of your work has come about because of great leadership and teamwork. ... This positive attitude was felt by all who worked with you and I'm sure this will carry forward as we continue our efforts to improve university IT services this coming year."
A significant cross-section of the UIT organization took part: Network Services, Communications Infrastructure — including Voice Systems and Business Administration, Campus Computer Support, Data Centers, Account Executives, University Television (UTV), and Cable Plant — the Information Security Office, the Content Management & Usability team in University Support Services, Strategic Communication, and the Project Management Office. Please visit this month's Kudos & Congratulations page for the names of some key contributors.
"It went well, and we received a lot of great feedback," Ekstrom said. "The IT support team for the US secret service in charge of credentials and access of attendees said, and this is a direct quote, 'Your IT teams are second to none.' That was a common experience. I received similar comments from the many reporters I talked to."
VP debate IT at a glance

Approximately 180,000 linear feet of copper (for electricity) and 200,000 linear feet of fiber (for internet bandwidth) were installed

Fun fact: The infrastructure took the U and its partners about a year to plan and a month to build and install, and was dismantled in a matter of days

Lumen Technologies provided:

Two 100GB geographically redundant secure circuits for the debate venues
Stand-alone voice over internet protocol (VoIP) phone services for the debate venues
2,000 dedicated debate network ports, including more than 40 network switches
Individual redundant wireless local area network (LAN) controllers to support 100 dedicated and secure wireless access points (APs)
Fun fact: The switches and wireless infrastructure deployed by Lumen Technologies will be repurposed in campus buildings to provide network upgrades for university colleges and departments

The U's Information Security Office provided critical support and guidance, continually reviewing architectures and ensuring the critical security requirements were met
The U's Network Services team:

Created a secure wireless and wired network on top of the Central Parking Garage, and a dedicated wireless network for safety personnel within the S.J. Quinney College of Law
Activated ports on the university network for 140 televisions
Reviewed and assisted in the architecture of the debate network delivered by Lumen Technologies

UIT's Voice Systems team delivered approximately 170 new analog phone lines in the final days leading up to the event
UTV in partnership with Comcast Xfinity provided IP streaming capability for 140 TVs
Utah Education and Telehealth Network provided staff for 24x7 network operations center (NOC) and security operations center (SOC) monitoring and 40GB distributed denial of service (DDoS) mitigation capability for the campus network
"People really stepped up and worked together, and not just regular staff, our student interns did a tremendous job, too," said Network Services Manager Ray Carsey. "It really speaks to the collaborative nature we foster here at the U."
Below are photos, courtesy of Mike Ekstrom, of a 50-foot-tall covered media platform in front of Kingsbury Hall.
Node 4
Our monthly newsletter includes news from UIT and other campus/ University of Utah Health IT organizations, features about UIT employees, IT governance news, and various announcements and updates.
Categories